Community supports coach, raises $5,000 in his fight against cancer
December 28, 2016 - 2:41 pm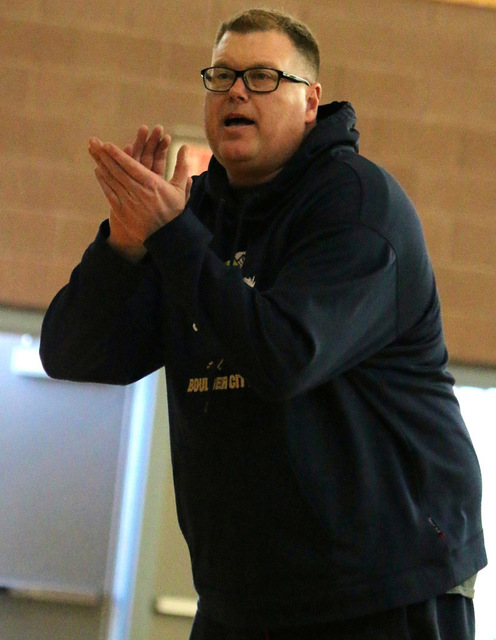 Boulder City residents were in a giving mood this holiday season, donating $5,000 to Boulder City High School girls basketball coach Paul Dosch, who is battling stage 4 lung cancer.
"The word overwhelming doesn't begin to describe how I feel," Dosch said. "I'm just so grateful that the community felt it in their heart to help me and my family throughout our time of need."
Happy to lend their beloved coach a helping hand, a trio of basketball moms — Heather Bloomenthal, Kristen Estes and Mary Hinson — arranged a bake sale and prize raffle for the Dec. 14 games against Pahrump Valley, with all the proceeds from the event benefiting Dosch.
"I'm just so thankful for everyone who contributed," Hinson said. "This was more than just a small group effort. Everyone in our community played a part in making this successful. When we started this fundraiser, we were just hopeful to make a $1,000, but as I started counting I knew this community came up with so much more. I'm very happy with the turnout and glad we were able to raise a substantial amount to help out Paul and his family."
A collective effort, raffle prizes were donated to the team from members of the community, while each player from all five levels of the Eagles' basketball program brought in two dozen homemade desserts for the teams' bake sale.
"A big thanks goes out to everyone who contributed, both on our team and in the community," Hinson said. "Without their contributions, none of this would have been possible. I'm very thankful for all the players and their families for getting behind our efforts and giving Paul something to be thankful for this Christmas."
More than just a fundraiser, the school's basketball program showed its support for Dosch with each member of the boys and girls teams wearing navy blue "BCHS Eagles no one fights alone" cancer T-shirts, while fans packed the arena for a white-out.
"I thought it was a great turnout," boys coach John Balistere said. "I've known Paul for years and know this meant a lot to him. … not only all of our teams showing their support, but the home fans as well made the fundraiser a really special night."
Hoping to keep the fundraiser going through the remainder of the season, T-shirts will be sold at remaining home games.
Contact Robert Vendettoli at BCRsports@gmail.com.