Coach expects Selinger to serve as role model for cross-country runners
August 24, 2016 - 1:45 pm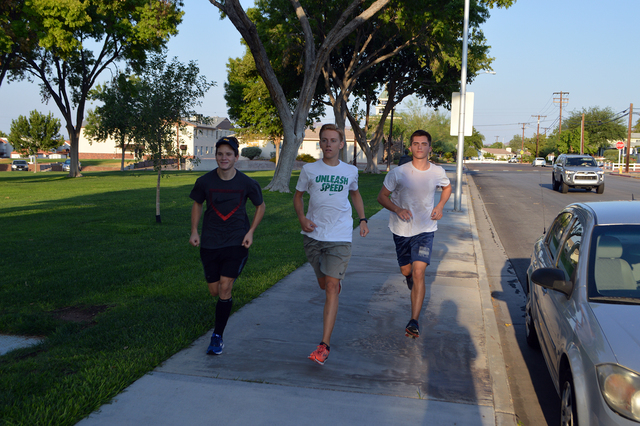 Boulder City High School's girls and boys cross-country programs kick off their respective seasons Tuesday at Southeast Career Technical Academy for a 3A League Sunrise race against Chaparral, Del Sol, Moapa Valley, Southeast Career Technical Academy and Virgin Valley.
"We're all very excited for the season to start," Boulder City head coach Canaan Petersen said. "We're once again looking to have a great year for both programs and be highly competitive within our region."
Starting out the season ranked as the second best small-school program in the state by the DyeStatNV preseason small-school Southern Nevada cross-country coaches poll, the girls, behind junior Sierra Selinger, figure to be one of the better programs following a solid season overall last year.
Fresh off a sophomore campaign in which she won the Nevada Interscholastic Activities Association Southern Regional Championships with a season-best time of 21:22.08, Selinger is back for another season with the program, looking to extend her dominance. After finishing 16th at the Nevada State Championships meet last fall in Reno, Nevada, Petersen is confident in his star runner to finish even better this season.
"Sierra is the key returner for our girls team as the returning region champion," Petersen said. "Having Sierra out in front is such a benefit for our girls every time they run because she sets the tone for our program. I know she's coming in with high hopes to compete for another region championship this year as well as more success individually."
In all last season for the Lady Eagles, Selinger finished in the top five in six of the Lady Eagles' eight-race slate, with her worst finish coming against Division I competition at the Foothill High School Falcon Invitational where she finished in sixth place.
Joining Selinger will be key returner junior Camille Torgesen, who should be the second half of a solid one-two punch for the program. A two-year varsity runner, Torgesen earned a pair of Top 10 finishes last season, while finishing 32nd at regionals and 40th at state.
Providing depth for the program will be junior Lauren Stewart and freshman newcomers Brynlee Campbell and Alyssa Tobler.
Having a star of their own, the boys, who ranked seventh in the poll, will be led by junior Tyler Campbell, who, like Selinger, is one of the division's best.
Having earned six Top 10 finishes last season, including a fourth-place finish at regionals with a time of 18:03.04, Campbell should again be one of the top runners in the conference with multiple top runners from opposing schools having graduated. Finishing 16th at state last season, Campbell should once again be in the mix for another state title.
Returning to lend a helping hand will be seniors James Embro and Caleb Shamo, along with junior Dawson Goodfellow, who should keep the boys competitive this season, along with junior newcomers John Krausman and Buddy Boggs.
"The boys team has the potential to do well in our division and southern region this year," Petersen said. "We have an experienced core coming back along with a few solid newcomers. We're hoping for positive results after putting in a lot of time this summer."
Contact Robert Vendettoli at BCRsports @gmail.com.