Coach: Boys have right mix to be special
November 29, 2017 - 4:00 pm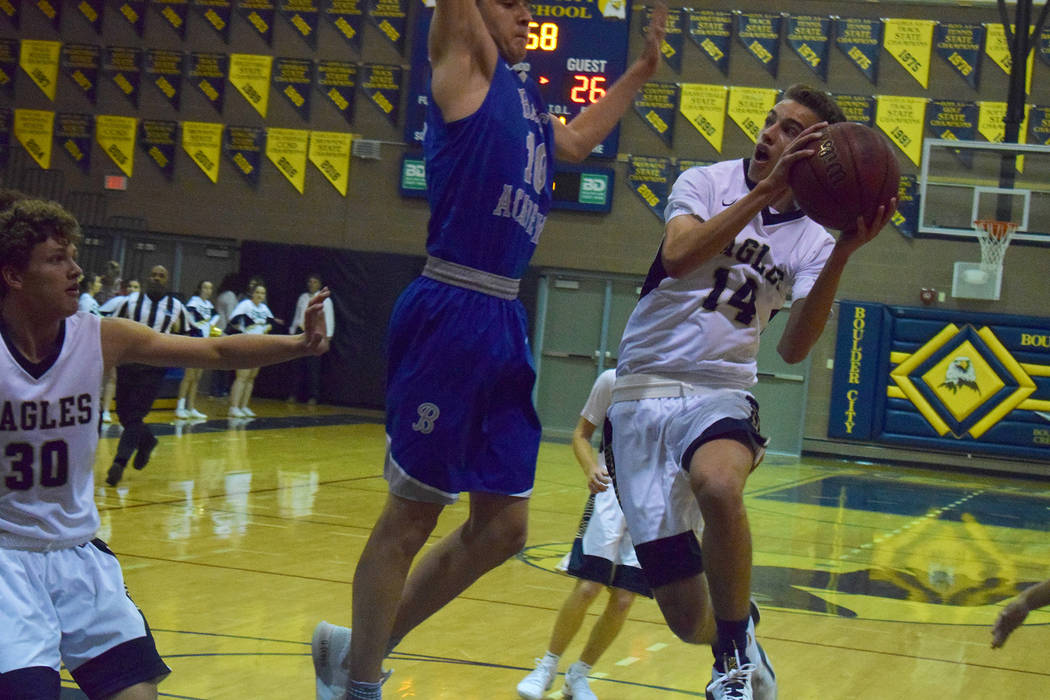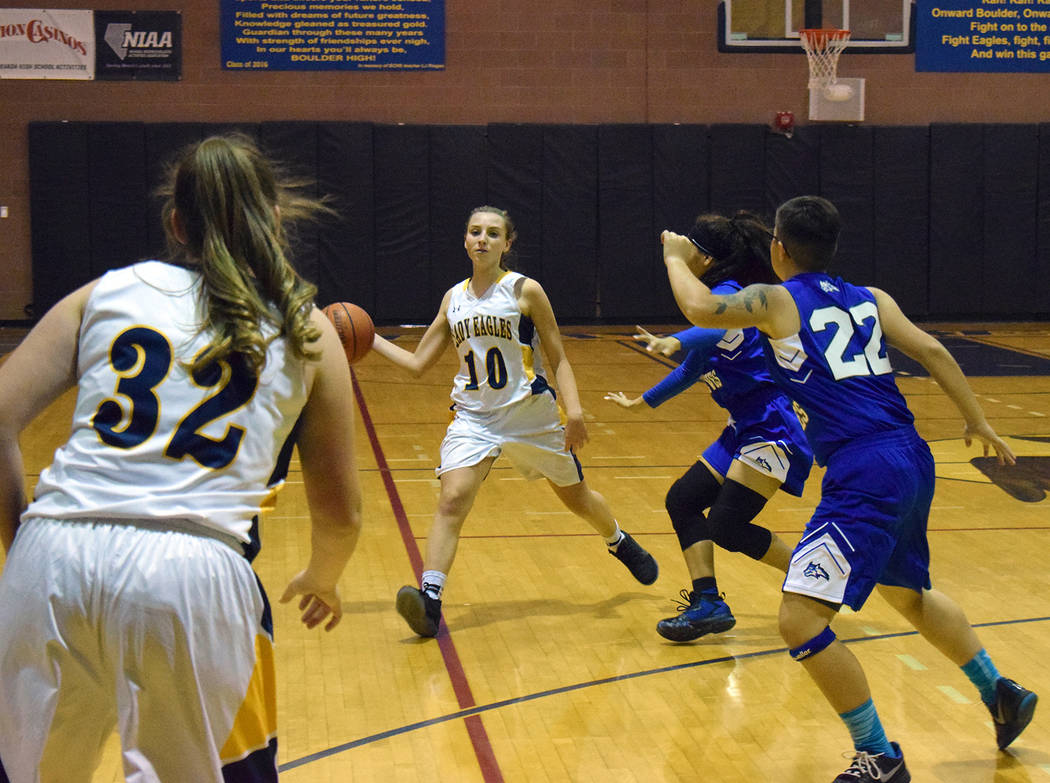 Eleven players scored Tuesday night in an all-around effort for Boulder City High School boys basketball, propelling the Eagles to a 71-60 season-opening victory over 4A Basic.
"The boys played really hard; I was happy with their effort," head coach John Balistere said. "This year's team is very deep. We have multiple guys that can play multiple positions and a lot of players will be relied on to give us solid minutes. This group has a chance to be special."
Hoping to find the special mix to end a three-year postseason drought, the Eagles were clicking on all cylinders Tuesday against the Wolves, led by junior Derrick Thomas, who finished with 15 points and five rebounds.
"We're really excited to have Derrick on the team this year," Balistere said. "Having him transfer in from Maryland is going to be a great addition to our team. He's only been with us for a short amount of time, but he's already developing chemistry with a bunch of our returning starters."
Meshing well on the court with last year's pair of leading scorers senior Carson Balistere and junior Karson Bailey, the trio gave the Wolves' defense fits throughout the night. Bailey finished with 14 points, while Carson Balistere finished with 8 points.
Running the floor well at an up-tempo pace, Thomas and Carson Balistere regularly attacked the rim for their baskets, while Bailey knocked down three 3-pointers on the night.
"Karson's ability to knock down threes is very important to our team's success," Carson Balistere said. "If we can get him hot, teams have to worry about him more than anyone else. His range is what helps open up other opportunities for guys to score."
Scoring in bunches Tuesday, freshman Ethan Speaker scored 8 points, while senior Tanner Montgomery scored 5 points. Seniors Bailey Gossard and Clayton Pendleton each scored 4 points.
Providing a pair of highlights in the first half to shift momentum, Speaker drained a buzzer beating a 30-foot 3-point attempt to close out the first quarter, while Bailey scored on a breakaway dunk late in the second quarter after forcing a steal.
Defeating their first of three 4A preseason challengers, the Eagles will play in the Lake Mead Holiday Classic tournament this weekend, followed by a road game at Spring Valley on Tuesday.
"We're hoping to challenge this group early and see what we got," John Balistere said. "We have the experience returning, we have length, we have a few younger guys who will contribute. Honestly, I think this is the best group I've had so far at Boulder City. Time will tell if this group has what it takes to be special."
Girls basketball
Inexperience and youth doomed Boulder City High School girls basketball early Tuesday night against 4A Basic, falling 47-27 in their season opener.
"I know this team is a lot better than how they played tonight against Basic," assistant coach Kirk Estes said, who filled in for head coach Paul Dosch. "Some games just don't turn out how you want them to. We have a lot of younger girls contributing, so it might take us a few games to fully gel together and get this right, but I expect us to be in lot closer ball games than what we were in tonight."
Falling behind 19-8 at halftime, the Lady Eagles tried to push the pace in the second half but found themselves on the wrong end of the turnover margin, constantly throwing the ball away to Wolves' defenders.
"We need to do a better job of protecting the basketball," Estes said. "I like that we played with urgency, pushed the pace and tried to score points to get back into the game, but we can't have sloppy mistakes. We need to play smart basketball."
Controlling the ball throughout the night, sophomore guards Madison Manns and Keely Alexander took turns shining individually on offense, routinely setting others up for scoring opportunities.
"We feel confident with both of them handling the ball," Estes said. "They proved as freshman that they could handle the load of running our offense, so we're going to put the ball in their hands and let them make plays."
Both returning after being named second-team All-Sunrise conference selections as freshmen, Manns scored a team-high 9 points, while Alexander added 2 points.
Alexander said she was confident in the duo's ability to not only put points on the board, but help get their teammates involved as well.
"Madison and I have a lot of confidence coming into the season," Alexander said. "We both know we can score when needed to, but we also look to get our teammates involved as much as possible. We're looking to do everything we can to help us win."
Getting their teammates involved often, juniors Setia Cox and Hannah Estes each scored 4 points, while junior Abby Giunta scored 3 points. Senior Jerra Hinson scored 2 points, while pulling down four rebounds.
One of three freshman expected to contribute this season, Kelsi Robinson scored 2 points. Kailie Fisher and Sophie Dickerman will be relied on to give the Lady Eagles qualities minutes, both seeing extensive minutes in the second half.
"We expect a lot out of them," Kirk Estes said. "All three freshman played a bunch tonight and showed some good things out there, also some growing pains. We're hopeful once we hit league play that everyone will be more comfortable on the varsity level."
Looking to make a return trip to the postseason after finishing third last season in the 3A Sunrise, the Lady Eagles will look to challenge themselves this weekend in the Lake Mead Holiday Classic, followed by a road game at Chaparral on Wednesday.
Contact Robert Vendettoli at BCRsports@gmail.com.
Upcoming games
Boys basketball
■ Today-Saturday: Nov. 30-Dec. 2, tournament at Lake Mead Christian Academy, TBA
■ Tuesday: Dec. 5, at Spring Valley, 5 p.m. junior varsity; 6:30 p.m. varsity
■ Wednesday: Dec. 6, at Chaparral, 5 p.m. junior varsity; 6:30 p.m. varsity
Girls basketball
■ Today-Saturday: Nov. 30-Dec. 2, tournament at Lake Mead Christian Academy, TBA
■ Wednesday: Dec. 6, at Chaparral, 3:30 p.m. junior varsity; 5 p.m. varsity