Close battles with top-level opponents at baseball tourney pushes Eagles' abilities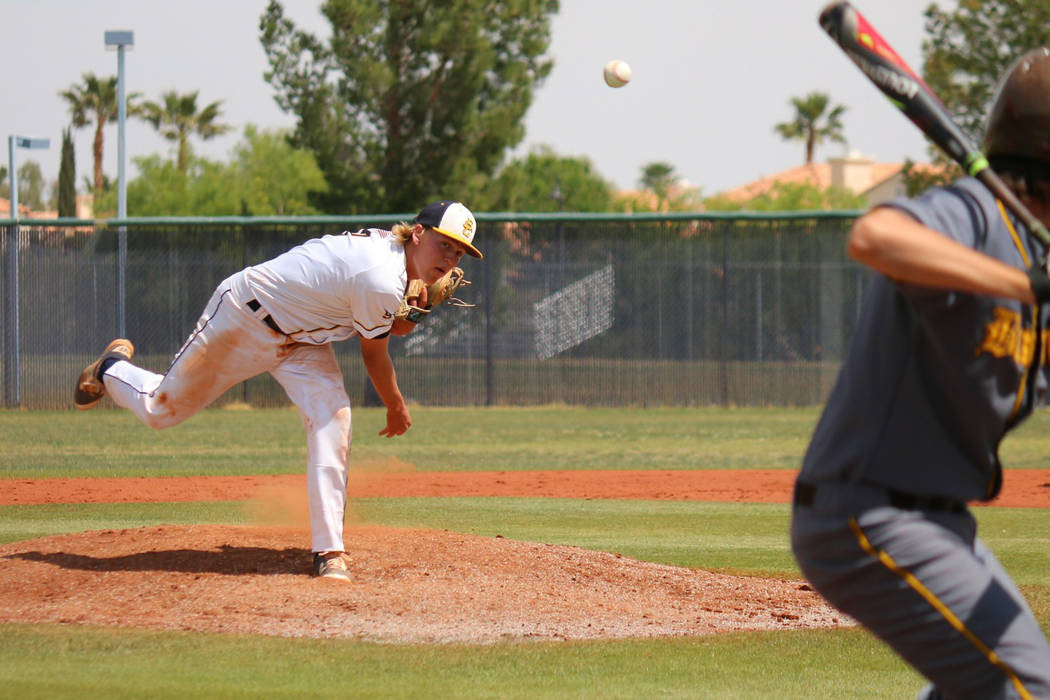 Battling back from an early 6-0 deficit to 4A program Bonanza on Tuesday in the Grizzly Invitational, Boulder City High School's baseball program wasn't able to hang on in an 8-7 shoot out.
Ahead 7-6 heading into the bottom of the sixth inning, the Eagles squandered an opportunity to knock off a higher-classified opponent, surrendering a two-out, game-tying triple to Bonanza slugger Torren Brozovich.
Plagued with defensive issues throughout the season, the Eagles' errors came back to haunt them again, allowing Brozovich to score the game-winning run on the same play as he popped up from his slide at third base and headed home after a botched throw from the Eagles' outfield.
"It goes without saying, we let that game get away from us," head coach Bobby Reese said. "We had some tough mistakes at the wrong time and didn't take advantage of some opportunities to score more runs and put it away. It's a tough way to learn, but a lesson that needs to be learned."
It was the second day in a row the Eagles would learn that lesson, carrying a 5-1 lead on Monday against 4A Legacy heading into the bottom of the fifth inning, before falling 6-5.
Rallying for three runs in the fifth, the Longhorns tacked on a pair more in the bottom of the sixth inning, scoring sluggers Fabian Torres and Anthony Lomeli, who both singled to start the rally.
Eagles' senior ace Jake Hubel had been near perfect heading into the fifth inning, before unraveling late in the game. Despite the loss, Hubel threw a respectable six innings, allowing five earned runs on nine hits with three strikeouts.
Even with the two heartbreaking losses, Reese said he likes the intensity he's seen from his ball club as of late after losing to 4A Sierra Vista 5-0 on Friday and 4A Spring Valley 16-0 earlier Monday.
"We are getting better, playing better defensively and hitting much better," Reese said. "We would of, could of, should of beat both Legacy and Bonanza. Our kids have shown a ton of character and pride battling back from down 6-0 to Bonanza when they could have thrown in the towel. We battled back to take the lead 7-6 and just couldn't hang on. We played the best we have all year; we just didn't do it for seven innings."
Finding a quality start from junior Rhett Armstrong against Bonanza, the junior showed significant signs of improvement as the game went on, settling down tremendously after allowing three runs in both the first and second innings.
Going the distance against the Bengals, Armstrong threw sixth innings, allowing seven earned runs off of 10 hits, six of them in the first two innings. The junior would also strikeout seven batters, while batting 2-for-2 at the plate with a two-run triple.
Senior Kodey Rahr contributed offensively with 2-for-3 effort against the Bengals with an RBI, while junior Shaun Jones batted 2-for-4 with an RBI.
Despite the recent struggles of their spring break schedule with four straight to 4A opponents, Reese sees better days ahead for the program once league play starts back up again Monday at home against Del Sol.
"We have shown we can play with any 3A team down South; now after break it's time to show we can beat them all as well," Reese said. "We have swung the bats well this week against top-level pitching. I think that will really pay off next week when we get back to league games and hopefully contribute to better results."
Contact Robert Vendettoli at BCRsports@gmail.com.
Upcoming games
Today-Saturday, Wildcat Spring Tournament at Las Vegas High School, TBA, junior varsity
Monday, vs. Del Sol, 3:30 p.m. home varsity, away junior varsity
Tuesday, vs. Southeast Career Technical Academy, 3:30 p.m. away varsity, home junior varsity
Wednesday, vs. Virgin Valley, 3:30 p.m. away varsity, home junior varsity