September 13, 2017 - 2:51 pm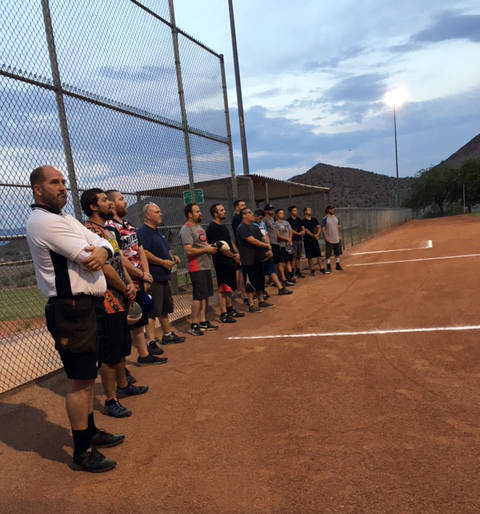 Softball, volleyball leagues begin; late Dan McMahon honored
The Boulder City Parks and Recreation Department began its fall adult softball and volleyball leagues this week.
On Sept. 7, the men's softball teams honored the late Dan McMahon, a legend within the community's softball leagues, said Kelly Lehr, sports coordinator for the recreation department. There was a moment a silence prior to the first pitch, and Marty Lalley, head umpire for the Nevada Softball Association, spoke about McMahon's contributions to Boulder City and softball in Southern Nevada.
In the first round of games, Boulder Dam Credit Union beat Ralph's Tires 14-5 and 11-10, and Pit Stop defeated Duetto 11-5 and 16-6.
In the coed league, Boulder Dam Credit Union squeaked by TQ Pallets 16-15 and 10-8. Boulder Bowl and Boulder Dam Brewery split their doubleheader 13-8 and 14-12, and newcomer Classy &Sassy defeated another league addition, Best Dam Crossfit, 13-5 and 15-9. Games will resume at 6 p.m. Sunday, Sept. 17.
Women's volleyball began Monday night. Volleygirls, the reigning champion, is the team to beat, with hard-hitting Synergy close behind, according to Lehr. Games are played at 6:30, 7:20 and 8:10 p.m. in the new gymnasium at recreation center, 900 Arizona St.