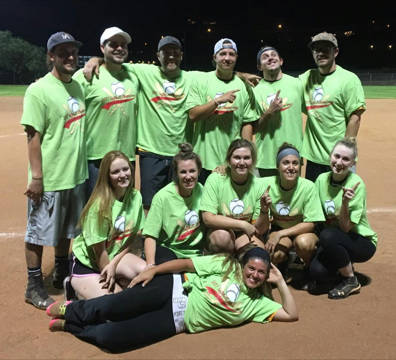 Brewery surprises others, claims co-ed league victory
Boulder City Parks and Recreation Department's spring and summer adult coed softball league has come to an end with a surprising twist, said Kelly Lehr, sports coordinator. The third-place Boulder Dam Brewery defeated second-place T.Q. Pallets twice in the tournament as well as dropping first-place Boulder Bowl into the loser's bracket with big hits from Eddie Feeney, Erin Oliver and Garrett Calloway.
Emilio Gomez and Tyler Bletch reached into foul territory for big defensive plays during the game, and Allison Whittle and Danny Bell sparked the outfield with great catches to clinch the win, Lehr said.
"Sponsor Todd Cook of Boulder Dam Brewery should be proud, as they went undefeated in the tournament and won the championship game on Sunday 15-13 against T.Q. Pallets," she added.
Championship on line for men's softball league tonight
The men's softball tournament will resume at 7 tonight with The Credit Union playing Duetto in the semifinal game for a chance at the championship game versus Pit Stop.
The softball leagues break for the summer months and will begin a new season in September.
League meetings will be held at 7 and 8 p.m. Aug. 17 at the parks and recreation building, 900 Arizona St.