Championship in site for cross country girls
November 2, 2016 - 2:28 pm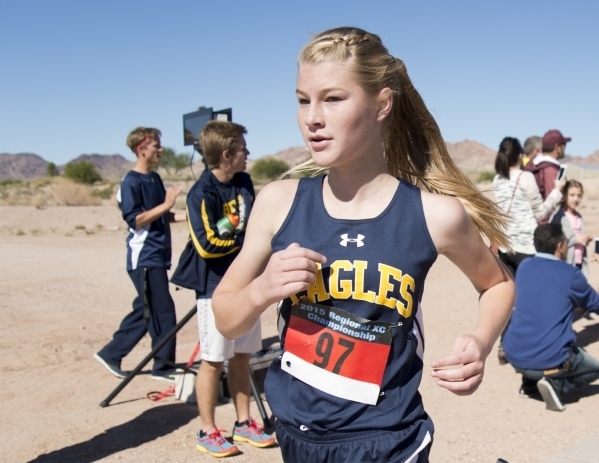 Junior runner Sierra Selinger captured her second straight southern region cross-country meet individual girls title Friday, leading Boulder City to its third consecutive trip to the team state meet.
The team finished second in the 3A Southern Region at Craig Ranch Park with an overall score of 62. Tech won the meet with a score of 26, and Desert Pines grabbed third with 74.
"I am so proud of how all of our kids ran on Friday," assistant coach Stacey Selinger said. "Everybody really stepped up and ran their fastest time ever by a lot. Each of them focused on their individual goals and our team goals and gave it 110 percent."
Sierra Selinger placed first with a time of 19 minutes, 50.6 seconds, giving her momentum heading into the state meet.
"I feel really good about the race," Sierra Selinger said. "I was nervous, but I felt well-prepared. Heading into the state meet, I think that I'm prepared physically to do well. Our coaches have been doing a good job of prepping the team, and now I just need to make sure I'm mentally ready for the race."
Lending a helping hand in guiding the Lady Eagles to their third consecutive state appearance, junior Camille Torgesen placed ninth in 21:28.1, while senior Camilla Sartor placed 13th with a time of 21:47.1.
Junior Lauren Stewart and freshman Audrey Selinger also had strong performances for the team, placing 18th and 21st, respectively, with times of 22:22.8 and 22:35.2, while sophomore Brynlee Campbell placed 32nd in 23:27.1.
"It's hard to pick just one or two outstanding performances from this past week, because really if you look at their previous best times and what they ran on Friday, they all did amazing," Stacey Selinger said. "I'll never forget this race for our kids."
Also making the trip to state will be the boys senior duo of Tyler Campbell and James Embro. The boys team, however, did not qualify, finishing fifth with 120 points. Campbell took third in 16:29.6, and Embro finished 17th in 18:05.5.
"I was very happy with the race, and although I was hoping to get a better place, I'm confident I can perform better at state," Campbell said. "I'm also very proud of the team because everyone got a personal record. Even though the team won't be joining James and I at state, I'm glad everyone ended the season with a great race."
Finishing their season with times under 20 minutes were junior John Krausman (21st in 18:21.4), junior Dawson Goodfellow (39th, 19:14), senior Caleb Shamo (41st, 19:22.3), sophomore Noah Calvert (44th, 19:37.5) and senior Braden Klouse (49th, 19:55.6).
Runners from both teams will look to give it their all Saturday back at Craig Ranch Park for the 3A state meet.
"I think a lot of it will be mental for this race," Campbell said. "Everyone has worked very hard physically this season, and now it comes down to the point where your mental strength and stamina will be crucial in order to do your absolute best."
Contact Robert Vendettoli at BCRsports@gmail.com.