British Soccer Camp returns to Boulder City on Aug. 12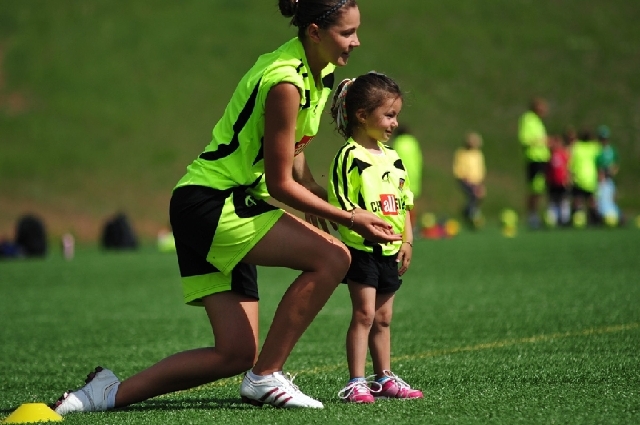 The British are returning to Boulder City.
Great Britain's Challenger Sports will again make the soccer fields at Veterans Memorial Park one of its stops on its summer-long tour of America.
Working with Boulder City Parks and Recreation, Challenger Sports will host British Soccer Camps from Aug. 12-16 at Pratte Soccer Fields, 1650 Buchanan Blvd.
This is the final week for online registration, at www.challenger
sports.com.
Along with the usual age-group camps, this summer for the first time, 3-year-olds can participate.
Ages 3 to 4 will do the First Kicks camp from 6 to 7 p.m. The fee is $79 for the week. Ages 4 to 5 will do the minicamp from 6 to 7:30 p.m. for $93. Ages 6 to 16 will do the half-day camp from 6 to 9 p.m. for $123.
The camps will be coached by members of Challenger's team of 1,100 British soccer coaches flown to the United States exclusively to work on the summer programs. Boulder City is one of 3,500 soccer camps this summer, which will have more than 130,000 kids participate between ages 3 and 19.
"This is a great experience for all the kids in the community and we are always happy to stop in Boulder City for our tours," Challenger Sports spokesman Nick Howitt said.
"As the number of soccer players in the U.S. nears 20 million, we are proud to teach and expand the knowledge at all levels. The interest is always higher on the local levels on the verge of the World Cup," he said.
Interest in soccer is high now because the U.S. national team just won the CONCACAF Gold Cup, beating Panama, 1-0, on July 28 for a team-record 11 consecutive international victory. The World Cup will be played next summer in Brazil. National teams from both Great Britain and the United States have qualified.
"Space is limited for the camps and parents are encouraged to sign up online in advance to avoid disappointment," Howitt said. "We want to be able to accommodate everyone that wants to participate."
Each camper will receive a free personalized skills performance evaluation, camp T-shirt, soccer ball and poster.
Challenger Sports has been conducting soccer camps in America for more than 20 years. It also conducts hundreds of free parent/coach soccer clinics throughout the country in its partnership with the National Soccer Coaches Association of America.
"Challenger's 1,000 Touches coaching syllabus provides an innovative daily regimen of foot skills, moves, juggling, tactical practices and daily tournament play," Howitt said. "Challenger also weaves in lessons on respect, responsibility, integrity, leadership and sportsmanship into each camper's daily routine.
"Our British Soccer Camp program also provides a unique cultural experience for the players, highlighted in the 'Camp World Cup.' The coaches use this daily tournament to teach about life, customs and traditions of other countries."
The campers will be split into "countries" and will create a soccer chant, wear the team colors of their country, bring flags and learn about the country they represent.
For more information contact Howitt by cellphone, 760-849-4111, or by email, nhowitt@challenger
sports.com.