Boys tennis team remains undefeated
September 12, 2018 - 2:57 pm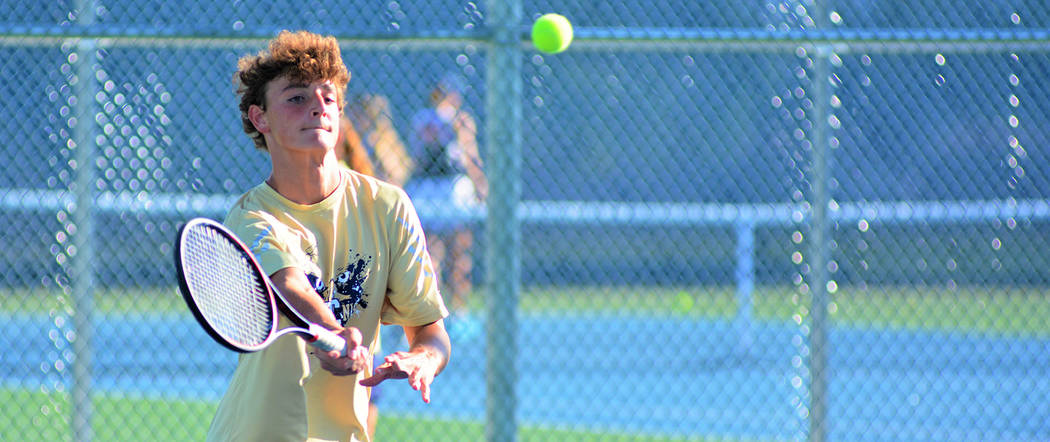 Undefeated as the halfway mark of the season nears, Boulder City High School's boys tennis program picked up a pair of league victories for a 9-0 record.
Defeating Valley on Sept. 5 and Del Sol on Sept. 6, the Eagles are now in the driver's seat in the 3A classification to finish as the region's top seed.
"I think the boys have played great so far," head coach Rachelle Huxford said. "Right now everything is about getting us healthy and to where we should be come playoff time. They've done a great job up to this point, but as a coach you can never be satisfied or you'll stop getting better."
Junior singles player Connor Mikkelson finished 2-0 to lead the Eagles to defeat Valley 16-2.
In doubles play, juniors Preston Jorgensen and Boen Huxford finished 2-0, along with senior Karson Bailey and junior Ty Pendleton, who also finished 2-0.
Defeating Del Sol 15-3, the Eagles have now routed six opponents this season by 10 points or more, proving they're still in championship form from a season ago.
Junior Breton Erlanger finished 3-0 against the Dragons.
Switching around their lineup in doubles play, Bailey and Jorgensen teamed up for a 3-0 day, while Boen Huxford and Pendleton finished 3-0 as well.
"The Del Sol match was more of just trying to do something different and keep it fun," Rachelle Huxford said. "Karson and Preston have been wanting to play together so I made it happen for this match and it was good to get Boen and Ty some practice together. That pairing is something we'll look more at come closer to the postseason in case we need to move Preston to singles for a match."
Senior Leaf Kaboli and junior Philipp Zengl finished 3-0 in doubles play against the Dragons.
"Our goal right now is to have an undefeated season," Rachelle Huxford said. "That's a really tall order, but we feel it's something we can accomplish. We'll have to wait and see."
Last year, the Eagles finished the season undefeated with a 20-0 record.
Boulder City will host a trio of games starting today at 2:30 p.m. against Chaparral. The Eagles will host 4A Silverado on Friday and Mojave on Monday.
Contact Robert Vendettoli at BCRsports@gmail.com.
Upcoming games
Today, Sept. 13, at Chaparral, 3 p.m., varsity
Friday, Sept. 14, vs. Silverado, 3 p.m. varsity
Monday, Sept. 17, vs. Mojave, 3 p.m. varsity