Boys tennis team looks to repeat as state champs
August 15, 2018 - 4:11 pm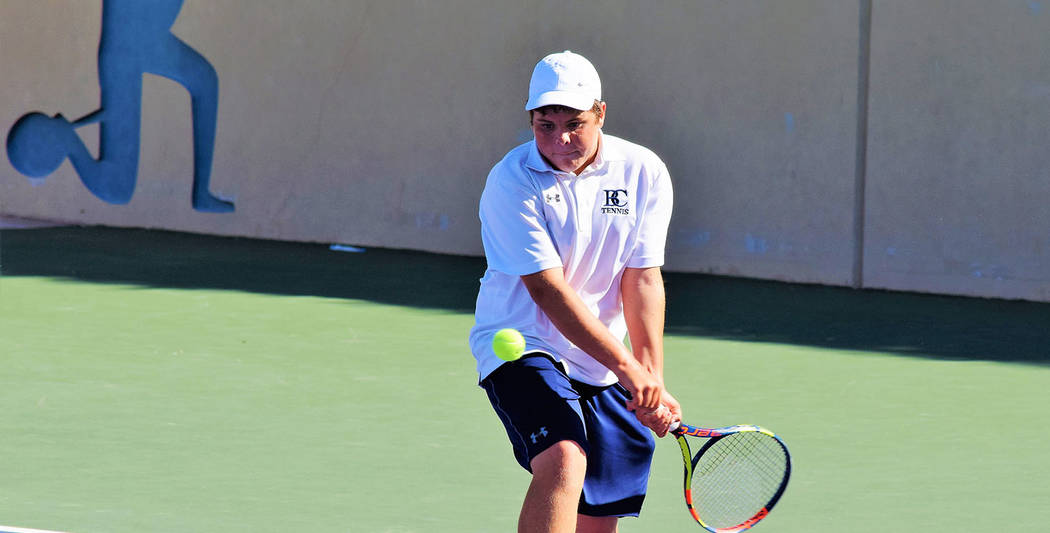 Boulder City High School's boys tennis program figures to be in the driver's seat again after claiming its first 3A state championship since 1977 last season.
The Eagles' experienced core that went 20-0 in league play the past two seasons is ready for another state title run.
"Being state champions last year has really motivated us to become state champs again," junior Boen Huxford said. "We know how great a feeling it is to win the state championship, and we want that feeling again this year."
The Eagles will have to replace key contributors Andre Pappas, Clayton Pendleton and Sam O'Berto, but head coach Rachelle Huxford said she is confident in her returning players.
"We have a lot of key returners coming back," she said. "We're going to need to fill some of our holes, but we have a lot of talented players to do that. I'm still working out lineups and where to put certain players, but I'm confident that both our singles and doubles teams will be strong again this year."
Back this year are juniors Connor Mikkelson and Breton Erlanger, who made state final appearances last season in individual play. Mikkelson placed third at state.
"Connor brings an abundance of experience and confidence to the court," Rachelle Huxford said. "Our entire team respects and looks up to him. Breton is a really solid player. He's definitely somebody who never gives up. I've seen him battle his way back from many holes. When it's time to play, he goes out and gives it his all."
The junior doubles tandem of Preston Jorgensen and Boen Huxford finished third at state and could be even more dominant this year if they stay together.
"We're still not quite sure who our double teams are going to be right now, but I'm confident in Preston and Boen when they're together," Rachelle Huxford said. "I truly believe they should have been state champions the past two years, but whether it was inexperience or they had a bad day, it just didn't happen. Now that they're upperclassmen, I think they've matured and know what to expect."
Also expected to play doubles will be senior Karson Bailey and junior Ty Pendleton, although their partners for this season have yet to be determined.
Jorgensen could spend some time by himself this year, while German exchange student Philipp Zengl could earn some playing time as well.
The Eagles will be tested right out the gate in the newly constructed 3A division, facing The Meadows in a state championship game rematch. Boulder City will play every 3A team once this season.
"I like what they've done with the realignment," Rachelle Huxford said. "We get to see who our competition is on the other side and prepare for them come time for the postseason. I'm grateful this year's matchup against the The Meadows comes at the beginning of the season and not the end. This will give us a chance to see where we stand in the division and what we can improve on. This match will also give me a good idea on who should be in our lineup and where I should put them."
Contact Robert Vendettoli at BCRsports@gmail.com.
Upcoming games
Tuesday, Aug. 21, vs. Eldorado, 3:30 p.m., varsity
Thursday, Aug. 23, vs. The Meadows, 3 p.m., varsity
Friday, Aug. 24, at Basic, 3:30 p.m. varsity