Boys tennis team 'hungry' for success
August 16, 2017 - 2:52 pm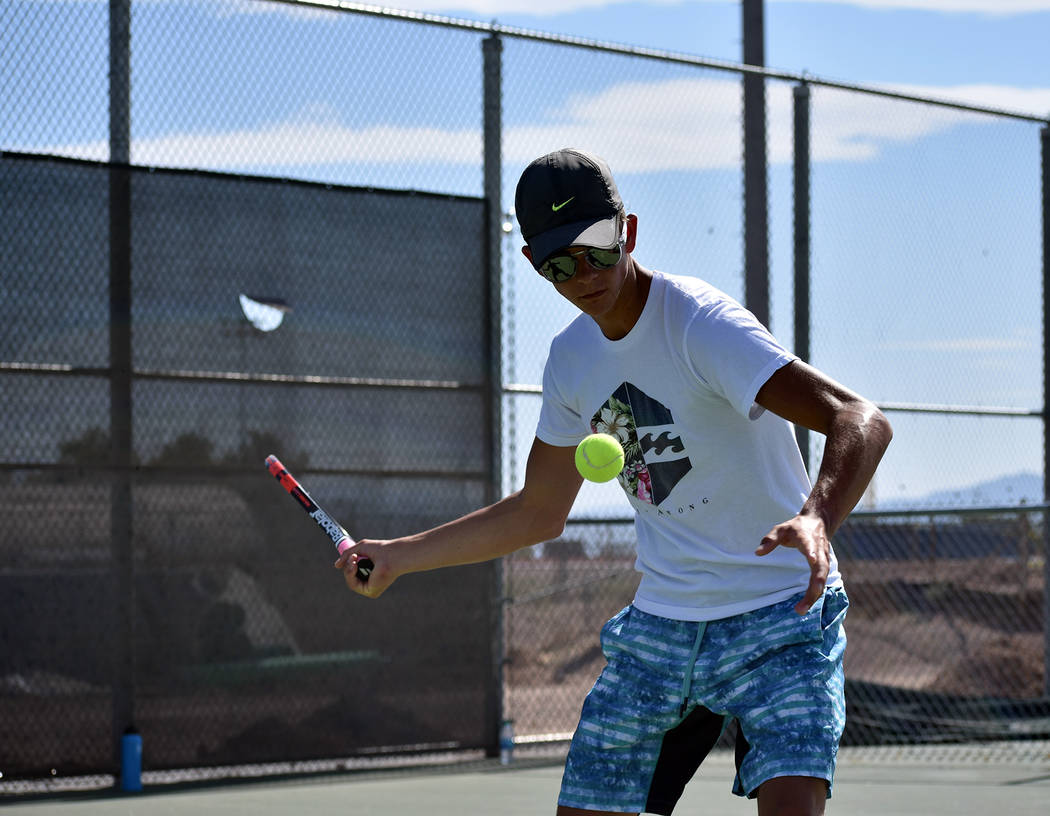 Finishing as last season 3A state champion runner-up, Boulder City High School's boys tennis program is ready to take the next step under head coach Rachelle Huxford.
"Last year was a great season, somewhat of a turnaround for the program," Huxford said. "We kind of came in under the radar and surprised some teams early. This year, we know we have to be ready to take on all challengers. We have to step up to the challenge and stay sharp."
Bringing back nearly their entire core roster from last season, Huxford said she feels good about the program heading into year two of her coaching tenure.
"Coming here last year, I really didn't know what to expect," Huxford said. "As time went on though and I invested in the program and in my players. I learned how to get them motivated about winning, how to get them to play up to their abilities. Having a year under my belt, we're going to continue to hopefully roll."
Motivating her players with Krispy Kreme doughnuts last season if they were awarded 6-0 sweeps during their matches, Huxford had to dial back her approach after the first two weeks when her boys were taking the 3A Sunrise League by storm.
"When you show you care about your players and you want to reward them for their efforts, they'll really play hard for you," Huxford said. "We had so many boys getting shutouts last season that I had to limit it to two doughnuts per player. I know the boys are looking forward to that again this season."
Expecting many shutouts from her two singles stars, the Eagles return senior Andre Pappas and sophomore Breton Erlanger, who represented the Sunrise as the No. 1 and No. 2 players, respectively, during last season's individual state championship tournament.
"Anytime you can bring back the number one and two players in the bracket, you're in good shape," Huxford said. "We're expecting big things from both of them this season."
Aiming his sights high on a state championship in team play and as an individual, Pappas comes into the season ready to provide an encore after a brilliant junior campaign.
"I'm really excited to just get back out on the court and compete again," Pappas said. "We all have a lot of individual goals, but what brings us together is being hungry for a team title. We were close last year. Coming back a year better, we feel like we can be there again."
The Eagles lost 10-8 to The Meadows in last season's state final.
Strong in doubles competition as well, the Eagles bring back the sophomore duo of Boen Huxford and Preston Jorgenson, along with the duo of senior Ty Montgomery and junior Karson Bailey, who are each expected to play heavily in the team's success.
"I feel like we have one of the best doubles groups in the region," Jorgensen said. "Top to bottom everyone here competes and helps each other get better. All three of our double teams should be really strong."
Bringing back their entire core and motivated by losing, expect the winning to continue for the boys tennis program, which is primed for another state tournament berth.
"I think when you lose, you become better in the long run, more dangerous," coach Huxford said. "No one likes losing, no one likes to remember what it feels like. I know these kids are motivated and I'm excited to see it play out."
The Eagles will open their season against 4A opponent Basic at home at 3 p.m. Thursday, Aug. 24.
Contact Robert Vendettoli at BCRsports@gmail.com.
Upcoming games
Aug. 24, vs. Basic, 3 p.m.
Aug. 28, at Liberty, 3 p.m.
Aug. 29, at Virgin Valley, 3 p.m.
Aug. 31, vs. Tech, 3 p.m.