Boys tennis team earns redemption with win
October 25, 2017 - 3:09 pm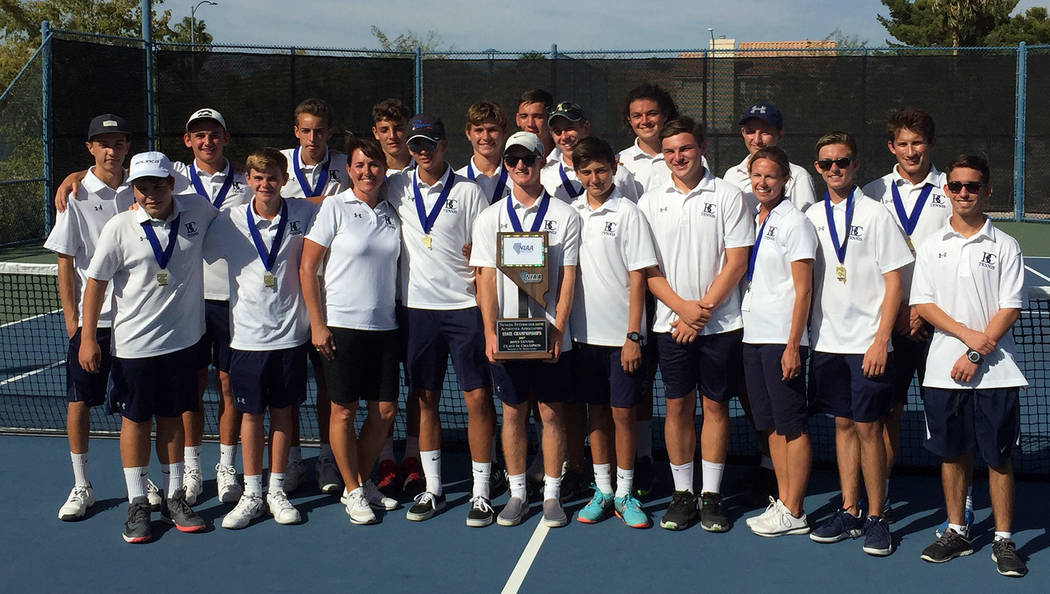 Finishing a season of redemption after last season's 3A state runner-up finish, the Boulder City High School boys tennis team captured its first 3A state championship since 1977, knocking off defending champions The Meadows 13-5 on Friday at the Darling Tennis Center in Las Vegas.
"The rivalry between us has definitely been built up the past two seasons," senior Andre Pappas said. "We came in wanting to get revenge for last year. It was very exciting to go in and beat Meadows and finish as a state champion before I graduate."
The Eagles defeated The Meadows after knocking off Northern Nevada challenger Truckee 12-6 in the semifinals and finished the campaign a perfect 20-0.
"Words honestly can't describe how happy I am for these boys," head coach Rachelle Huxford said. "Since last season's state final loss to The Meadows, the boys have worked tirelessly trying to get better and rebound. We've been talking about being state champions for an entire year now. To see the joy on their faces when we finally achieved it was truly priceless."
Coming off of strong individual performances during regional play, the Eagles' three state-bound singles players did their fair share of the heavy lifting against the Mustangs, led by 3-0 efforts from Pappas and sophomore Connor Mikkelson.
Sophomore Breton Erlanger finished 2-1 on the day.
"We beat The Meadows before at regionals, so we had more confidence leading up to our state championship matchup," Mikkelson said. "That definitely helped us close it out. The team as a whole contributed to our state victory."
Sophomores Boen Huxford and Preston Jorgensen finished 3-0, while senior Tanner Montgomery and junior Karson Bailey each finished 2-1.
"All year our hard work has led up to this point," Rachelle Huxford said. "Getting both our singles and doubles players to be on at the same time and have everyone contribute to the victory was our top priority. I'm glad everyone was able to come together and play their games. Hats off to everyone for continuing to work hard toward our goals and playing well enough to reach them."
Fulfilling their team goals Friday, several individuals worked toward reaching personal success Saturday during individual play, highlighted by third-place finishes from Mikkelson in singles and Boen Huxford and Jorgensen in doubles.
"I know both of them wanted to finish higher, but third place is a great start," Rachelle Huxford said. "Connor and Andre battled it out in singles play, and Boen and Preston beat a really good Meadows team. I'm very proud of both of them."
In sort of a passing-the-torch moment, Mikkelson and Pappas battled through a rigorous three-set match, before the sophomore overcame the senior 6-1, 4-6, 6-1.
Pappas, the Eagles' top singles player throughout his tenure, finished fourth, while the team's new No. 1 moving forward has his sights set higher during his next two campaigns.
"I feel fine about third place," Mikkelson said. "You can't win them all, but those losses make you stronger and wiser. Next season will be an entirely different story to report."
Top-seeded Boen Huxford and Jorgensen fell short of their championship aspirations but rebounded to beat The Meadows duo of Brian Capp and Ryan Chang 6-3, 6-4 in the third-place doubles match.
Boen Huxford and Jorgensen lost 6-0, 5-7, 3-6 to eventual runner-up Justin Finseth and Ben Goodman of The Meadows in the semifinals.
"Coming in as the top seed and carrying all that momentum really took a toll on them," Rachelle Huxford said. "They looked great in their first match and kinda tailed off from there. Losing in the semifinals I think recharged them to take third and make them even hungrier for next season. As soon as we got in the car to drive home, all three of us were coming up with ways to get better, so it will be fun to see their progress over the next year."
Much of the team's core will return intact, excluding Pappas, Montgomery, doubles player Clayton Pendleton and key singles reserve Sam O'Berto. Mikkelson is optimistic about the Eagles' chances looking ahead.
"It's gonna be tough losing some of the seniors, but other teams are losing players, too," he said. "Our team will still be strong; we just have to see how it turns out. If anything, it will encourage other players to work even harder over the year in preparation for next season."
Contact Robert Vendettoli at BCRsports@gmail.com.