Boys tennis team claims regional title; girls lose to Meadows
October 11, 2017 - 3:30 pm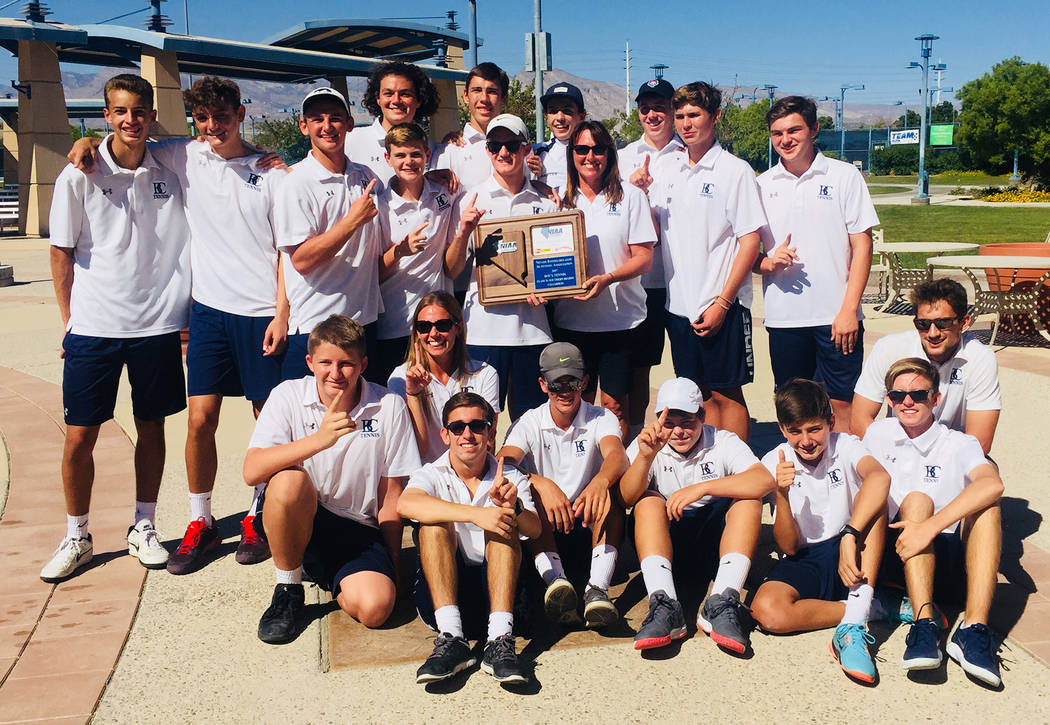 Settling some unfinished business from last season, Boulder City High School's boys tennis team took its first step toward redemption Oct. 5 at the Darling Tennis Center, knocking off defending 3A state champion The Meadows 10-8 in the 3A Southern Region final.
Rarely tested throughout the regular season, the undefeated Eagles (17-0) took a 8-8 tie with The Meadows into the final doubles sets, before the tandem of senior Tanner Montgomery and junior Karson Bailey sealed the Eagles' upset bid with a 7-5 victory over Ahmed Nadeem-Tariq and Peyton Sachs in the last match of the day.
"The doubles teams stepped it up and came up with the points in the end," boys head coach Rachelle Huxford said. "The boys were ecstatic about winning, and so was I. This was definitely a big win for us."
Finishing 1-2 on the day in doubles play, Montgomery and Bailey picked the perfect time to overcome the skillful Mustangs, giving the Eagles the No. 1 seed heading into their second consecutive 3A state tournament under the tutelage of Huxford.
"Being the No. 1 seed will be nice going into the state tournament," Huxford said. "We are looking forward to the first round of state, focusing on one point at a time."
Facing their toughest challenge of the season, the Eagles' top two singles competitors and top doubles tandem powered the victory, looking unstoppable at times.
Finishing with 3-0 records, sophomore Connor Mikkelson led all singles competitors, while the tandem of sophomores Boen Huxford and Preston Jorgensen led all doubles competitors.
"We have worked hard all season to get where we are now," Boen Huxford said. "Everyone came out in the finals and did what we needed to do to win. I'm very proud of my team for working so hard to beat The Meadows and get the regionals' title."
With points at a premium, senior singles competitor Andre Pappas battled through adversity after hurting his back in the Eagles' 16-2 3A semifinals victory against Desert Pines, finishing with a 2-1 record on the day.
Picking up a crucial point as well, the doubles tandem of senior Clayton Pendleton and sophomore Ty Pendleton finished 1-2 to help knock off the Mustangs, which enter the match with a 32-game winning streak dating back to last September including a 10-8 state championship victory over the Eagles last season.
"It means a lot to finally get a win over The Meadows," Pappas said. "We definitely have the momentum on our side now going into state, showing off our capabilities as a team in regionals. We feel like we have unfinished business with them after last season. We have a lot of seniors on this year's team, so we're fighting to finish with a state championship."
Fighting for their right to claim a state title as well, the youthful Lady Eagles gained valuable experience for their young core Oct. 5 against The Meadows, finishing the day with a 13-5 defeat.
Proving they're much improved after last season's 16-2 3A regional semifinal final loss to The Meadows, the Lady Eagles battled throughout the day with the Mustangs behind star sophomore singles competitor Olivia Mikkelson, who led all players with a 3-0 sweep.
"Olivia Mikkelson is unbelievable both physically and mentally," girls head coach Jami Pappas said. "The Meadows knew that Olivia would be tough, and not only was she tough, but she dominated. It's really been a great addition to our team to have such a dynamic, hard-working, phenomenal player."
Handling opponents with ease in postseason play following the Oct. 4 14-4 regional semifinals victory over Desert Pines, the Lady Eagles (16-2) had trouble with the two-time defending state champion Mustangs, but they now know what to expect from their toughest challenger heading into the state tournament as the Southern Region No. 2 seed.
"The Meadows were a much better team all the way through Thursday," Jami Pappas said. "Their doubles teams were amazing. We had a very difficult time against them, but it was great practice, and we learned a lot heading into state."
The doubles tandems of junior Natalie Bowman and sophomore Katelyn Fox and sophomores Sophia Morris and Olivia Leavitt each finished 1-2, but both victories came against Mustang reserves.
Heading into the 3A state tournament, team play will resume Oct. 19 at the Darling Tennis Center in Las Vegas. The boys have a 1 p.m. game scheduled against Northern Nevada challenger Truckee, while the girls play at 10:30 a.m., also against Truckee.
Contact Robert Vendettoli at BCRsports@gmail.com.
Upcoming games
Oct. 19, girls state team semifinals, vs. Truckee, 10:30 a.m.
Oct. 19, boys state team semifinals, vs. Truckee, 1 p.m.
Oct. 20, girls state team championship, if qualified, 8 a.m.
Oct. 20, boys state team championship, if qualified, 11 a.m.
Oct. 20, individual state quarterfinals, 4 p.m. girls, 6 p.m. boys
Oct. 21, individual state semifinals, 10 a.m.
Oct. 24, individual finals, 2 p.m.
All games will be played at the Darling Tennis Center, 7901 W. Washington Ave., Las Vegas.