Boys spend winter break testing their skills
January 3, 2018 - 3:00 pm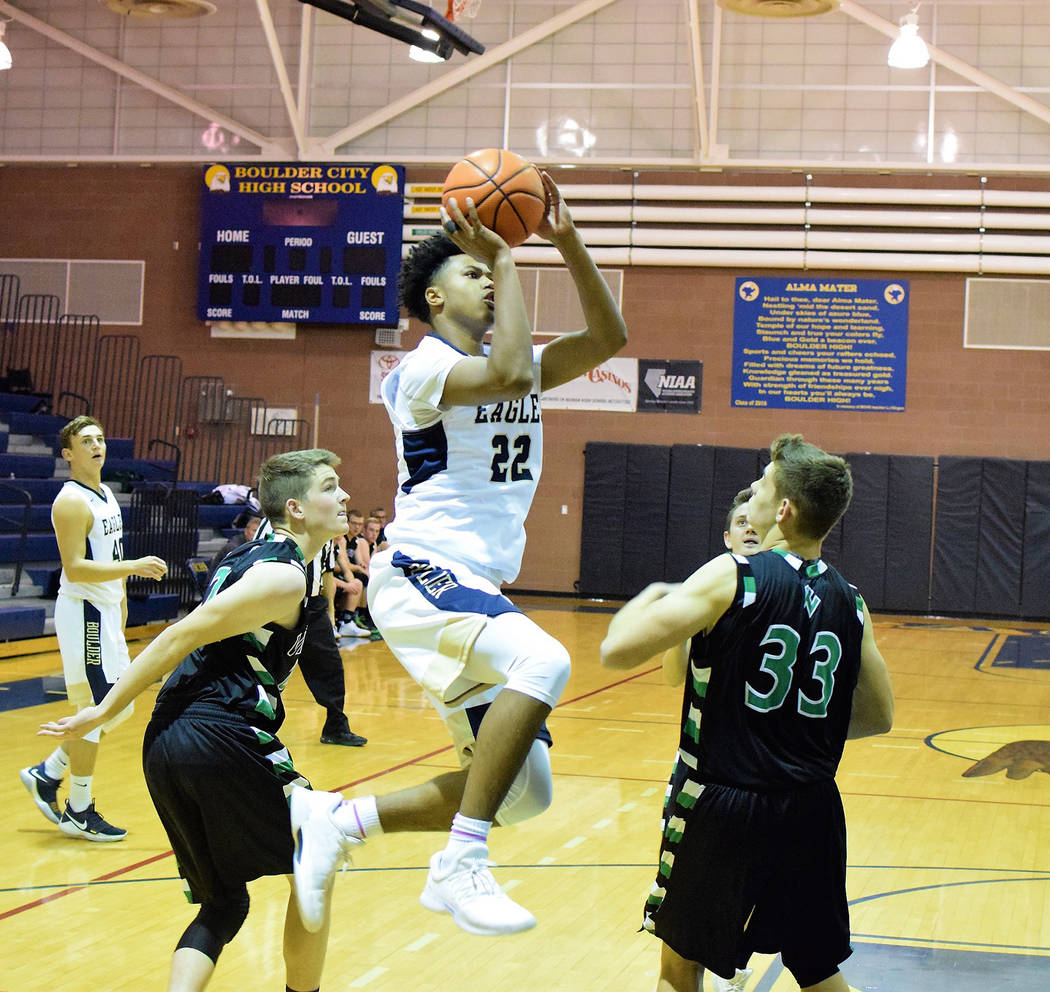 Breaking even in California in the Paloma Valley Winter Shootout, Boulder City High School boys basketball finished its holiday slate with a 2-2 record.
"I thought the boys played well overall," coach John Balistere said. "We came out flat in our last game on Saturday but other than that we have a lot of positives to build on. After going 2-2 last year, we were hopeful for at least a similar result."
Playing against stiff competition, the Eagles are confident their California trip will help prepare them for the second half of their regular-season slate, where they look to end a three-year postseason drought.
"The level of competition was, in my opinion, just as tough as league play," senior Carson Balistere said. "The Paloma Valley tournament had teams that were both athletic and had lights-out shooters. This week was a really great comparison competition-wise to our league."
Starting with a 55-42 win against Valley View on Dec. 27, junior forward Karson Bailey led the way with an all-around performance of eight points, nine rebounds and five blocks, while junior forward Derrick Thomas scored a game-high 15 points and freshman forward Ethan Speaker scored 10.
Coming on strong in his first season with the Eagles, Speaker scored 11 and 13 points, respectively, despite losses to Paloma Valley (72-67) and Lakeside (62-54), along with eight points in a 80-62 victory over San Jacinto.
Freshman Forward Matt Morton also provided an impact with nine points against Paloma Valley and seven points against San Jacinto.
"We've been really fortunate to get quality minutes from both of our freshmen," John Balistere said. "This not only gives them confidence to be future starters in our program, but continues to give us quality depth and more scoring options."
Providing the Eagles with quality scoring options in their win over San Jacinto, Thomas scored a season-high 29 points, while Carson Balistere scored 20 points, including three 3-pointers.
"Ball movement overall is what allows any of our guys to score in bunches," John Balistere said. "It's honestly what makes this group special, their unselfishness. When we're spreading the ball around and getting guys open looks in space, we can score with anyone."
Hoping for similar results from their offense, the Eagles will be tested early when they travel to Pahrump Valley and Southeast Career Technical Academy on Monday and Wednesday, respectively.
"I like that we're starting out on the road," John Balistere said. "The thing I love about this group is they don't care where they play, they expect to win regardless. These guys are hungry. I expect us to be ready."
Contact Robert Vendettoli at BCRsports@gmail.com.
Upcoming games
Monday, Jan. 8, at Pahrump, 5 p.m. junior varsity, 6:30 p.m. varsity
Wednesday, Jan. 10, at Southeast Career Technical Academy, 3:30 p.m. junior varsity; 6:30 p.m. varsity