December 5, 2018 - 3:27 pm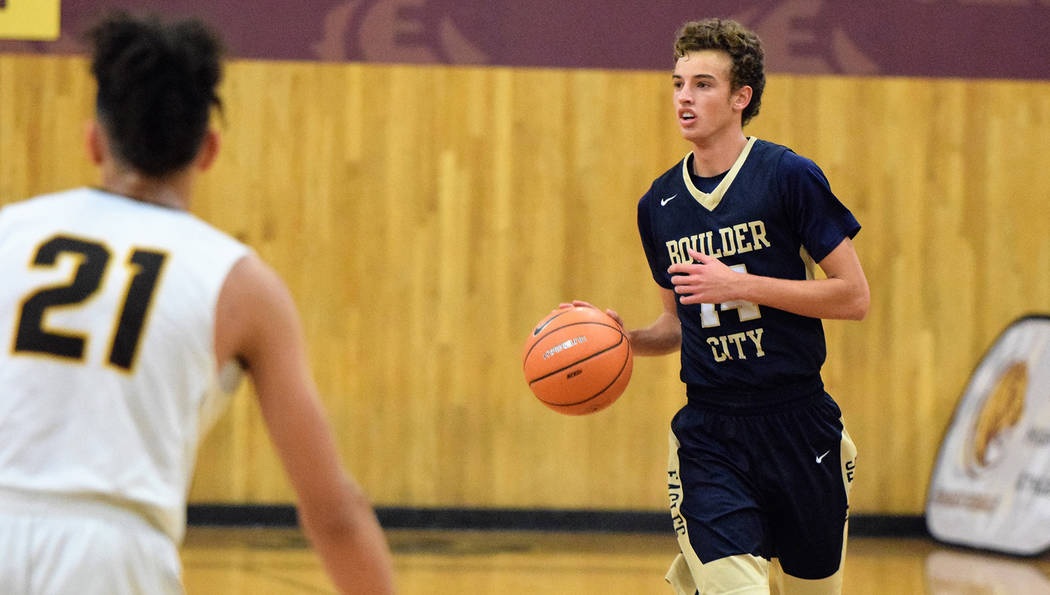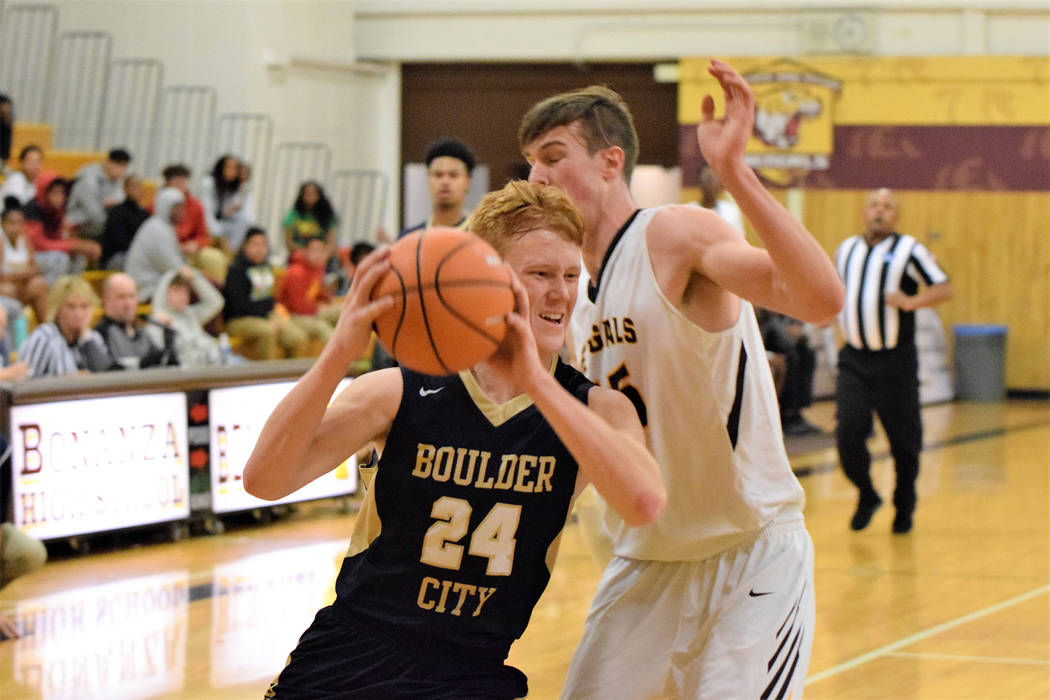 Boulder City High School boys basketball team won the Lake Mead Holiday Classic championship over the weekend, defeating rival Moapa Valley 70-50 in the title game.
The Eagles (6-0) are expected to be one of the favorites in the 3A classification this season and are playing up to their lofty expectations.
"It's really great to be able to win the Lake Mead tournament for the second year in a row," senior Karson Bailey said. "That tournament really helps us prepare for the rest of the season. We play some good competition and see where our team needs to improve. Winning the tournament gives our team confidence in our ability to play together and compete with really good teams."
Not only going undefeated throughout tournament play, but winning effectively, the Eagles routed The Meadows 57-26 along with their 20-point victory over the Pirates and win against West Wendover 78-63. Their closest game of the tournament came against American Prep in a 72-64 victory.
Playing the best stretch of basketball of his varsity career with the Eagles, Bailey was named tournament MVP for his efforts.
"I thought he was unbelievable," head coach John Balistere said. "He was a double-double machine for us; he had 10 offensive rebounds in the championship game against Moapa Valley. Karson's played a lot of games for me. He understands what we're trying to do; he's like another coach out there for me on the floor."
The focal point of the Eagles' offense, Bailey scored 81 points during the four-game stretch. He and senior Derrick Thomas were named to the All-Tournament team.
"It was a huge honor for me to win tournament MVP because I've been playing in that tournament the last four years, and I finally was able to play really well throughout the entire tournament," Bailey said. "I played with a lot of effort, and it paid off with a few great games. My teammates helped me a lot, giving me great passes and trusting me with the ball, which gave me the opportunity to win the award."
Playing solid offensively as well, Thomas scored 19 points against both West Wendover and Moapa Valley and 13 points against both The Meadows and American Prep.
Sophomore Matt Morton scored 21 points against American Prep and 15 points against West Wendover. Sophomore Ethan Speaker added 15 points against The Meadows, 14 points against West Wendover and 13 points against Moapa Valley.
Keeping their winning streak alive to open the season, the Eagles battled down to the final seconds with 4A Bonanza on Monday, Dec. 3, walking away with a 59-57 victory.
Thomas and Speaker each scored 13 points, while Bailey and Morton each had 12 points for the Eagles to remain undefeated.
The Eagles will face their stiffest competition of the season Friday, Dec. 7, when they host 4A Foothill. They'll also host SLAM Academy on Monday, Dec. 10 before traveling to 4A Green Valley on Wednesday, Dec. 12.
Contact Robert Vendettoli at BCRsports@gmail.com.
Upcoming games
Friday, Dec. 6, vs. Foothill, 6:30 p.m. varsity
Monday, Dec. 10, vs. Slam Academy, 6:30 p.m. varsity
Wednesday, Dec. 12, at Green Valley, 6:30 p.m. varsity