Boys basketball team's swagger results in wins
January 31, 2018 - 3:40 pm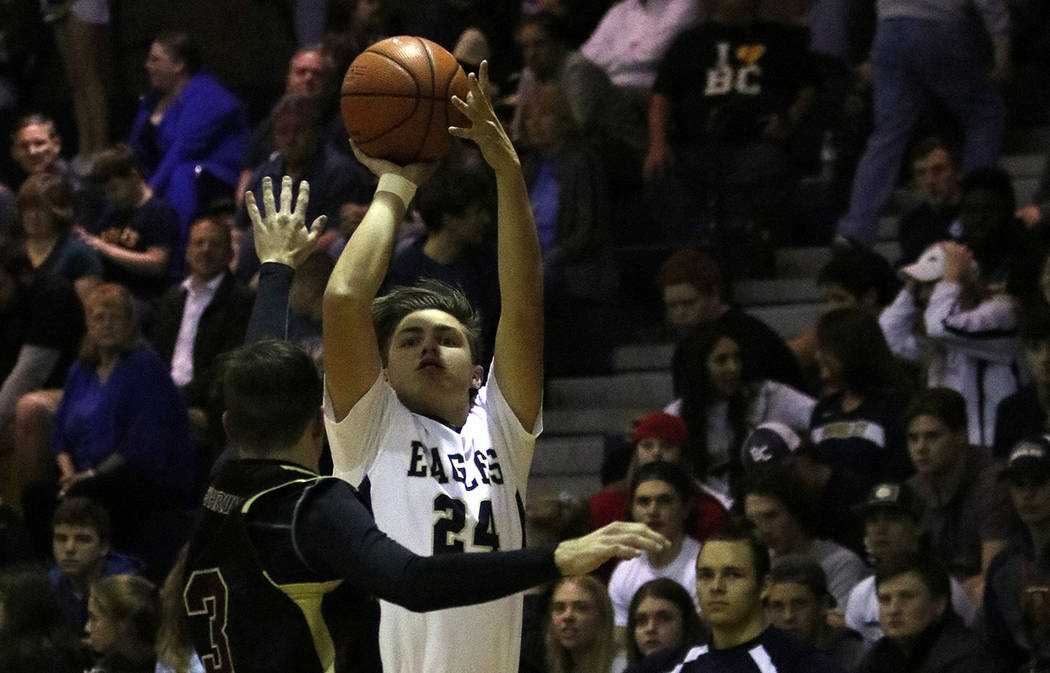 Boulder City High School boys basketball has been on an offensive tear since their Jan. 18 loss to Chaparral, beating their last three opponents this week by an average of 27 points per game.
Starting with Somerset Academy-Sky Pointe on Jan. 26 with a 75-39 victory, the Eagles also defeated Pahrump Valley 61-45 on Monday and rival Virgin Valley 67-38 on Tuesday.
"This team definitely has a swagger to them," head coach John Balistere said. "They come out and they expect to win. The Chaparral loss was a really tough one; the ball bounced the wrong way a few times, things didn't really go our way. They responded though and were executed a lot better, shooting the ball well. A lot of guys are giving us good minutes and we're playing good basketball."
Gaining contributions from the entire roster, senior guard Carson Balistere led the Eagles in scoring with 16 points against Sky Pointe and 15 points against Pahrump Valley, while junior forward Karson Bailey had a game-high 13-points against Virgin Valley.
Overall, the Eagles are happy this week offensively after struggling to find their groove against Chaparral the week prior.
"This week is giving us a lot of confidence and helping us prepare and perfect our offense and get ready for the playoffs," junior forward Derrick Thomas said after Monday's victory against Pahrump Valley. "Our bench is really stepping up and giving us great minutes and we're building momentum."
Building off of Monday's offensive showcase, the Eagles furthered their rhythm early against Virgin Valley with a 23-4 first quarter run sparked by 10 points from freshman forward Ethan Speaker and 6 points from freshman forward Matt Morton.
Gaining scoring contributions from 11 players against the Bulldogs, Carson Balistere and Thomas each added 8 points, while senior guard Teddy Lobkowicz added 6 points and junior forward Elias Woodbury added 5 points.
Flexing their depth throughout the three-game stretch, Speaker and senior forward Clayton Pendleton scored 9 and 7 points, respectively, against Sky Pointe, while senior guard Billy Ferrence scored 7 points against Pahrump Valley.
Currently sitting with a 17-6 record, the Eagles have a pair of home games this week against Southeast Career Technical Academy today and Moapa Valley on Tuesday. Well on their way to their a goal of a 20-win season, the Eagles are playing with a sense of urgency.
"Their goal is to win 20 games," John Balistere said. "They know if they get to that, they'll be able to host a home playoff game and control our own destiny. I like where this group is at. I'm confident they'll be ready."
Contact Robert Vendettoli at BCRsports@gmail.com.
Upcoming games
Today, Feb. 1, vs. Southeast Career Technical Academy, 3:30 p.m. junior varsity; 6:30 p.m. varsity
Tuesday, Feb. 6, vs. Moapa, 5 p.m. junior varsity; 6:30 p.m. varsity