Boys basketball coach sees promising future despite opening loss
November 30, 2016 - 2:00 pm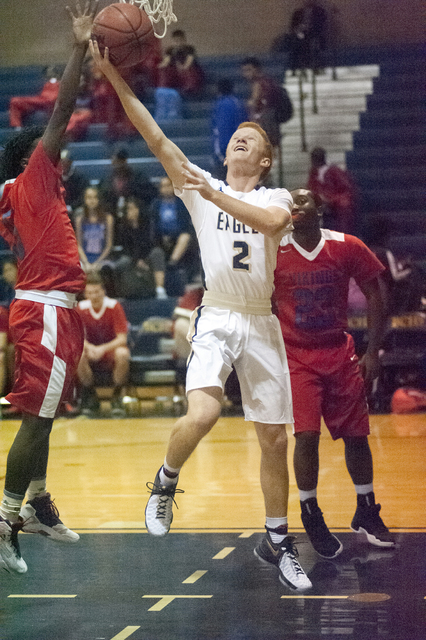 The Boulder City High School boys basketball program fell victim to 4A opponent Valley High School 50-33 in its season opener, but head coach John Balistere sees a lot of promise in this year's team, having no problem scheduling higher-classed opponents regularly for the Eagles to face off against.
"We came out a little flat tonight I thought, but I have confidence in our program moving forward," Balistere said. "Having played many 4A teams during our run in the fall league, I'm confident the boys can handle themselves this winter just fine. We have multiple higher-classed opponents on our preseason schedule that I not only think we'll hang tough with, but will also make us better for league play."
Hanging tough with the Vikings throughout the first half, the Eagles trailed 18-16 at halftime, before Valley blew the doors open with a 20-point fourth quarter to clinch a runaway victory.
"We came out strong during the first half and got some really good looks," Balistere said. "The second half we kinda fell into their pressure defense and weren't able to move the ball as well as we would have liked. Adjustments are going to need to be made moving forward and we'll make sure we correct those issues."
Pushing the tempo regularly throughout the night during his time on the court, senior Justus Green provided several highlights for the home crowd, including a pair of coast-to-coast layups off of rebounds for the Eagles. The lone Eagle to score in double figures, Green poured in 11 points to pair with three rebounds and one block and steal apiece.
"We really like to run in our offense," senior Carson Balistere said. "We have a few players that can push the ball up court and keep the tempo at a fast pace. Expect us to be versatile though because we do have guys who can shoot it regularly."
Of those who can shoot it from three-point range would be Carson Balistere, who drained a 3-pointer from well behind the line before finishing the night with 9 points. One of the Eagles' lead floor generals, Carson Balistere also garnered three rebounds and a steal.
More than just a two-man show this season, the Eagles got great additions from their trio of newcomers: juniors Zach Trone and Clayton Pendleton and sophomore Karson Bailey.
Bailey led the group with 6 points, routinely slashing his way to the basket on backdoor cuts, while also providing a rebound. Scoring 4 points, Pendleton also grabbed a rebound, while Trone rounded out the effort with 3 points and two rebounds.
"Our new guys played really well tonight," coach Balistere said. "We know that we're going to have to spread the ball around and play a team game if we want to have a better season. Our guys have spent a lot of time together gelling and at times it showed tonight on the court. It's a work in progress so far, but I'm confident that we can get it right."
Rounding out the Eagles' efforts Tuesday despite the loss, returning juniors Billy Ferrence and Tanner Montgomery contributed with four rebounds and two assists, and two rebounds, one assists and steal, respectively, while returning senior Michael Martinelli added three rebounds.
Coming off of a 6-20 season last year, coach Balistere is optimistic that better days are on the way for his program, fielding what he called one of his better teams during his tenure.
"We really believe we can compete come league play," he said. "We have guys that have bought into the system and are playing a team game. If we can stick to those concepts, we're going to be OK."
With a short turnaround from Tuesday's outing with the Vikings, the Eagles will start tournament play today in the Lake Mead Holiday Classic, taking on Northern Nevada opponent Spring Creek at 8 p.m., followed by Fernley at 11 a.m. Friday.
Upcoming games
Today-Saturday, Lake Mead Holiday Classic, 8 p.m. today vs. Spring Creek; 11 a.m. Friday vs. Fernley
Tuesday, vs. Bonanza, 3:30 p.m. junior varsity; 6:30 p.m. varsity