Bowlers ready to strike again at title runs
November 30, 2016 - 1:56 pm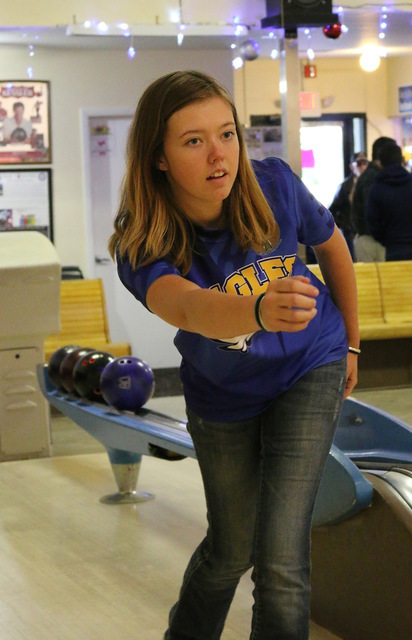 Both Boulder City High School bowling programs started their seasons off with wins Monday at Boulder Bowl, defeating Somerset Academy SkyPointe Campus soundly.
The boys, led by senior Samu Jancuk, defeated Somerset 2,027-988, a positive sign that the Eagles will once again be among the top teams in the 3A classification.
"All the boys' scores were where I thought they should have been," head coach Rodney Ball said. "We're going to have tougher matches moving forward that the guys will need to adjust to, but to start the season off like this is a move in the right direction."
Reclaiming last season's form, Jancuk led all scorers with a 574 on the day, rolling a 208 in his first match to claim the individual high game as well. Paired with senior Ed Rassuchine, who bowled a 547, the Eagles have a solid pair to build off of.
Starting off his season in good shape as well, senior Connor Armstrong bowled a 518 for the Eagles, while sophomore Sam Holt rolled a 388.
More of a tune-up match for the girls, who faced a Somerset Academy SkyPointe Campus team with only two bowlers, the Lady Eagles looked solid as well during their 1,511-535 victory.
Leading all scores was senior Alexis Cable, who bowled a 447, while freshman Christine Smith made a statement in her varsity debut with a score of 380.
"We're really looking forward to the addition of Christine," Ball said. "She may just be a freshman, but she's a girl that comes to us with a lot of experience. I think she's really going to make a difference for us this season."
Rounding out the Lady Eagles' efforts, returning junior Bailey Bennett-Jordan and senior Abigail Harling also had nice showings, bowling 352 and 332, respectively.
Wrestling
Big things are expected from this year's Boulder City High School wrestling program, which opens its regular season tonight under the lights against 4A opponent Palo Verde.
"Honestly, when I look back at our past few groups, this is by far our most talented team," assistant coach Allen Haines said. "Looking at this group just on paper, we have five or six guys who can compete for a state tournament bid, so it's going to be very exciting to see how this season plays out."
Of those who should compete for a state tournament bid, senior Jimmy Brown returns to take the 132-pound weight class by storm, after taking third place in the 126-pound weight class at last season's state championships. "(I'm very hyped for the season," Brown said, "not only for myself, but for this team. We got a tough opening match against Palo Verde, but personally I always like facing the toughest opponent. This is going to be a good test for all of us."
Joining Brown with state championship aspirations, junior Garrett Leavitt will fill the 113-pound slot today, after taking fourth place in the 106-pound weight class at state, along with junior Zane Dennington and senior Devin Fox, who both made state tournament appearances for the Eagles. Dennington will fill the 120-pound slot against the Panthers, while Fox has moved up to the 220-pound division after competing last season at 195.
Rounding out those who should definitely making postseason noise, seniors Dillon Viera and Bryan Foster will fill the 160-pound and 170-pound slots, respectively, while junior D.J. Reese will compete at 126 pounds.
Eagles newcomers freshman Curtis Brown (106 pounds) and Ladd Cox (138 pounds) are a pair to watch this season, both coming from the team's youth feeder program.
Rounding out the Eagles' opening day wrestlers will be seniors Octavian Trumbo (152 pounds) and John Oliver (145 pounds), along with sophomores James Ewell (182 pounds), Ryan Vanario (195 pounds) and Mike Kaposta (275 pounds).
Volleyball
Boulder City High School junior girls volleyball star Maggie Roe was named to the 3A Nevada All-State first team, following the state's most efficient season. She is one of five starters from the Lady Eagles' state-qualifying roster to earn accolades.
"It's a great honor for our girls to be recognized," head coach Cherise Hinman said. "Everyone played a role in our success this season. They all came together as a team and never gave up. I couldn't be happier for them."
Leading all players regardless of classification in hitting percentage with a .551 kill success rate, Roe led all 3A hitters, both Southern and Northern with 457 kills, while finishing third in digs with 333 and fourth in blocks with 85. Roe also set the Lady Eagles' single-game kill record with 41 during the their first-round victory over Pahrump Valley. For her efforts she shared athlete of the year honors for the Boulder City program with senior Alea Lehr.
Setting the individual-game record for assists against Pahrump Valley as well, Lehr topped the 67 mark against the Trojans to pair with her state-leading 944 assists. Tallying 172 digs, 88 serving aces and 31 kills during her final season with the Lady Eagles, Lehr was named to the 3A Southern Region second team for her efforts.
Seniors Kenadee Bailey (216 digs, 157 kills and 37 blocks) and Lexi Bringle (233 digs and 44 aces) and junior Jerra Hinson (140 kills and 40 blocks) rounded out the Lady Eagles' postseason accolades, all sharing All-League second-team honors.
Bowling
Monday, vs. Chaparral at Boulder Bowl, 3 p.m.
Wrestling
Today, vs. Liberty, 4 and 6 p.m.
Today, vs. Palo Verde, 5 p.m.
Saturday, Boulder City Duals, vs. Moapa Valley, Chaparral and Virgin Valley, 9 a.m.
Wednesday, at Silverado vs. Bonanza at 4 p.m., Silverado at 5 p.m. and Durango at 6 p.m.
Flag Football
Today, vs. Valley, 4:30 p.m. junior varsity; 6 p.m. varsity
Friday, at Basic, 4:30 p.m. junior varsity; 6 p.m. varsity
Monday, at Las Vegas, 4:30 p.m. junior varsity; 6 p.m. varsity