Boulder Creek continues as draw for city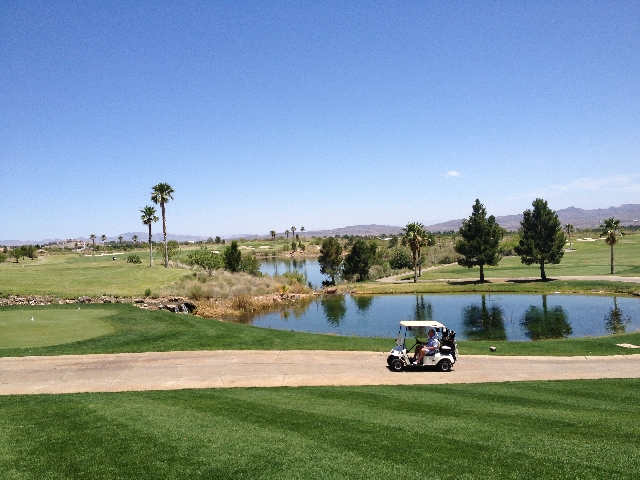 Looking back now to the year 1999, a hot-button decision faced city officials. Whether or not they should go forth with building a second municipal golf course that would stretch over 7,400 yards, at an estimated cost of $18.7 million.
The 27-hole Boulder City Golf Club overlooks Eldorado Valley, and would not have any residential homes surrounding when it was built.
After the course opened in 2003, the accolades from the public and the golf industry have bolstered the city's investment.
"For the quality of golf courses you play, the condition, the atmosphere, we are as good as any other golf course that is in Las Vegas," said Andy Schaper, head golf professional at the course since it opened. "We are in the upper tier of golf courses in Las Vegas."
Schaper has the hardware to bolster his claims. It was voted best new golf course when it opened its doors in 2003 by Vegas Golfer, now a defunct magazine that covered the Southern Nevada golf industry. This year, the course was selected the 48th best municipal golf course in the country by Golfweek magazine.
Schaper realizes all the accolades are well-deserved.
Boulder Creek offers three nine-hole layouts — Coyote Run, Eldorado, and Desert Hawk — each with its own unique features including bunkers, lakes, palm trees and waterfalls.
"There's a few things that add to the playability of the course," Schaper said. "There are six different tee boxes. … It aids any type of skill. This course was designed for golf only."
The course is a large draw for Boulder City tourism, according to the course officials.
Brad Egan, the assistant golf pro to Schaper, said it is common for people to play a round while other family members visit Boulder City.
Schaper said 70-80 percent of the rounds are by golfers from Las Vegas.
The quality of the course has caught the attention of players as high as the Professional Golfers' Association of America. The course hosted the Monday qualifier for the Justin Timberlake Shriners Hospitals for Children Open in September 2011 and 2012, and will be hosting the initial Thursday and Friday games again this year (a scheduling conflict prevented the course from hosting the Monday qualifier this year).
The course was home for the UNLV girls golf team from 2006-11 and hosted Butch Harmon Las Vegas Tour events, PGA sectional events, the Clark County Amateur Championships 2003-12 and the Nevada State Amateur Championship in 2006.
The course has drawn notable players including Lee Janzen, the U.S. Open winner in 1993 and 1998, and Mike Weir who won the Masters Tournament in 2003. The list of PGA golfers include John Daly, Kirk Triplett, and Scott Hoch. Former NFL player Jonathan Ogden, who spent 11 seasons playing offensive tackle for the Baltimore Ravens and now lives in Las Vegas, can be found out on the course regularly.
While professional and near-professional players have been drawn to the course, Schaper said players of all abilities are encouraged to come out.
The affordability of the public, city-owned course gives people a break from the higher prices traditionally charged at country clubs.
Rates at Boulder Creek range from $25 for nine holes for Boulder City residents, to $75 for nonresidents for early morning rounds.
Schaper said one of his missions is to promote the game of golf, and the game can be intimidating to a new golfer.
"We try to do our best and pride ourselves on the fact that we … (welcome) all abilities of golfer," he said. "From a person who is just getting started, to a person who has been playing for years. … We want all those golfers to come. Everyone starts somewhere."
George Fletcher, a course employee on the weekends, said he enjoys seeing the different variety of people that use this course.
"I enjoy people of any caliber, and to see them come out here and play," Fletcher said. "We always enjoy having guests come out who have never been here or don't golf that much."
Looking back 10 years since it opened, it is safe to say this course has become a main cornerstone in Boulder City and a way to attract people from Las Vegas over to play there.
"This is a great track; you can't beat it," Fletcher said.
"For the price for Southern Nevada, you can't find a better golf course."
While the economy hit the golf industry hard, Boulder Creek is starting to see the players return in significant numbers.
The course's revenues were $1.83 million the first 10 months of fiscal year 2013, nearly $100,000 higher than in 2012. The city's fiscal year runs from July 1, 2012 to June 30.
In April, the course saw 4,574 rounds, its best April since 2008. Its average revenue per round was $47.82, its best April in three years. Its $250,000 was its best revenue month for April since 2009, generating an operating income of $118,000 for the month.
With seven of the 10 months generating revenues higher than last year, the course has seen a 10-month operating income total of $334,000.
In 2010, city voters approved giving the city the authority to sell 45 acres of adjoining land for residential development to pay for the city's capital safety needs and the course's bonds.
City Manager David Fraser said Tuesday he is "early in his thinking" on when to pursue the sale and development of the land.
"We've got that great golf course property," Fraser said. "After (the sale) was approved (by the voters), it wasn't feasible to do it. We're seeing the housing market stabilize so I think its time to be thinking about what our timing should be on that."