Boulder City volleyball captures Southern Region championship
November 9, 2017 - 8:54 am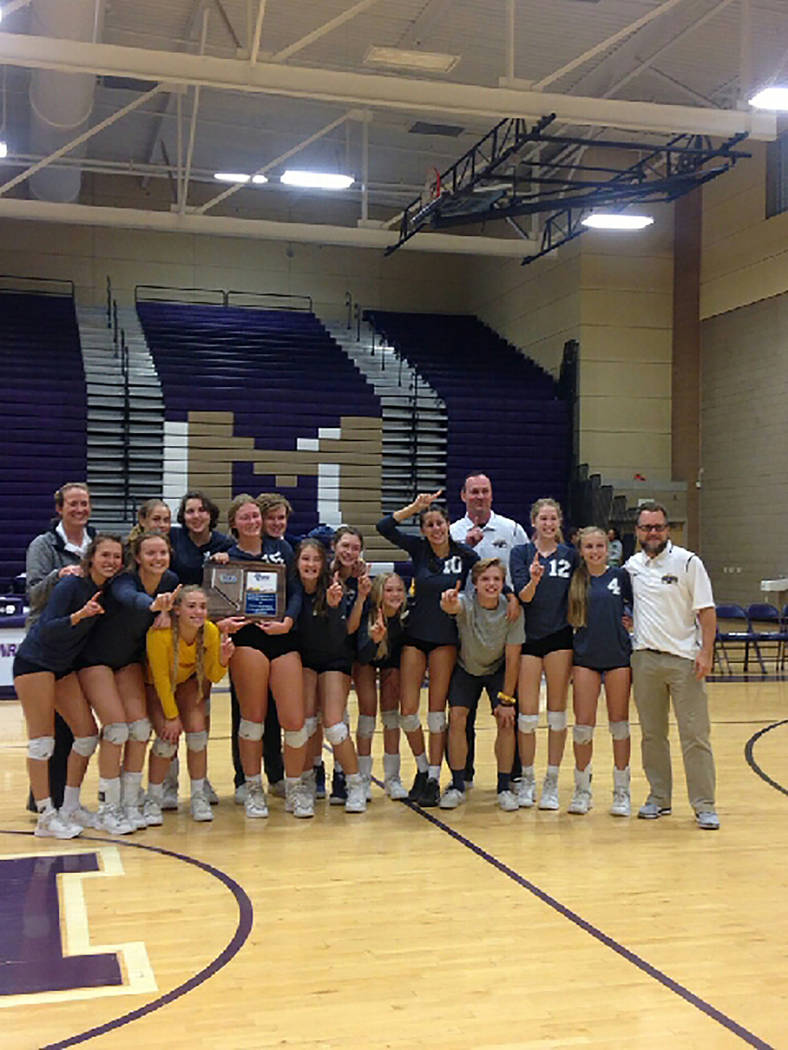 Capturing its first 3A Southern Region championship since 2011, the third time was the charm for the Boulder City High School girls volleyball team, defeating rival Moapa Valley 3-1 on Friday, Nov. 3, at Sunrise Mountain.
Falling previously to the Pirates twice during the regular season, Friday offered not only a chance at consecutive 3A state tournament berths for the Lady Eagles, but also redemption for a senior class determined to go out on top.
"We came out strong wanting a victory and didn't let up," senior Maggie Roe said. "The atmosphere was intense in that gym from the players on the court to the fans in the stands. Everyone gave it their all. I'm hopeful this continues. We want to win state." In an all-out battle for the top southern seed at state, Boulder City defeated Moapa Valley 25-23 in the match's first two sets before begin overwhelmed in the third set 10-25. Digging deep and not falling back into old habits against the Pirates, the Lady Eagles remained calm for a 25-23 fourth-set victory. ▶ Cross Country Page 16
"We definitely had a tough time against them in the third set, but instead of falling there, we got it together and played how we knew we could," freshman Ava Wright said. "This year's team definitely has a lot of fight. We didn't want to give Moapa another set, so we decided to dig deep and shut them down."
Coming out filled with energy to start the match, Boulder City provided its best effort of the season Friday, gaining contributions from several contributors.
Leading the offensive charge, Roe and freshman Kamry Bailey tallied double-digit kills, with 21 and 10, respectively, while senior Jerra Hinson added four kills and junior Setia Cox added three.
Setting up a majority of the Lady Eagles offensive points, Wright led the way with 25 assists, while Roe added nine. Sophomore Raegan Herr added three assists.
"We started out on fire because we knew how important this game was," Wright said. "After playing Moapa and losing twice, we knew what we needed to do to win this game. We played every point like it was match point."
Attacking the net offensively, the Lady Eagles also upped their intensity defensively, knowing each point from here on out is crucial to extending their season.
Providing extra effort throughout the night, four Lady Eagles garnered double-digits digs, led by Bailey with 11. Roe, Wright and junior Ashleigh Wood had 10 digs each.
Roe continued her defensive pursuit with six blocks, while Bailey tallied two blocks. Cox, Herr and Hinson all recorded a block as well.
"The team played amazing Friday night defensively," Hinson said. "We've been working hard on blocks and getting up every ball on serves received. We can definitely keep this intensity going all through state. We know defense wins games."
Proving her statement true, Hinson was monumental defensively in the Lady Eagles Southern Region semifinal matchup against Pahrump Valley the day prior, recording a game-high three blocks, while Roe and Herr each recorded two. Defeating the Trojans 3-0 on Nov. 2 with a strong defense, Roe and Bailey each had six digs, while Wood had five.
Roe led the way offensively with 16 kills and 13 assists, while Wright added 17 assists. Heading into Friday's state semifinals matchup with Northern Nevada challenger Truckee, the Lady Eagles are determined to bring home their first state title since 1989.
"It's was very exciting to bring a regional championship to Boulder City," Hinson said. "Now we're looking forward to following it up with a state championship. Although this is the last opportunity for my fellow seniors Maggie Roe, Hannah Miller and I, this is likely just the start of a multi-year championship run for our talented underclassmen teammates."
Contact Robert Vendettoli at BCRsports@gmail.com