Boulder City shoots best round of season
October 10, 2013 - 4:03 am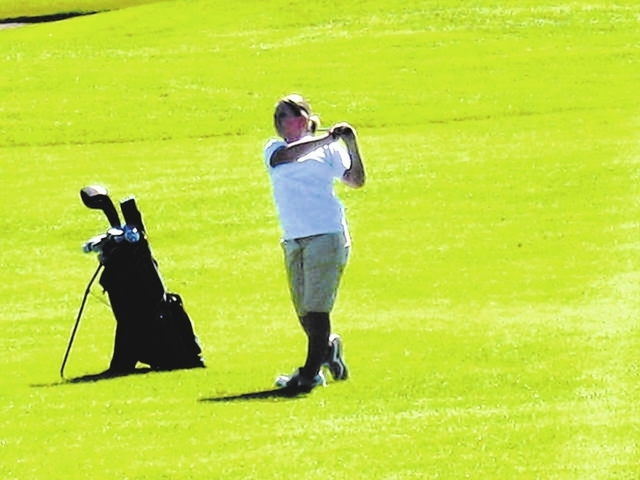 Boulder City golf coach Regina Quintero has been waiting for her team to shoot its best round of the season. It finally came Oct. 3 in a Sunrise League match at Stallion Mountain Golf Course.
Junior Jordyn Syler made a nice turn around after shooting 45 on the front nine holes, with a 37 on the back nine for a 10-over-par 82.
But what delighted Quintero was the effort by the remaining golfers.
Each player fired a season-best score as Boulder City won the league match by shooting a low of 420, to beat Tech by 22 strokes. Tech (442) was followed by Moapa Valley (455) and four other teams.
Mariah Harvey used her strong driving to score 104, while Kelli Hatfield was steady throughout the 18 holes to garner a 111 total. The three freshmen, Taylor Krumm (123), Lauryn Norris (124) and Skylar McKay (137) all had competitive rounds.
"This past week was by far the greatest achievement for this team," Syler said. "I am so proud of each and every one of my teammates. While my individual score was not exactly what I wanted, the team score is something I am very proud of."
Syler is the top-ranked golfer in the Sunrise League, right where her coach thinks she should be.
"Jordyn's game is starting to come together," Quintero said. "She should be competing for the top spot in the Division 1A Southern Region Tournament, and also for the state tournament. The team is starting to come together and she is leading it."
Now, Quintero hopes the momentum will continue through the Sunrise League Tournament on Oct. 17.
"It is the best round as a team all season and it came at the right time," Quintero said. "The team finally broke through and finished in the No. 1 spot. Now is a good time to start to make the push toward the post-season. Everybody is playing well. I hope it can carry over for a few more weeks.
"It would be nice if we can continue to improve our games. We are planning on taking it one step at a time and not try to get too far ahead of ourselves. We are going to put in as much time on the course as possible on the practice days that we have left."
On Oct. 1 in a league match, Syler had a great day to win medalist by shooting 86. But the Lady Eagles finished in second place, three strokes back.
Harvey shot 104, but the other four golfers struggled with the wind and their scores went up. Hatfield shot 123, while Norris came in at 132, followed by Krumm (134) and McKay (139).
The Division 1-A Southern Region Tournament will be held at 11 a.m. Oct. 17 at Boulder Creek Golf Course.
"We are ready for the playoffs," Syler said. "Our goal is to advance to state finals as a team and play in the team championship competition."