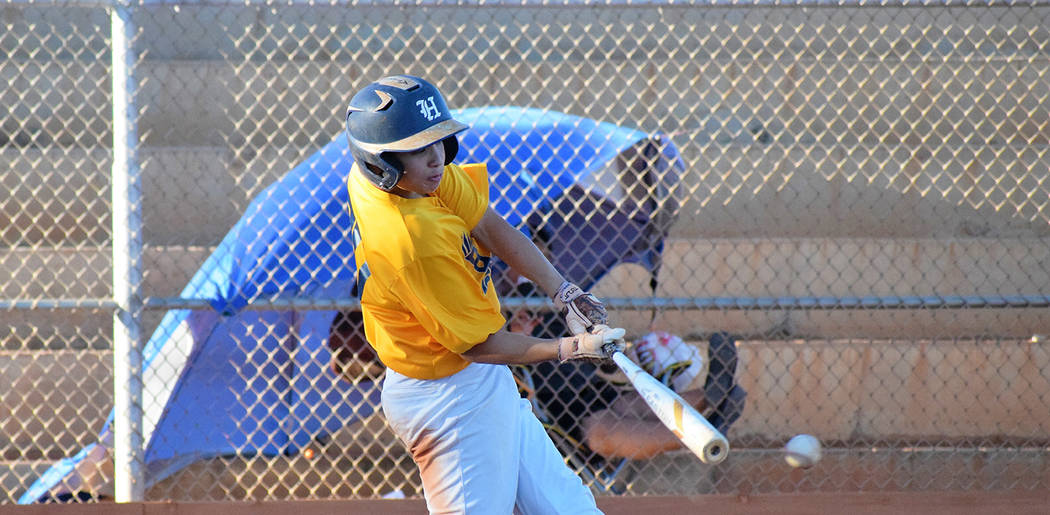 Breaking out the big bats, the Southern Nevada Eagles 14U team in the Connie Mack summer baseball league scored double-digits runs in its three wins this week, two against Pahrump Valley affiliate Trojans Maroon and one against Palo Verde affiliate Southern Nevada Panthers Silver, to finish the week 3-1.
"All season the bats have been hot and we'll have a big inning or two," head coach Matt Kilar said. "This week was no exception."
Routing the 4A Panthers 14-1 on Monday, July 2, R.J. Kilar led the way with three runs batted in, finishing 2-for-4 with a double. A two-way star, R.J. Kilar threw a complete game, allowing one unearned run on two hits, with a pair of strikeouts to earn the win.
The team played its best against its toughest competition of the season. Jeremy Spencer finished 2-for-3 with two RBIs, while Isaac Tuenge (1-for-1) and Chase Calvez (1-for-2) each drove in a run.
"This is a young team," R.J. Kilar said. "We don't have any kids with high school experience and only have two returning players from last year. This program has a bright future, though. I think Boulder City can compete with the 4A level."
Playing a doubleheader against the Panthers, the Eagles trailed 11-10 before play was suspended due to time. The Eagles hope to finish the game next week.
The Eagles charged to 15-5 and 12-4 victories against the Trojans on Friday, June 29.
In game one of the doubleheader, Spencer got the win after allowing four runs on five hits with five strikeouts in four innings. At the plate, he finished 1-for-2 with an RBI single.
Putting the game away early, the Eagles scored five runs in the second inning and seven in the third.
R.J. Kilar carried the big stick, hitting 2-for-4 with three RBIs, while Calvez finished 1-for-3 with two RBIs.
R.J. Kilar finished 3-for-3 against the Trojans in game two, generating four RBIs with a double and a triple.
Tuenge (2-for-2), Brayden Cook (2-for-3), David Wagner (1-for-2) and Dylan Spencer (1-for-3) drove in a run each against the Trojans.
Currently on a three-game winning streak, the Eagles bounced back nicely from their 7-3 defeat against SLAM on June 27.
"The game against SLAM we flat-out didn't show up to play," Matt Kilar said. "We had 12 errors on the day and somehow managed to stay within striking distance. This team is very resilient. They are as comfortable playing with a lead as they are when we are down. You would never know by the demeanor of the team if we're losing. Never a dull moment with this crew."
Tuegne finished 2-for-4 with an RBI in the loss.
The Eagles resume play Friday, July 6, against 4A Foothill affiliate Southern Nevada Falcons at 6 p.m. at Whalen Field.
Contact Robert Vendettoli at BCRsports@gmail.com.