Bid for third BCHS flag football title falls short
February 22, 2017 - 2:44 pm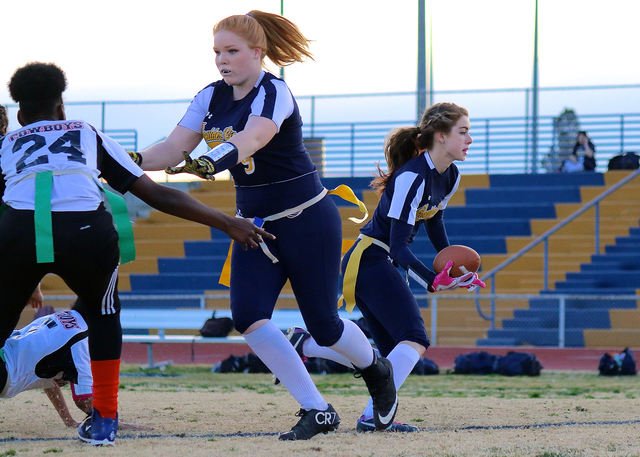 The Lady Eagles' bid for a third consecutive flag football state title ended Feb. 16 with a 35-13 loss to Cheyenne in a rematch of last season's state championship game.
Boulder City High School's flag football team ended its campaign with a 13-6 record, after being overmatched defensively against the Desert Shields, which gained just under 500 yards of total offense.
"We ran into a better team, plain and simple," head coach Chris Morelli said. "Their speed proved to be too much for us, and we were overmatched. I'm proud of the way the girls handled adversity this season. We'll be back."
Unable to stop the Desert Shields' rushing attack, the Lady Eagles allowed 357 yards and two touchdowns combined to Cheyenne rushers Angela Hammond and E'leseana Patterson, while allowing Patterson to throw for 135 yards as well.
"Credit to them for exploiting our weaknesses," Morelli said. "For our returning girls, we'll take this as a learning experience and move forward. We had a lot of juniors on our defense this past season. This experience will only make them better."
Of the Lady Eagles' returning defenders, junior Nikki Meleo led the core with five tackles, while the junior pass rushing duo of Daisy Hodgkin and Hannah Barth each tallied two tackles and a sack. Junior Taylor Tenney also tallied two tackles and an interception.
Expected to return not only as key defenders, but as offensive contributors as well, Tenney and Hodgkin proved to be bright spots for the Lady Eagles on Feb. 16. Continuing to find consistency under center, Tenney completed 9-of-14 for 111 yards while carrying four times for 17 yards and a touchdown. A reliable rusher as well, Hodgkin rushed for 40 yards on seven carries.
"Both of them really did a great job for us down the stretch," Morelli said. "Taylor has continued to show progression, and Daisy proved the last few games of the season that she can be our running back moving forward. It's about getting everyone more reps, the team as a whole, being that we were inexperienced this season."
A pressing issue for the Lady Eagles moving forward will be replacing their senior-laden receiving core headlined by playmaker Kenadee Bailey. An all-around threat, Bailey led the team in tackles (12), rushing yards (58 yards) and receiving yards (44 yards). Senior Emily Mull (four catches, 40 yards), Alexis Pohe (three catches, 28 yards) and Aimee Finn (two catches, 9 yards) also graduate this year, but Bailey is confident the Lady Eagles will be able to retool again like in seasons past.
"It's been such a privilege to have been able to be a part of this program," Bailey said. "The girls we have are up and coming and very talented. I think the program will continue to be successful, and I'm excited to see all that they accomplish next year."
Echoing Bailey's statement, Barth and the girls are determined to come back even hungrier next season to restore the Lady Eagles' championship pedigree after their first-round exit.
"Being eliminated makes us want to play better to regain our state title again next year," Barth said. "We played great this season, but now we will have more of a drive to get back into the finals and back on top."
Contact Robert Vendettoli at BCRsports@gmail.com.