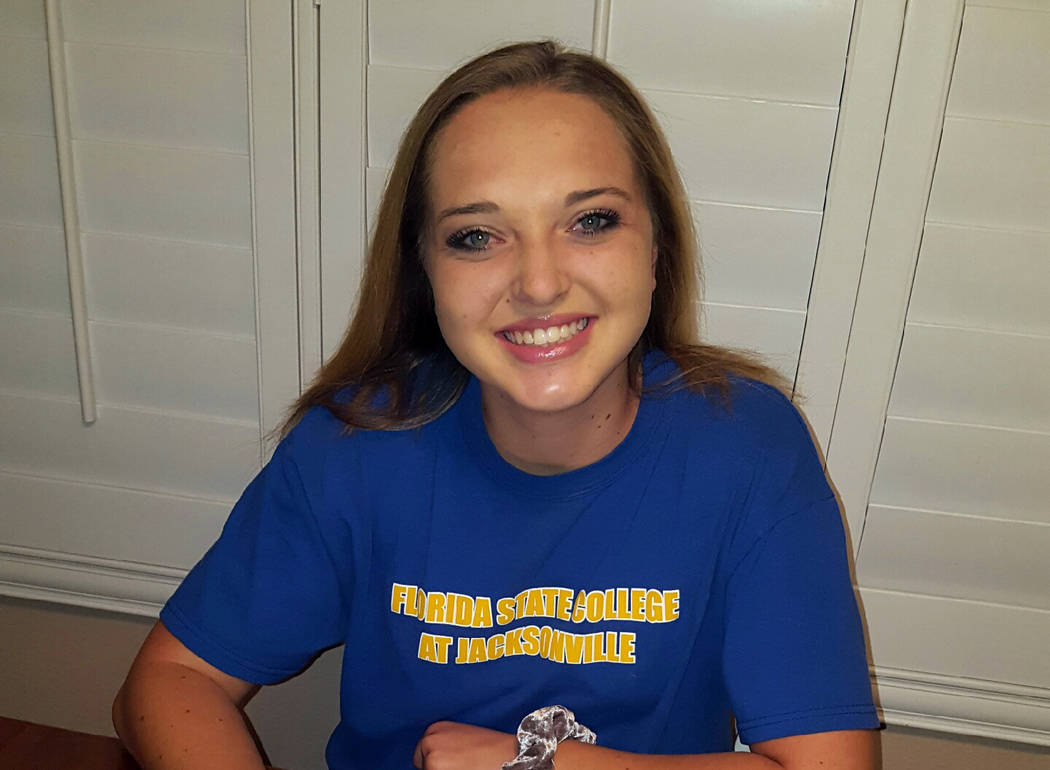 Boulder City High School senior softball star Bailey Bennett-Jordan has been proving doubters wrong since an early age. Last week she added another milestone to her list by signing her national letter of intent to play softball next season at Florida State College at Jacksonville.
"Since I was little, people didn't think I would improve in softball," Bennett-Jordan said. "I pushed those feelings aside though and worked hard to prove them wrong. I don't feel like I have to prove anyone wrong anymore. Going to Florida State Jacksonville is about proving to myself that I can still improve and get better at the next level. After these next two years, I expect to play another two years at a four-year university."
Blossoming into the 3A classification's top player as a junior, the reigning 3A player of the year went from not making the Lady Eagles varsity team as a freshman to dominating the past two seasons. Already off to a hot start as a senior, Bennett-Jordan said she feels Florida State Jacksonville is the best place for her to continue to improve as a player.
"Each year I feel like I've gotten better and I'm looking to push myself," Bennett-Jordan said. "Playing in Florida I know the competition is going to be a lot tougher. I'm ready for the challenge and hopeful to help my team win games."
Feeling at home with the program during her official visit in November, Bennett-Jordan said she is eager to start the next chapter in her life.
"I honestly don't feel like I picked Florida State Jacksonville, they picked me," Bennett-Jordan said. "When I went on my official visit, I felt at home there both physically and mentally. The girls were amazing and showed me what it's like to be apart of the team. I can't wait to join the Blue Wave."
Excited for more than just athletics, Bennett-Jordan also noted the campus atmosphere as well as the city of Jacksonville played a factor in her decision.
"I had offers from a few different regions, but nothing was as beautiful as the city of Jacksonville," Bennett-Jordan said. "When I got off the plane, I honestly couldn't imagine myself leaving. I'm definitely going to college for softball and to get better, but sunny weather and the beach was also too much to pass up."
Admitting that she's strictly business the next two seasons, the Blue Wave is getting an established pitcher to hopefully solidify its up-and-coming program, where it currently sits at 8-14 in the NJCAA Division I Mid-Florida Conference.
Bennett-Jordan was a second-team All-State selection last season and ranked 104th nationally with 240 strikeouts. A big game pitcher, Bennett-Jordan compiled an 18-9 record last season with a 1.33 earned run average in 153 innings of work.
Bennett-Jordan is currently has a 3-2 record this season with a 3.17 ERA and 26 strikeouts in 17 2/3 innings.
Fine tuning her mechanics and improving on the mound each season, Lady Eagles head coach Angelica Moorhead sees a bright future for her star pupil.
"I'm excited for Bailey to go to Florida," Moorhead said. "She has worked very hard and put in a lot of extra time in the circle year-round. With her work ethic and mindset, I think she will do great things in Florida. We wish her the best."
Contact Robert Vendettoli at BCRsports@gmail.com.