Bennett-Jordan leads girls to victory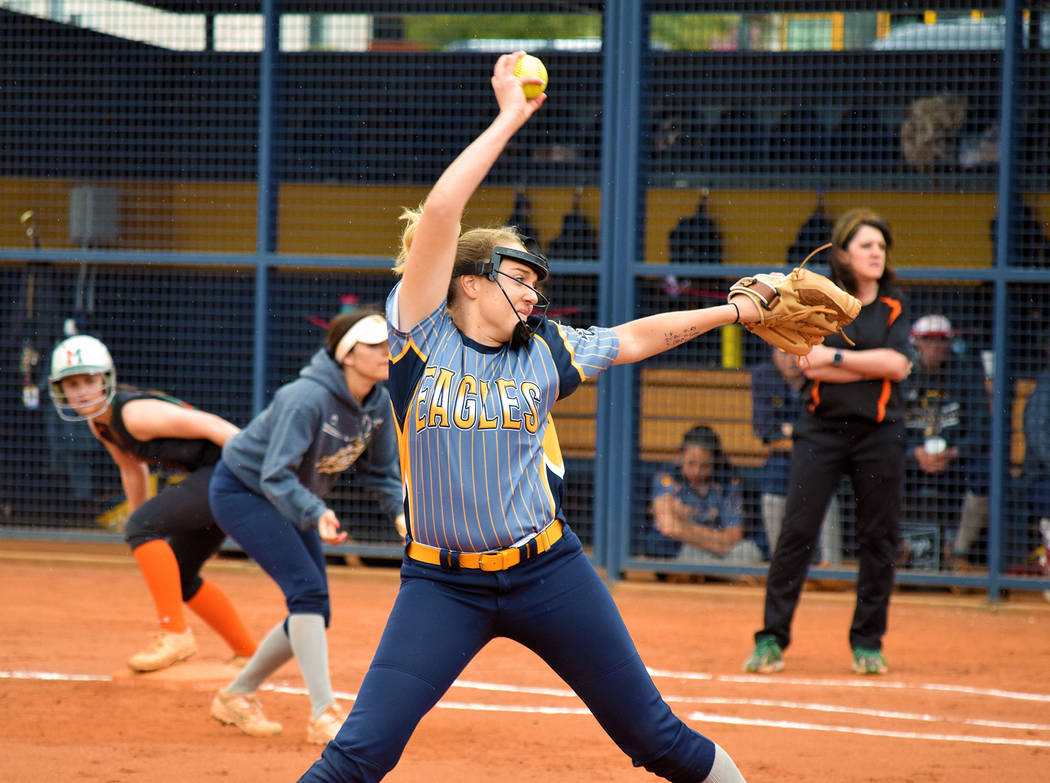 Rolling to a pair of double-digit victories, Boulder City High School softball team was dominant behind senior Bailey Bennett-Jordan on the mound.
Bennett-Jordan pitched a total of eight innings combined through the pair of mercy rule wins, allowing five hits, while striking out seven batters as the Lady Eagles cruised past Mojave 11-0 on March 21 and Cheyenne 15-0 on March 22.
"It felt really good to be on the mound and finish games strong," Bennett-Jordan said. "The team is in sync right now both at the plate and on defense. We're working hard and getting better every day."
Capping the week off with three double-digit victories, defeating Western 17-0 on March 19, head coach Angelica Moorhead said she sees her program heading in the right direction as well, after a tough 1-4 tournament stint in Utah the week prior.
"It was good for these girls to have three solid wins this past week, especially after our tournament in St. George," Moorhead said. "That's why we play in tournaments, to figure things out and see what possibly works and what doesn't."
While Bennett-Jordan's pitching was on par, the Lady Eagles' bats erupted against the Rattlers and Desert Shield.
Collecting nine hits against Mojave, senior Lily Osman batted 2-for-2 with five runs batted in and a home run and double apiece, while senior Jerra Hinson, junior Marleena Mills and sophomore Ashley Wishard each generated an RBI.
Against Cheyenne the Lady Eagles had 12 hits, with Wishard finishing 2-for-3 with three RBIs, and Mills finishing 1-for-3 with two RBIs.
"Right now our offense is on fire," Moorhead said. "It's a fun game to watch when those bunts, slaps and line drives create a lot of action during our at bats."
Also catching fire this week, Bennett-Jordan broke out of her slump at the plate, finishing a perfect 4-for-4 through the two-game stretch with eight RBIs, two doubles and a home run.
"It was good to see Bailey's bat come alive," Moorhead said. "As long as she follows through with her swing, she will be successful at the plate. Getting those extra insurance runs on offense, definitely helps with what happens during defensive play."
Finding their groove at the right time, the Lady Eagles (9-6) are off for spring break, but return to play with perhaps their biggest game of the season looming. Resuming play Tuesday against rival Pahrump Valley, the Lady Eagles know this will be their first true test of the season.
"Pahrump is a scrappy team, but we are ready for them," Moorhead said. "We need to go in and play our game. It's important to play a great game when we come back next week. We want them to worry about facing us later during playoff time. The girls are hungry for a state appearance; we will take it one game at a time."
Contact Robert Vendettoli at BCRsports@gmail.com.
Upcoming games
Tuesday, April 3, at Pahrump, 3:30 p.m. varsity; vs Pahrump, 3:30 p.m. junior varsity