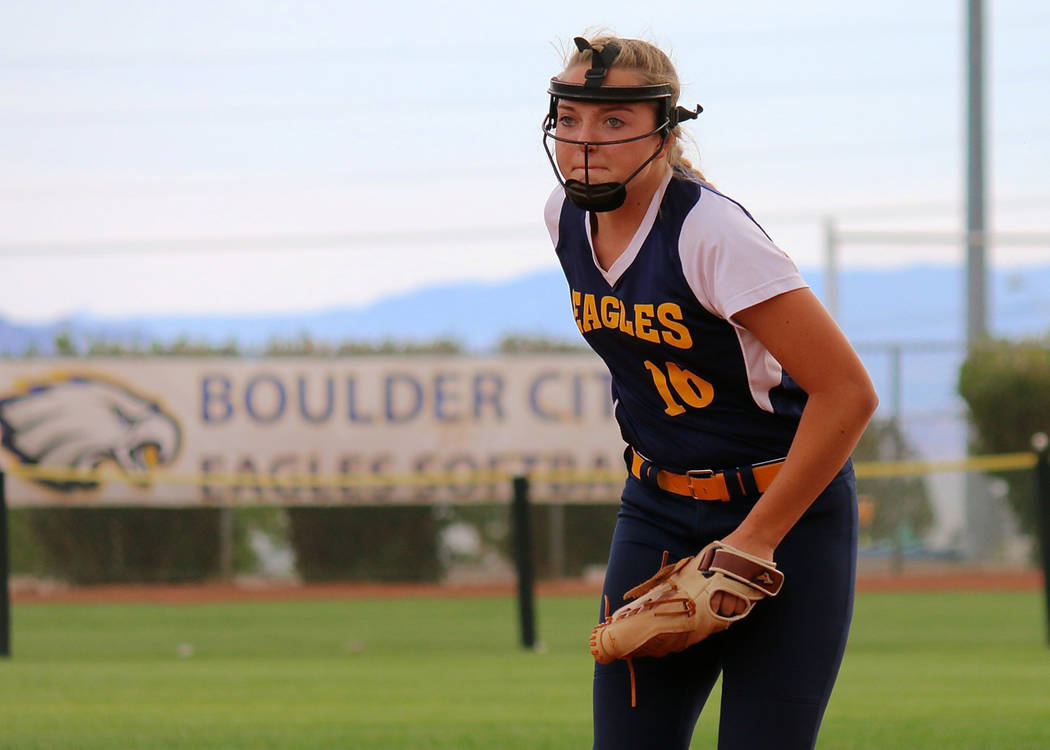 Boulder City High School softball star junior Bailey Bennett-Jordan was named 3A Southern Region player of the year following her dominant success both on the mound and at the plate this season for the Lady Eagles.
"Bailey really deserved this honor," head coach Angelica Moorhead said. "She worked really hard and really took control in that circle. The time she put into pitching during the off-season was definitely represented by what she accomplished this season."
After making the All-Southern Region second-team a season ago as a backup to current UNLV pitcher Charlie Masterson, Bennett-Jordan credits her summer work ethic for preparing her to lead the program this season.
"To go from a second-team to being named the player of the year is a very special honor for me," Bennett-Jordan said. "I've put in a lot of hours outside of team activities in order to be ready and help lead this ball club. To be recognized by my peers and coaches as the state's top player is quite an honor. I'm excited to get back to work and hopefully do even better next season."
Leading the Lady Eagles to their ninth consecutive 3A Sunrise League title, Bennett-Jordan was named a first-team selection after proving to be a two-way force as the team's pitching ace and cleanup hitter.
Leading all 3A pitchers in wins (18), earned run average (1.33) and strikeouts (240), Bennett-Jordan also provided consistent hitting for the Lady Eagles, batting .424 with 45 runs batted in, seven doubles and seven home runs.
Joining Bennett-Jordan as first-team All-Southern Region selection were sophomore Marleena Mills and freshman Ashley Wishard. The trio should continue to blossom atop the Lady Eagles as core contributors.
"I'm very excited for both of my teammates; both Ashley and Marleena worked extremely hard and deserve to be rewarded," Bennett-Jordan said. "I'm excited to play my senior season with both of them. We return our entire core and we're ready to bring home a championship."
Proving to be key pieces on a championship-contending team, Mills carried a heavy bat for the Lady Eagles this season, batting .434 with 54 RBIs, eight doubles, three home runs and two triples. Wishard blossomed throughout league play, finishing the season batting .381 with 29 RBIs, eight doubles and two home runs.
Earning second-team All Southern Region honors for the girls were junior Jordan Moorhead and sophomore Ryann Reese.
A two-way player for the Lady Eagles, Moorhead batted .457 with 14 RBIs, while recording a 4-0 record with a 2.95 ERA. Reese led the team in batting average at .495 with 14 RBIs and two doubles.
"We're proud of everything these girls accomplished this season," coach Moorhead said. "We're hopeful for a different outcome next season. It's always great to get All-Region nominations. Next year we'll try to get even more girls recognized."
Contact Robert Vendettoli at BCRsports@gmail.com.
Bennett-Jordan plays in softball showcase
Bailey Bennett-Jordan participated in the third annual Silverstatepreps ASA Softball Showcase on May 31, representing her travel softball organization, Las Vegas Rage Gold.
One of 36 players representing their travel organizations in an exhibition comprised of the state's top softball players,
Bennett-Jordan was the lone 3A high school selection to participate.
"It was truly an honor to represent not only the Las Vegas Rage organization, but the Boulder City community as well at the ASA Showcase," said Boulder City High School junior. "I've been fortunate to grow as a player on the travel circuit, but I stick to my roots with our Eagles program. It felt great not only to represent Rage, but the entire 3A prep level as a whole."
The ASA softball showcase featured 23 players that have already committed to play at Division I programs, along with three Division II commits. One of 10 uncommitted players, Bennett-Jordan held her own in front of Division II head coaches Randy Simkins from Dixie State and Callen Perreira from the University of Hawaii at Hilo, along with College of Southern Nevada pitching coach and three-time Olympic champion Lori Harrigan, throwing two innings where she allowed one run on three hits, with three strikeouts.
"Bailey came in and kept her composure," said Lil' Rebel head coach Vern Stephens, who coached Bennett-Jordan during the showcase game. "She gave up a home run early, but didn't let it frustrate her. If anything, it made her better. In a showcase of this magnitude, you're going to get roughed up a little. All that matters is how you bounce back. She definitely roughed a few players up, too."
Bennett-Jordan said is hopeful to carry her solid performance in the ASA showcase into the summer and generate more recruiting buzz.
"The showcase was a great way to transition into the travel ball season," she said. "After having fun with my Eagle teammates, I'm ready for the next challenge with my Rage teammates."