BCHS tennis teams ace their seasons
September 28, 2016 - 2:00 pm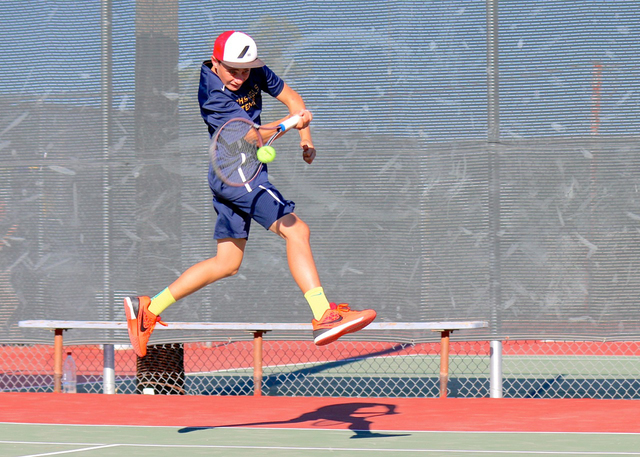 Boulder City High School's boys and girls tennis teams head into the postseason with the Eagles finishing with a perfect 10-0 league slate, while the Lady Eagles finished with a 9-1 record.
Defeating Moapa Valley on Sept. 22 13-5 and Chaparral on Monday 17-1, the Eagles, top-seeded in the 3A Sunrise League, completed their first goal of a regular season sweep, with a postseason sweep on their minds.
"I am very proud of my team during regular season," boys coach Rachelle Huxford said. "They played with the singular goal of being number one in the Sunrise division and they achieved it. Our next goal is winning the regional playoffs. The boys have continued to work hard and we know we have the talent and drive to do it."
Behind a talented squad this season, the Eagles have a chance of making it out of regionals behind strong singles players junior Andre Pappas (10-0) and freshman Bretton Erlanger (9-1).
Well-rounded all around, the doubles teams of juniors Garrett Leavitt and Clayton Pendleton (10-0), freshman Boen Huxford and Preston Jorgensen (9-1), and junior Tanner Montgomery and sophomore Karson Bailey (9-1) will be relied upon heavily to boost the Eagles' chances of success. Freshman Ty Pendleton also could be called into action this postseason, serving as a third member of the Eagles' undefeated doubles unit.
Starting their postseason against Sunset fourth-seed Mojave at 3 p.m. today, the Eagles are confident about their chances of playoff success.
"We really cruised through the regular season," Pappas said. "Now I'm very excited for the postseason, especially because we are going to see what our team can really do with a bit more competition. This team as a whole is planning on going to state. Our plan for the postseason is to try to get as many wins as possible to guarantee us a better seed."
The Lady Eagles also are postseason bound, acquiring the 3A Sunrise second seed after beating the Cowboys handily 16-2, despite losing their perfect on the road record, falling to the top-seeded Pirates 12-6.
"This season has been an incredible one for us," girls head coach Katy Dorne said. "We almost finished with an undefeated record. The girls have been practicing hard all season and have definitely exceeded my expectations."
Happy about the progression of this year's team, Dorne said she is proud of how far the Lady Eagles have come after dealing with the loss of two of their best players, Natalia and Harley Fullmer, who transferred out just days before the season started after participating in the team's summer program.
"It was hard to lose the Fullmer sisters since they were good, strong players," Dorne said. "I knew we were going to have to work hard with them gone, but I had confidence in our team to continue to stay strong. They have really come together this year, following this."
A large part of the Lady Eagles' success falls on the progression of sophomore single player Natalie Bowman, who completed a 10-0 sweep this year for the girls, giving them a legitimate individual regionals title contender.
Freshman Tegan Pappas also looks to have some individual success in singles competition after garnering nine wins during her first season with the program, along with the senior doubles duo of McKenna Frazier and Kyra Yamamoto, who accumulated nine wins as well.
Looking to get off to a strong start in team regionals as well, the Lady Eagles will host Western at 3 p.m. Friday.
"I believe we'll do pretty well at regionals," Yamamoto said. "What sets us apart from our opponents is how close our team is and how kind we are in all situations. We complement each other in game play and keep each other up whether it's singles or doubles competition. We also don't get frazzled by other teams' attitudes easily. We play our game and expect to win."
Contact Robert Vendettoli at BCRsports@gmail.com.
Upcoming Games
■ Today-Saturday, regionals, Darling Tennis Center in Las Vegas, TBA.