BCHS takes top player, coach awards
November 14, 2018 - 4:49 pm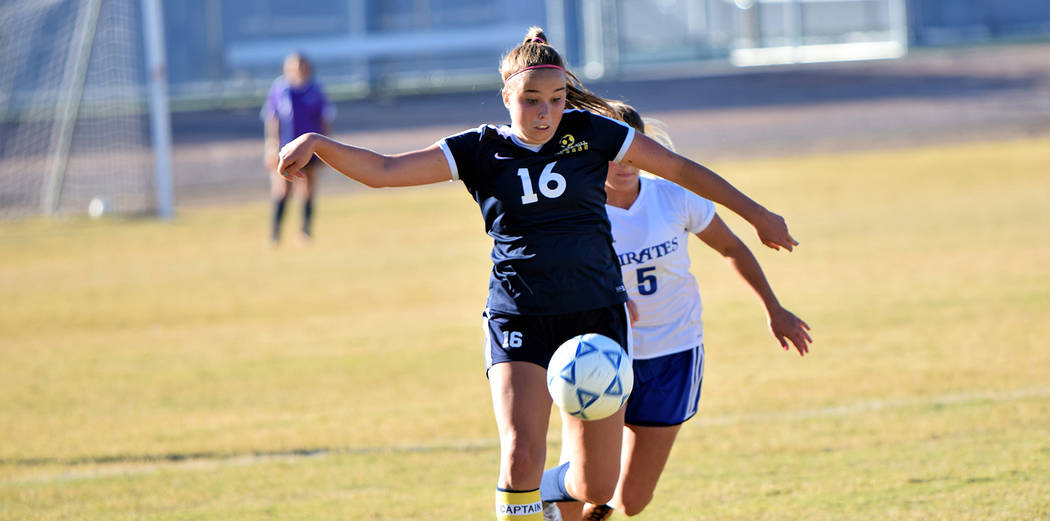 Makena Arboreen, Boulder City High School's star girls soccer player, was named the 3A Sunrise League player of the year for her efforts in guiding the Lady Eagles back to the postseason. The team's first-year coach, Arnold Oeland, garnered the 3A Sunrise League coach of the year award.
Having a breakout season, the junior credits her team for her individual success.
"I'm very honored to be named player of the year," Arboreen said. "This game is all about teamwork and I wouldn't of been able to be so successful without them."
Netting 15 goals this season for the Lady Eagles, Arboreen was also named the Golden Boot award recipient, given to the player who scores the most goals in the league. Tallying eight goals last season as a sophomore, Arboreen benefited from the team's new offensive mentality and improved ball work.
"The way we played the ball really helped me this year," she said. "We improved so much on the way we worked the ball and got the ball to each other. We had more of a team chemistry this season and were able to play as a team."
Credited for the Lady Eagles' success, Oeland led Boulder City to the postseason after a year hiatus. Bringing a fresh attitude with him, the Lady Eagles players bought into his philosophies.
"I definitely think the program is heading in the right direction under coach Oeland," Arboreen said. "He really helped us get to that next level and take that step forward. We really appreciate him coming in and helping us."
Oeland said he is most proud of his team, who in their brief time together, have shown flashes of being a prominent team on the rise.
"Being named coach of the year means a lot because it established that Boulder City is contenders in the valley when it comes to soccer," he said. "It also shows that we have a vested interest in our athletes' success."
Also honored were the Lady Eagles' junior core of Arboreen, Keely Alexander, Madison Manns and Trinity Oeland, who were named to the All-Sunrise team.
"I'm very happy for our girls who made the All-Sunrise team," Arnold Oeland said. "They worked hard every day and deserved to be recognized for that daily, monthly workouts into being better athletes."
Second on the team in goals, Manns scored eight while dishing out three assists. Trinity Oeland led the Lady Eagles with seven assists and three goals. Praised for her defensive play, Alexander also scored two goals on offense.
Contact Robert Vendettoli at BCRsports@gmail.com.