BCHS swimmers leave Silverado in their wake, cruise to easy victory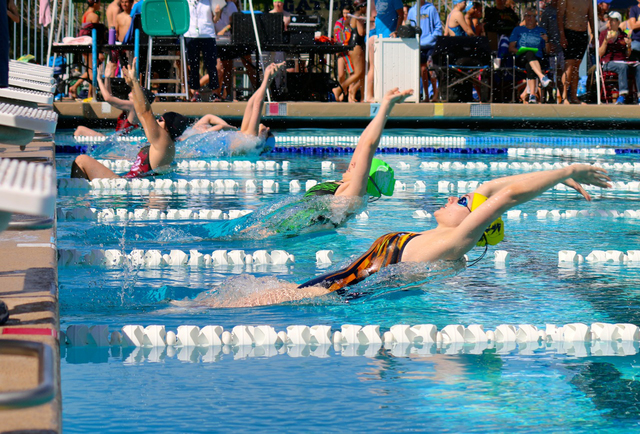 Setting both Boulder City High School swims programs up for success come May, head coach Sara Carroll has scheduled a tough slate for the Eagles this season, with four 4A opponents on their regular season schedule. To answer the test early, both teams swam past Silverado on Saturday at the Municipal Pool in Las Vegas.
"We're facing some of the bigger schools the season in hopes of being ready for state," Carroll said. "I'm very confident the girls will cruise all the way through, but the boys have some work to do with some of the northern programs looking really good this season. We're hopeful to be tested early and make another championship run."
Looking dominate as ever despite missing their three senior college commits Mandy Gebhart (Utah), Montana Lloyd (Houston) and Abby Sauerbrei (Grand Valley State), along with stud sophomore Aimee Garcia, the four-time defending 3A state champion Lady Eagles cruised past Silverado 223-48.
"We had a lot of our stars missing on Saturday, but the ones that raced took care of business," Carroll said. "It was very exciting to see a lot of our first-timers compete and win. We have a good group this season."
Of the Lady Eagles' newcomers, freshman Audrey Selinger (200-yard freestyle) and Quinci Thomas (200-yard individual medley and 100-yard butterfly) won their races, while freshman Teagan Pappas placed second in the 50-yard freestyle. Selinger also competed in the 100-yard butterfly, finishing with a time of 1:09.43 just under four seconds of Thomas' first-place finish.
Last season's all-state selection sophomore Rose Pouch placed first in the 100-yard backstroke and 400-yard freestyle with times of 58.78 seconds and 5:15.31, respectively, while senior Sarah Estes placed first in the 100-yard freestyle with a time of 1:00.51.
Sophomores Annika Freiburger and Ashleigh Wood placed first in the 100-yard breaststroke and 50-yard freestyle, respectively.
"It was nice to see my teammates dominate on Saturday," Lloyd said. "We have a lot of talented underclassman this season; I'm happy they all got a chance to showcase their talent. Knowing the program is in good hands after I leave makes me so happy because the legacy we helped build will continue."
Hopeful to continue the legacy for the another season, the six-time defending 3A state champion Eagles looked great on Saturday as well, racing past the Skyhawks 172-91.
Starting off strong, sophomore A.J. Pouch placed first in the 200-yard individual medley with a time of 1:56.80 and first in the 100-yard butterfly with a time of 56.95 seconds. He'll look to be among the team's leader this season.
"I believe the guys did a great job on Saturday," A.J. Pouch said. "We have a lot of up-and-coming swimmers who have great dedication to this sport and will do what it takes to win. Our goal this season is to have as many boys as we can qualify for state and hopefully win another state title."
Backing up Pouch was sophomore Paco Cuevas, who placed first in the 200-yard freestyle with a time of 1:56.75, despite having a broken arm and limited to certain events for the time being.
"When Paco gets fully healthy and is able to swim in more events, A.J. and him will be a great complement to each other," Carroll said. "We have a lot of new faces that we're hopeful can make an impact for us behind those two."
Of the Eagles' newcomers, junior Andre Pappas nearly won his first race, placing second in the 50-yard freestyle with a time of 25.13 seconds, less than .50 seconds off of Silverado winner Andy Lacobelli.
Junior Clayton Pendleton (100-yard breaststroke and 100-yard freestyle) and sophomore Chandler Larson (100-yard backstroke) rounded out the boys' efforts by winning their events.
The Eagles will take on Sunrise Mountain on Saturday at Heritage Park Aquatic Center in Henderson.
Contact Robert Vendettoli at BCRsports@gmail.com.
Upcoming game
Saturday, vs. Sunrise Mountain, at Heritage Park in Henderson, 1:30 p.m.