BCHS junior among Top 30 of her class at elite softball camp
August 24, 2016 - 1:28 pm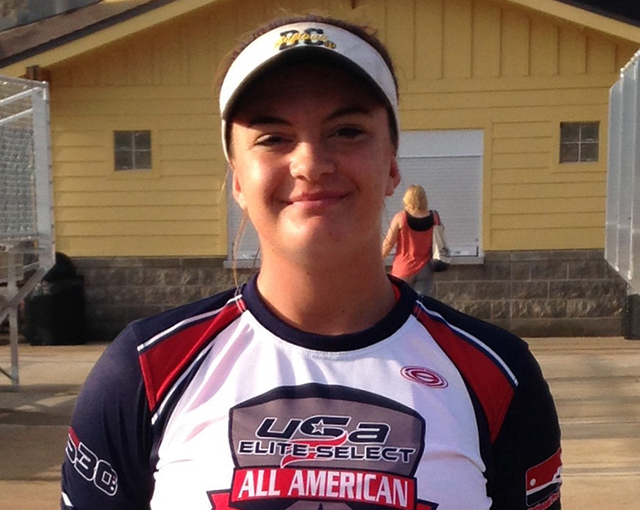 Lily Osman, who plays third base for Boulder City High School's softball team, earned All-American honors during the United States Specialty Sports Association's Elite Select Camp held Friday through Sunday in Tuscaloosa, Alabama. Being named one of the Top 30 players for the class of 2018 went exactly as planned for the junior.
"Its a huge accomplishment," Osman said. "It's the best recognition I've ever received. It makes me feel like I'm one step closer to achieving my dream of playing in college. I was speechless when I got the email that I made it."
Plagued by the excitement of the prestigious event, Osman admits to being nervous her first day of camp before settling down and playing some of her best ball of the summer.
"I was super nervous on the first day, but on the second day my nerves calmed down a bit," she said. "The all around experience was amazing. Being invited to something like this and competing with girls who are already committed to big Division I schools is amazing. Beating some of those girls to the Top 30 was even better."
By earning a Top 30 selection, Osman was invited to play in the All-American game Sunday, where she earned a hit.
"The game was amazing," she said. "I got to hit against some of the best pitchers in my graduating year, and that alone was amazing. On the flip side I also played defense against some really talented hitters. It couldn't have had a better weekend."
Looking forward to another experience with USA Elite, Osman is currently waiting to hear about its national team selection.
"I'm hopeful an email from USA Elite announcing a national team of 15 girls will be arriving soon," Osman said. "They're selecting that group from the Top Select 30 so I'm hopeful to get an invite."
Whether she'll be playing for the national team or not, Osman has called this past weekend's experience a memorable one, adding that it's only going to fuel her to be a better player.
"This past week's event is going to drive me to blow my stats from last season out of the water," Osman said. "I'm ready to help bring home the state championship for my high school in the spring."
Contact Robert Vendettoli at BCRsports@gmail.com.