BCHS girls bowling team wins first state title
February 15, 2017 - 2:51 pm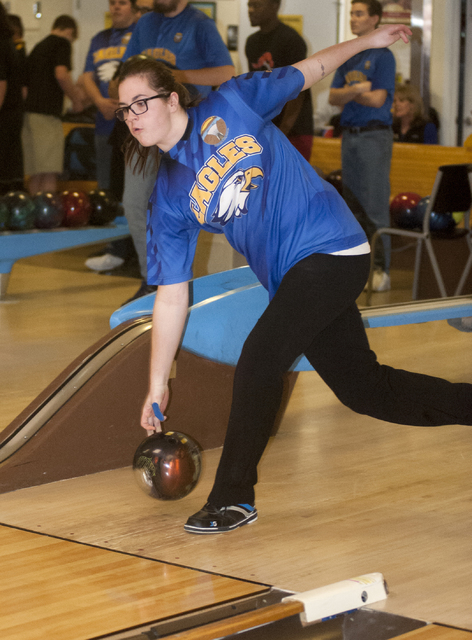 Playing the role of David for the past two seasons, the Boulder City High School girls bowling team finally came out victorious against Goliath on Friday at The Orleans, defeating rival Southeast Career Technical Academy 1,892-1,858 to capture its first 3A state championship in school history.
Ending the Roadrunners' bid for a fifth consecutive state championship, the Lady Eagles battled back from a six-pin deficit after two matches, finding redemption after finishing state champion runner-up the past two seasons.
"Beating Southeast Career Technical Academy is mind blowing to me," senior Abigail Harling said. "They are one of the highest bowling teams in our division and have always been our biggest rivals. Falling to them last year made me realize that I want to end my last year on the team with a victory. I was in the bowling alley almost every day training for this moment."
Picking up the intensity in the third and final match, freshman Christine Smith led all bowlers with 191 pins, while Harling bowled a 179. As it became clear the Roadrunners' dynasty was coming to a close, girls coach Garth Schulz couldn't contain his excitement.
"I'd never seen Garth get so excited for something," boys coach Rodney Ball said. "When this goes into the record books, I'm praying Garth's name is recorded as the winning coach. He's done a great job taking over the girls full-time and getting them to buy into being a winning program."
Fist pumping the ground during the closing frames, Schulz's tutelage played a large role in the Lady Eagles' upset victory against the Roadrunners, who hadn't lost a match in four seasons.
"I might have got a little carried away with excitement at the end," Schulz said. "I'm just so happy for these girls and their ability to pull out this victory. SECTA hadn't lost a match in four years. To be the team to end the streak is an amazing accomplishment."
Holding an eight-pin lead heading into the third match last season before blowing the lead, the Lady Eagles showed Friday just how much they've matured in a year's time.
"I'm astounded of how far we have come together as a team," Harling said. "We worked hard all season and it finally paid off."
Putting in the time and effort with her own personal bowling coach this season, Harling kept the Lady Eagles in title contention with a score of 520, while the duo of junior Bailey Bennett-Jordan and freshman Christine Smith both bowled 459, hovering above their season averages.
Senior Alexis Cable rounded out the Lady Eagles' efforts with a score of 454.
Graduating both Harling and Cable, the Lady Eagles return Bennett-Jordan and Smith with hopes of carving out the next dynasty in the 3A division.
"We have a good group coming back," Ball said. "We'll take time and celebrate this win before we get back to work with the girls. They're a competitive bunch, always tough to beat."
Contact Robert Vendettoli at BCRsports@gmail.com.