Updated July 12, 2018 - 11:27 am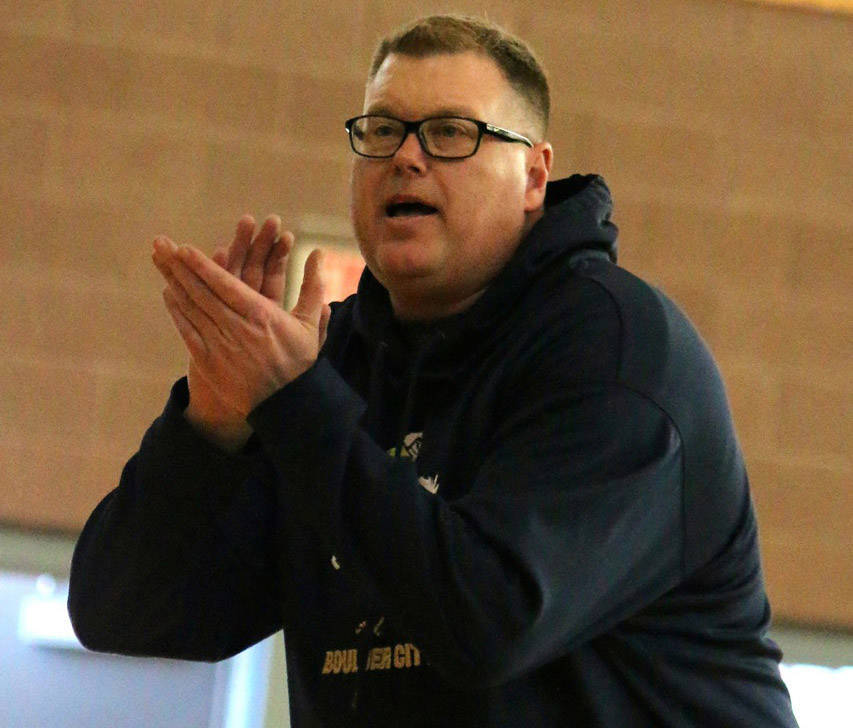 Paul Dosch, Boulder City High School's girls varsity basketball coach, died Saturday, July 7, at the age of 46 after a hard fought battle with lung cancer.
"As a person my dad was incredible," said his daughter Rylee Dosch. "He had many passions; he was generous, funny and caring. He meant the world to me. I always wanted to work hard at whatever I did to make him proud. He was my best friend growing up, and he was (my sister) Harper's best friend, too."
Moving to Boulder City in 1976, Dosch took over the helm of his alma mater in 2013 (he graduated in 1990), immediately finding success. In his first season with the program, Dosch guided the Lady Eagles to a 25-4 record, finishing as the class 3A state champion runner-up.
During his tenure with the program, the Lady Eagles made three postseason appearances.
"He spent the last seven years as a coach for Boulder City High School and I know that he helped shape and guide so many students through sports," Rylee Dosch said. "He grew up here and lived most of his life here. Boulder City is truly his home."
Kirk Estes, who coached at the side of his childhood friend, looked back fondly on their many years together.
"Our relationship goes back to junior high school," Estes said. "When he took over the girls varsity program he called me and asked me to be the assistant coach and I jumped at the opportunity. Paul was a firm but fair coach, but the long and short with coach is he loved the kids. They were his passion. He got energy from them and they got energy from him. There was nothing he wouldn't do for them as a coach. They were his kids and they loved him because of the investment he put into them."
Taking over the program this season while Paul Dosch battled his health issues, Estes lead the Lady Eagles to a postseason appearance. Estes said he hopes to keep the job full time to pay tribute to his mentor.
"Paul was a mentor to me," Estes said. "So much of what I've learned about coaching the game of basketball was from him so it would definitely be a salute and a tribute."
Loved by his players and his community, Boulder City rallied behind Paul Dosch after his December 2016 lung cancer diagnosis.
"Like the rest of the community, the Blumenthal household is heartbroken from the loss of Paul," said Heather Blumenthal. "Three of our four daughters had the opportunity to play basketball for coach Dosch. He was hands down the most passionate coach as far as expressing his love for the game of basketball. My girls are still inspired daily by coach Paul's mantra he drilled into their minds and heart: 'You can control two things: your attitude and effort.'"
One of three parents to team up for coach Dosch's benefit, Blumenthal, Mary Hinson and Kristen Estes held a fundraiser Feb. 6 raising $5,600.
"Both present and past players jumped at the opportunity to repay coach Dosch by participating in the fundraising efforts that took place for his family," Blumenthal said. "All of us have been honored at the opportunity to give back to someone that has given so much of himself to the Boulder City community. Paul's presence and impact on the BCHS girls basketball team will be greatly missed."
Paul Alexander Dosch Jr. was born April 4, 1972, in Los Angeles to Paul and Kathleen Dosch.
He is survived by his partner Katie Colton, mother Kathleen Dosch and children Jade (Matthew) Rogers, Blake Martin, Rylee Dosch, Alexis Farrar and Harper Dosch; and sisters Brooke (Eric) Walhof and Amanda (Brian) Flinn.
Graveside services will be held at 10 a.m. Saturday, July 14, at the Boulder City Cemetery, 501 Adams Blvd. Following the service, the Dosch family will have a memorial at Boulder Creek Golf Course clubhouse, 1501 Veterans Memorial Drive.
In lieu of flowers donations can be made to the Paul Dosch Donation Account at the Boulder Dam Credit Union. Family and friends can sign an online memorial guest book at www.bouldercityfamilymortuary.com.
Contact Robert Vendettoli at BCRsports@gmail.com.