BCHS coach, baseball team eye another championship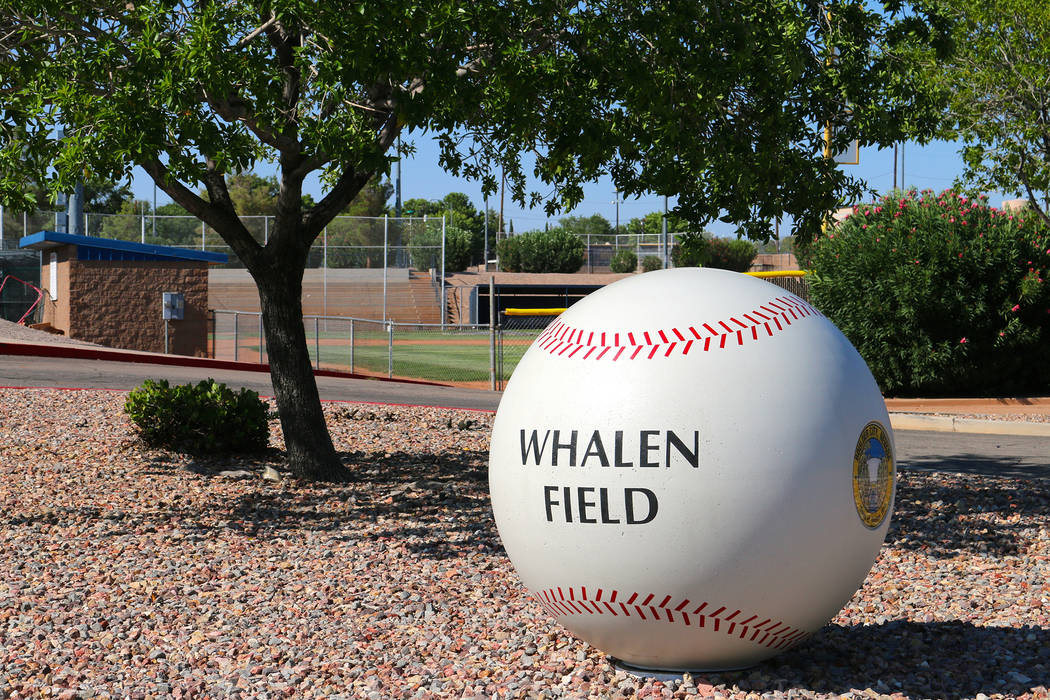 Coming off its first Class 3A state championship since 2006, the Boulder City High School baseball team figures to again be among the top programs in its division this season.
"We graduated a lot of guys from last season's championship team, but I think this year's roster stacks up very well," head coach Bobby Reese said. "With conference realignment shaking out how it did, we're in a good position to be competitive in our league once again. As a team, we're going to try to get better each day and hopefully play well into May."
Saying goodbye to powerhouses Faith Lutheran, Sierra Vista and Spring Valley, which all climbed to 4A this season, the Eagles are confident they're the team to beat despite being a bit inexperienced.
"I want everyone to look at us like we're the team to beat," senior Kodey Rahr said. "We're coming into the season with a lot of confidence and I hope teams try to give us their best shot. I want every opponent to throw their ace, use their second starter as a reliever. I'm hoping everyone shows up to play and pushes us to our breaking point. That's the only way we'll get better and hopefully reach our goal of playing for another championship."
Senior Jake Hubel is the clear favorite to lead the pitching rotation, following the graduations of Peyton Koopman and Steve Wagner, who each won eight games last season.
"We're more than confident that Jake's ready for this to be his season," Reese said. "He did well as our third pitcher last season and came up big for us in the postseason. We feel good with him on the mound."
Compiling a 4-3 record last season with a 4.79 earned run average, Hubel did his best work when it mattered most, pitching the Eagles to victories in the 3A Southern Region and state final.
"Coming into the season, I'm confident that I can lead this team," Hubel said. "I'm going out there this year with a mindset that I have nothing to lose. I'm already signed to play college, now it's time to go out and have some fun and hopefully win another championship."
The team's second starter probably will be senior Noah Higgins, followed by a cast of juniors including Rhett Armstrong, Thomas Lobkowicz, D.J. Reese and Chaseton Wagstaff.
"Pitching depth and quality at the position will definitely be a strong suit for us," coach Reese said. "We have as many as nine guys that we can call upon that I know will give us quality innings and throw strikes. (There are) going to be some tough battles to see who gets starts and who are going to be our relievers."
Reese is confident the supporting cast surrounding returning starters Hubel, Rahr and senior Aaron Kehoe will be enough to get the job done.
"We have quality at each position that no one knows about yet," Reese said. "We've been fortunate to have had last year's senior group for so long that a handful of talented players had to wait their turn. We don't really have the heavy hitters like in years past, but we do have a lot of guys capable of putting the ball in play and making things happen."
Rahr will start at catcher, a year after he hit .420 with 30 runs batted in, 10 doubles and a triple and home run. Back as starters as well, Kehoe (.406, 14 RBIs, two doubles) will man first base, while Hubel (.281, 17 RBIs, four doubles) will platoon at shortstop when he's not on the mound.
Of the Eagles' expected starters, Lobkowicz (.333, five RBIs) and junior Anthony Pacifico will join senior Jon Oliver in the outfield, while junior Nolan Herr, Reese and Wagstaff should all see time in the infield.
Scheduling another hard preseason slate, the Eagles open the season March 9 in the 4A Bengal Varsity Tournament at Bonanza.
"If there's one thing we try to do here at Boulder City, it's schedule the best," coach Reese said. "We're not looking to pad our wins and schedule weaker opponents. The wins in May are more valuable than the wins in March. (The) only way to make it to May is to make sure you've been tested beforehand."
Contact Robert Vendettoli at BCRsports@gmail.com.