BCHS claims title at own tourney
December 6, 2017 - 4:21 pm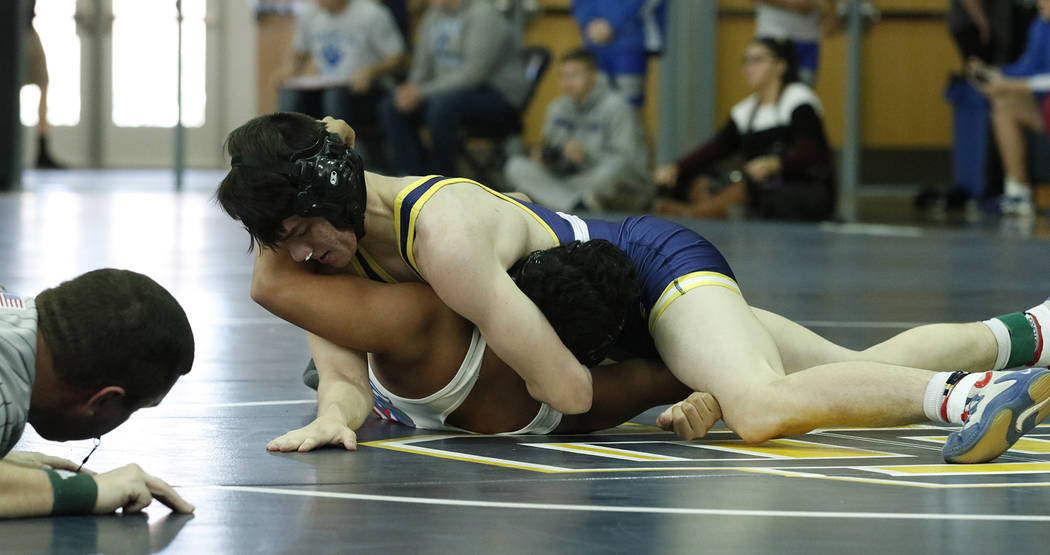 The Boulder City High School wrestling team claimed the title at the Boulder City Duals on Saturday, giving an early look at what could be a special season for the program.
"I'm so proud of all our guys for the hard work they put in," head coach Jim Cox said. "Every team at the duals is tough, but our guys fought hard and a lot of them came out undefeated. Having wrestled against most of the teams in our region already, we feel like this could be another great season for us."
Falling short of placing lofty expectations on his team after finishing with eight undefeated 4-0 wrestlers this weekend, Cox said the team will need to remain focused, despite the early success for the Eagles.
Seniors Zayne Dennington (132 pounds) and D.J. Reese (138); juniors Jimmy Dunagan (160), Thorston Balmer (170), James Ewell (195) and Ryan Vanario (220); and sophomores Curtis Brown (106) and Ladd Cox (145) all went undefeated.
"Obviously, all of our kids have individual goals of going to state, but we're not gonna talk about that right now," Cox said. "We have a lot of great guys in our gym, and they did extremely well this weekend. Now it's time to get back in the gym and fall in love with the process before we can start talking about the end result."
Falling in love with winning early and often, the Eagles as a team defeated 4A Liberty 66-6 on Nov. 29 in their home opener before defeating 4A opponents Desert Oasis (80-0), Valley (78-3) and Coronado (72-6) and 3A rival Virgin Valley (54-24) over the weekend.
Finishing the weekend 3-1 were senior Garrett Leavitt (126) and juniors Hayden Moore (152) and Mike Kaposta (275). Sophomores Jason Krumm (120) and Cade Cowley (180) each finished 2-2.
"The team overall performed very well," Dunagan said. "Our expectations for this season is just to stay focused on the process, not the outcome. Every day guys are putting in hard work to become the best wrestlers they can be."
Putting in extra work to become champions this year, the Eagles return last year's 126-pound state runner-up, Reese, who is ready to take home the 3A title at 138 pounds this season. Vanario, who finished third at state last year at 195 pounds, moved up to 220 pounds this season.
"Last year being in the state championship match was a great experience," Reese said. "Finishing second obviously was a disappointment, but it motivated me to work hard this summer to hopefully not only get back to the state championship match but actually be able to win it this year."
Hopeful to bring home their first 3A state championship as a team since 1986, the Eagles' core certainly doesn't lack experience or skill after bringing back several key returners.
"This year we have a lot of returning state placers and qualifiers from last year, which is obviously very exciting to have," Reese said. "I think a lot of our team can make it to the finals this year, and that's what we need to bring home a state title."
Looking to improve upon their preseason slate, the Eagles will get a firsthand look at just how talented this year's team is when they travel to La Costa Canyon, California, on Friday for the Jimmy Hamada Tournament.
Contact Robert Vendettoli at BCRsports@gmail.com.
Upcoming matches
Friday and Saturday, Dec. 8 and 9, Jimmy Hamada Tournament at La Costa Canyon in Carlsbad, California
Saturday, Dec. 9, Junior Varsity Duals at Foothill, OVERSET FOLLOWS:TBA