BCHS athletes earn all-state honors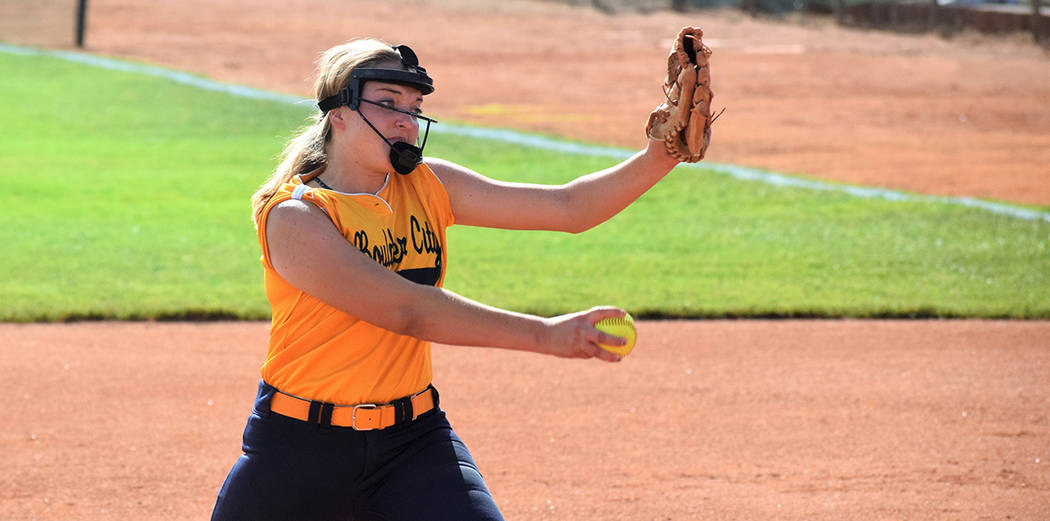 Putting their best foot forward, seven spring athletes from Boulder City High School were named to the Nevada All-State team in their sports.
Making the first team for girls swimming, junior Aimee Garcia said it was quite an honor to be recognized, noting that players in the 3A classification don't normally generate the same attention and are constantly overshadowed by larger schools.
"I do think being a 3A athlete makes it harder to be recognized," Garcia said. "I think I majority of people just assume our division is smaller, so it's not as important. I was pretty happy to make the all-state team since this was my first year doing so. It is an honor to be recognized for my hard work."
Garcia was joined by junior Rose Pouch on the girls swim first team for their efforts in guiding the Lady Eagles to their sixth consecutive 3A state championship in May.
"I was very happy and proud of myself. I'm glad my hard work had paid off," said Pouch, who set a pair of state meet record times in the 100-yard butterfly (55.63) and 200-yard individual medley (2:03).
She also was named the girls swimmer of the year at the Best of Nevada Preps awards presented by the Las Vegas Review-Journal on June 3.
Garcia also won a pair of events at state: the 200-yard freestyle in 1:54.68 and the 500-yard freestyle with a time of 5:03.77.
Making the first team all-state for boy swimming, Review-Journal boys swimmer of the year runner-up, A.J. Pouch set a pair of state meet records as well, placing first in the 100-yard breaststroke (55.35 seconds) and 200-yard individual medley (1:50.46).
"I was as happy as I could be to make the first team," A.J. Pouch said. "It is definitely something that I'm proud of and will remember. It is a great stepping stone for where I want to be in the future."
Making the second team all-state for the last and first time in their respective sports were senior Bailey Bennett-Jordan and freshman Blake Schaper.
A two-way softball star for the Lady Eagles, Bennett-Jordan compiled an 18-6 record with a 2.11 earned run average and 147 strikeouts, while batting .344 with 21 runs batted in, three home runs and three doubles.
"I'm honored to end my career on the all-state team," Bennett-Jordan said. "I would have liked to been on the first team, but there were a lot of great athletes who earned that honor. This will only motivate me more as I go off to college."
Named the class 3A Southern Region player of the year, Schaper placed third at the 3A state meet with an overall score of 152 for the state champion Eagles. He also led the 3A Sunrise League with six first-place finishes on the season.
"It's an honor to be named to the second team with so many great golfers," Schaper said. "This will motivate me to do even better next season and hopefully make the first team."
Earning honorable mention selections for the Eagles were senior Jackson Wright for boys golf and senior Lily Osman for softball.
Wright finished as the 3A individual state champion runner-up on May 15 with an overall score of 151. He ended his senior season with one first-place finish, five second-place finishes and one third-place finish.
Having her best season with the program, Osman led the Lady Eagles in batting average (.654), RBIs (52), doubles (16) and home runs (11).
Contact Robert Vendettoli at BCRsports@gmail.com.