BC tennis narrowly misses state
October 24, 2013 - 11:02 am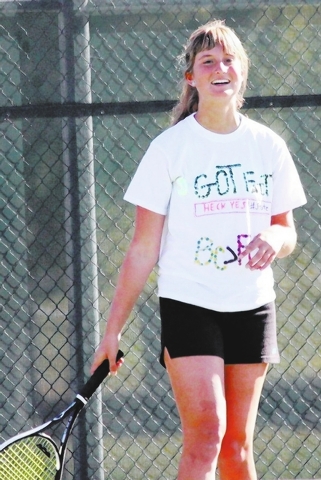 Boulder City's Melissa O'Berto won two matches to reach the quarterfinal round of the Division 1-A Southern Region Tennis Tournament on Oct. 17 before being eliminated in a three-set match at the Darling Tennis Center in Las Vegas.
O'Berto was the No. 1 seed from the Sunrise League in the bottom bracket in the round of 32 in last week's regional tournament that was played over four days at three sites in Las Vegas.
"Advancing to the state tournament was my goal and I got so close, losing the final match that would have sent me there," O'Berto said. "I lost a tough three-set match and almost made it. But next year, for sure.
"The team played great all year and I was hoping we could all advance to the state finals, but we all made a good run. I am honored to play and represent Boulder City."
In the Southern Region tournament, O'Berto won her opening match with a 6-1, 6-1 victory against Michelle Opolka of Moapa Valley. She followed that with a 6-4, 6-1 triumph against No. 8 seed Sydni Ferber of The Adelson School.
But O'Berto lost a three-set match 6-4, 2-6, 1-6 against No. 4 seed Kathleen Wright from Faith Lutheran. Wright went on to place third.
"I won the first set and felt good, but it was a tough match. I was disappointed to lose," said O'Berto, a junior. "It was great experience and I look forward to playing a lot more tennis in the future."
In other regional competition involving the Lady Eagles, No. 3 seed Taylor Fin was upset by Remy Schlossberg from The Adelson School, 6-2, 6-2, and Natalie Fullmer lost her opening match against The Meadows' Anjali Daulat, the No. 1 seed from the Sunset League.
In the doubles competition, Boulder City's Alexis LeMaster and Sarah Gneiting were seeded No. 1 and received a first-round bye. The lost their first match in the round of 16.
The Lady Eagles team of Maddie Montgomery and Arianne Hess was seeded No. 3 but lost its first match, as did the unseeded team of Kira Yamamoto and Makenna Frazier.
In the boys singles competition, Boulder City's Gavin Morris and Facio Gomez were unseeded and each lost on the first day.
In the boys doubles competition, Boulder City's teams of Eric Gros and Tyler Lyon, Jacob Harrison and Charles McCallum lost their first matches.
The Boulder City girls' tennis team clinched first place during the regular season in the Sunrise League for a second consecutive year with a 12-0 record. The boys were 3-7 as a team.