BC Connie Mack team battles older players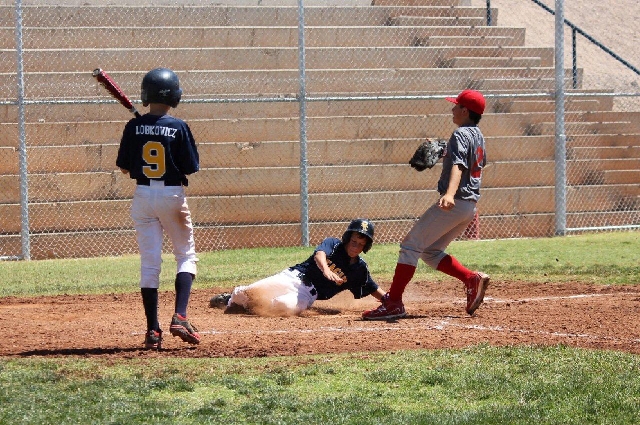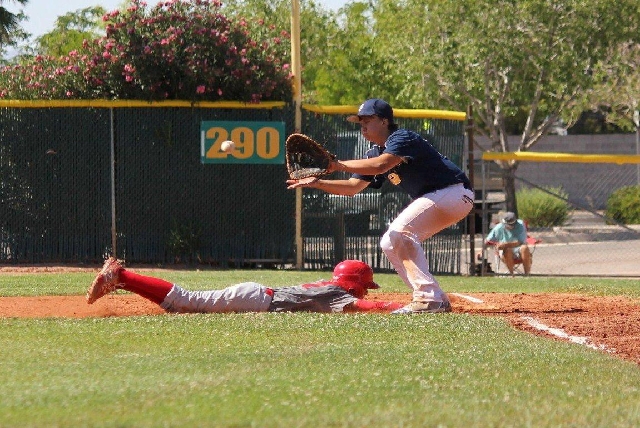 The Boulder City Connie Mack 16-under baseball team has no 16, but it has plenty of under.
The team has no players that are 16 years old and only two that just turned 15. The deeper coach Bobby Reese looks at his roster, the younger they get, all the way down to 12-year-old Gabe Kermode.
On paper the 16-under Eagles appear to be too young to compete in a league where most teams are other high school's junior varsity programs with rosters full of 14- and 15-year-olds.
But age does not matter here.
"These kids are battling against bigger kids and kids with more experience but our players are giving teams all they can handle," said Reese, who coached the Boulder City High varsity team to the state final this past May. "We have battled the older teams all summer and have not showed any signs of backing down. Our kids have accepted the challenges and have started to excel. Every kid on the roster has shown improvement."
The 16-under is 8-8 overall and will play in a tournament at Foothill that starts today and ends Saturday. They also have scheduled games July 1 at Foothill and at home at Whalen Field on July 3, also against Foothill.
The team defeated Eldorado 4-1 on Friday, then split a doubleheader with Arbor View on Saturday, 6-5 and 3-8.
Under Reese, Boulder City's high school baseball program has dropped its longtime American Legion summer-league affiliation in favor of joining the newly formed Connie Mack League.
Joining Boulder City in the new league are: Foothill, Las Vegas, Bonanza, Eldorado, Arbor View, Shadow Ridge and Utah's Dixie, Snow Canyon and Desert Hills.
"The new league has been great so far and we are holding our own with older teams," Reese said. "From talking to the other coaches in the league, we believe we are indeed the youngest team in the league.
"It shows how hard these kids are working. This new league has given us flexibility with scheduling and also with lineup changes, allowing us to get more kids opportunities to play."
The 16-under team, which includes two seventh-graders this fall, four eighth-graders, five incoming high school freshmen and two sophomores, is playing 22 games this summer against larger schools and junior-varsity teams.
The two sophomores — Quentin Turner and Mike Morelli — are the lone 15-year-olds. "Morelli has been excellent playing up the middle and also at guiding the younger players," Reese said.
Eighth-grader Gabe Kermode's playing time has been limited because of his commitment to the Boulder City's 12-year-old all-star travel team.
"But when Gabe gets his chances, he has not backed down. He is playing a very good outfield for us," Reese said.
The season winds down next weekend with a doubleheader on July 5 against Utah's Desert Hills, and a road game July 6 at Foothill. The 16-Under State Championships are July 10-13 in Las Vegas.
Freshman-to-be Jake Hubel has led the team on the mound. He has three wins and an earned run average of 3.28 in 21 innings. Other top pitchers have been freshman Preston VanDiest with an ERA of 5.57, while eighth-grader D.J. Reese's ERA is 3.50 and Turner's ERA is 5.53.
The top hitter is VanDiest, who is batting .386 with 10 runs batted in. Turner is batting .364, while Hubel is hitting .318 and Collin Shepard is at .316.
Freshman Kodey Rahr is batting .304, and Reese is hitting .276 and eighth-grader Teddy Lobkowicz is at .270. "Aaron Kehoe, Anthony Pacifico, Shaun Jones and Darin Bailey also have played well when they are in the lineup," Reese said.
"We are going into the Foothill Tournament just looking for continued improvement," Reese added. "We can not solely base our success on wins and losses this summer, but our success will be based on the experience we get and the improvement we show.
"So far, this summer we have done both. We are very happy with the progress and growth and look forward to continuing to work with this group. They have a ton of potential and it looks to be a very good team in high school, one that has a chance to add a state championship to Boulder City's total."