Basketball world coming to BC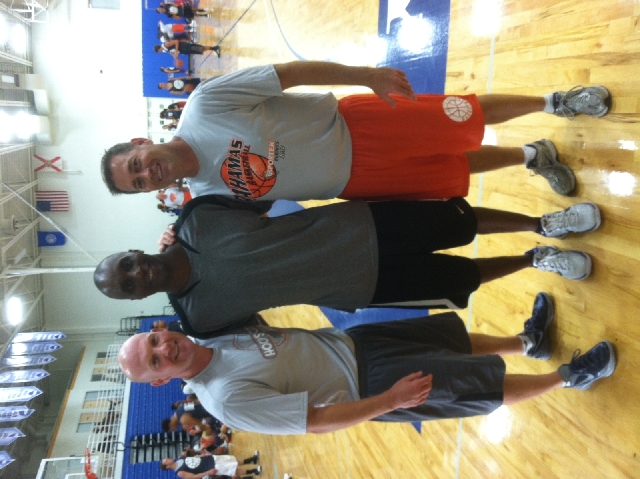 The rapid growth of basketball internationally has given college and professional scouts another arena to find talent in during the past 20 years. If the research is done diligently enough, a scout might find themselves somewhere such as Bahia Blanca, a small barrio in Argentina taking notes on a kid named Manu Ginobili, who now plays for the San Antonio Spurs in the National Basketball Association. Or Wurzburg, Germany, watching a goofy looking 7-footer by the name of Dirk Nowitzki, who now plays for the Dallas Mavericks, practicing his fall-away jumper.
Maybe this summer that hidden gem of the hardwood will be found draining outside jumpers here in Boulder City.
This year, the basketball training academy Sportek Events from Raleigh, N.C., will bring international talent and pair them up with talent from the United States for the four-day World Championship Cup & Training Camp, which is anticipated to involve 1,000 junior high and high school-age kids in Boulder City.
The ambassador for those four days will be John Balistere, Boulder City High boys basketball coach.
"It's going to be a four-day training camp from July 12-15. We are going to use both our high school gyms, the junior high gyms and the two city gyms," Balistere said. "We are up to 450 participants from all over the world. We have a couple teams from the Bahamas that are coming to play. A couple Brazilian teams and two Chinese teams as well."
The athletes will stay at MGM Grand on the Strip when not in camp.
The popularity of the camp has caused the organization to cancel the one scheduled this year for the Bahamas, a camp Balistere worked last year
Balistere is no stranger to the big-time basketball. Fifteen years ago he was the spa manager at the Bellagio when Duke basketball coach Mike Krzyzewski walked in. The rest is history.
"We started talking about basketball," said Balistere, who was part of Boulder City's state championship team in 1984. "We talked about the UNLV and Duke games in the early '90s. We talked about a few different things and just kinda established a relationship after that. He's an amazing, amazing guy. He's been great to myself and to my family."
Balistere has been going up to Durham, N.C., ever since and helping who he affectionately calls "Coach K" with his annual summer camps and constantly gaining experience as a coach every year. He now uses that experience toward improving his players in Boulder City that look to him for guidance.
Balistere will be teaming up with Alan Stein, the head strength and conditioning coach for the Nike Elite DeMatha Catholic High boys basketball program in Hyattsville, Md. Stein has worked with various NBA players such as LeBron James and Kevin Durant during the years to help improve their conditioning.
Mark Adams, who was an assistant coach for Jim Boeheim at Syracuse University and is now a skill instructor for the Nike Skills Academy, also will be joining them. Former NBA player and current Detroit Piston's assistant coach Dee Brown is also on the staff.
For Balistere, holding this tournament in Boulder City, where he graduated from in 1984, gives him a sense of pride to be able to give back to a community that has given him so much throughout the years.
"I moved out here from Pittsburgh and I went to high school here," said Balistere, who also is a consultant for MGM International for its basketball events at MGM Grand and Mandalay Bay. "This is probably one of the bigger basketball events that we have here in town and I think it will be a great opportunity for our kids in the community to experience the best skills, strength and conditioning people in the country."
Balistere hopes that getting the word out five weeks before the camp will get some Boulder City athletes to sign up for the camp.
During the four day span, players will be practicing skill and agility drills. They will also be working on their footwork, 3-point shooting, defensive movement, and strength and conditioning to name a few on a large list of to-dos. They will be put in a classroom setting where they are going to be analyzing film. Then, finally teams will play against each other in tournament games.
As far as Balistere is concerned, this summer's camp will not only be a learning experience for the players but for him as well.
"You always learn," said Balistere, who guided the Eagles to a 16-10 record and a 1-A Southern Region playoff berth in his first season. "There's great coaches to learn from and you got to check your ego at the door and be willing to learn from other people. My job is to maximize a player's potential, however that is. Whether it is in basketball or the real world, however I can help."
Information on the camp is available at www.sportekevents.com.