Bailey shines for Eagles, nets division honors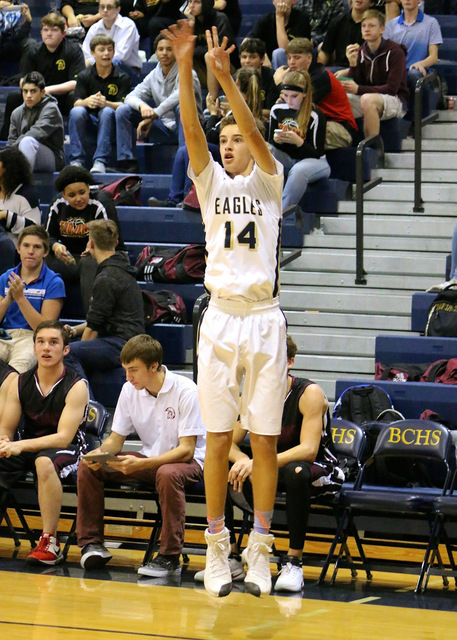 Karson Bailey, a breakout star for the Boulder City High School boys basketball program this season, was named to the 3A Division Southern Region's second team.
The sophomore guard, who led his team with an average of 12.2 points per game, was also named to the first team for the 3A Sunrise League. He shot 39 percent from 3-point range (45-of-115).
"Karson came in and did a phenomenal job for us," head coach John Balistere said. "He added a level of scoring our program definitely needed, matched with toughness. Whether it was shooting outside or making his way inside for his points, Karson always seemed to come up big for us on the offensive end."
More than just a hot shooter from downtown, Bailey provided three rebounds, an assist and a steal per game this past season. For his efforts, Balistere named Bailey the team's offensive player of the year.
"I couldn't be more excited for all the accolades I've received," Bailey said. "Coming into the year, I was just hopeful to contribute. As each week passed, I grew more comfortable in the offense and starting, becoming the player I know I can be. I just want to contribute to the team, in whatever way is asked of me."
Also earning All-League honors for the Eagles this season was junior guard Carson Balistere, who was a second-team selection, and senior Justus Green, who was named honorable mention.
"Both of those guys played large roles in our success," John Balistere said. "When we needed big plays, both of them were capable of stepping out of their roles and taking over. When we were at our best, it was because they were at theirs."
Taking home the team's athlete of the season award, Green filled the box score each night, averaging 10.8 points, 8.4 rebounds, 2.2 assists, 1.2 steals and 0.8 blocks per game for the Eagles.
"I am honored to be named the team's athlete of the season," Green said. "Every night I went out there trying to do my best and get a win for my teammates and me. They helped me get better each game, and hopefully I did the same. This was a great group of guys to play with; I'm going to miss them."
Claiming the Eagles' defensive player of the year award, Carson Balistere was rewarded not only for his defensive skill set but his toughness on the court.
"When we needed a big stop, Carson was always there trying to make a play," John Balistere said. "We don't have the luxury of jumping with most teams because of our size, but that doesn't mean Carson won't throw his body at you, trying to stop your best player. The number of charges he took this season speaks for itself, but it's the number of charges he attempted that didn't get called is what stands out for me."
Taking 34 charges on the season, Carson Balistere also averaged 11.4 points with 5.5 rebounds and 0.8 steals.
Returning nearly a full roster next season, John Balistere said he is excited about the future of the program.
"Obviously, Justus is going to be a big loss," he said. "We do have a lot of key contributors coming back though, which is very exciting for our program. Basketball never stops with us; we'll give the guys a few weeks off and then we'll be back in the gym figuring out ways to get better. This team is hungry for success. They work hard, buy into the program and always give it their best efforts. I'm excited about the future of our program."
Contact Robert Vendettoli at BCRsports@gmail.com.