Bailey named 3A regional player of year
November 21, 2018 - 4:01 pm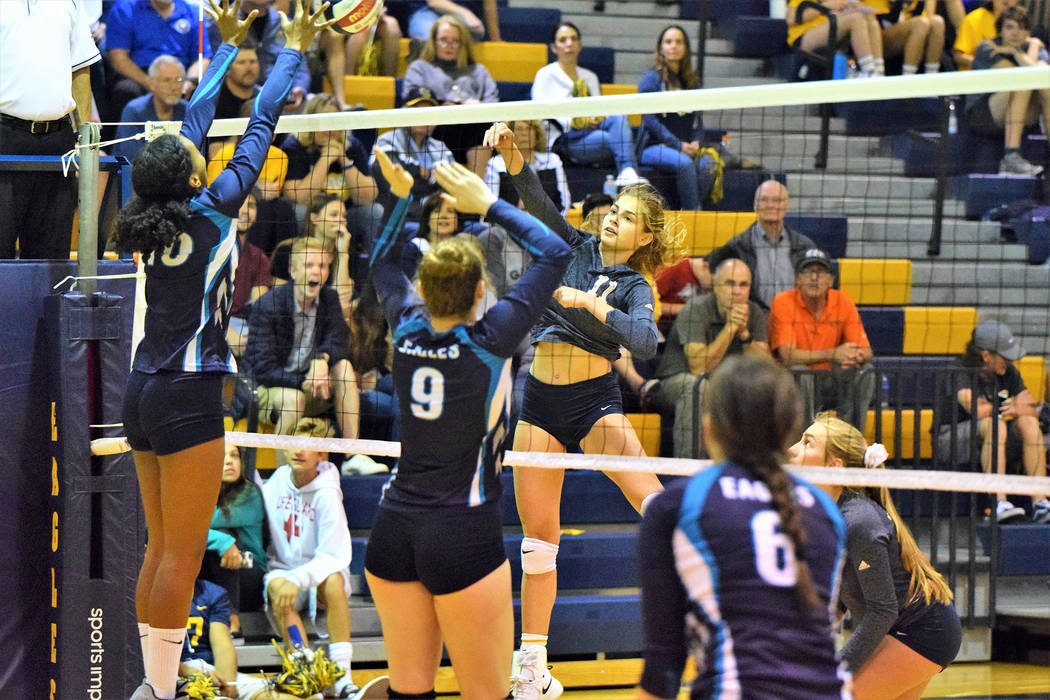 Boulder City High School sophomore Kamry Bailey was named the 3A All-Southern Region player of the year for her efforts in guiding the Lady Eagles to their second consecutive 3A state girls volleyball championship.
Establishing herself as the top girls player in Southern Nevada, Bailey also was named All-Sunrise League player of the year.
"I'm really honored and excited to be named 3A player of the year," she said. "I played a lot in the offseason and really worked on my technique and control. I think that really contributed to my success as a player."
Following in the footsteps of former great Lady Eagle Maggie Roe, who was named last season's 3A player of the year, Bailey blossomed into a star this fall, generating 350 kills, 198 digs, 101 serving aces and 27 blocks.
For her efforts, she was named a first-team All-Southern Region selection alongside sophomores Sierra Orton and Ava Wright.
"I'm really proud of the girls for their efforts," head coach Kurt Bailey said. "It's a great accomplishment to make the All-Southern Region team. Obviously, I might be a little biased in thinking everyone should have made it after the season we just had, but I'm happy for the ones who did. They all did a great job this season."
Breaking out as a two-way threat, Orton teamed up with Bailey to deliver 214 kills offensively while making 66 blocks on the defensive end.
Orchestrating the winning effort, Wright dished out 1,084 assists this season while generating 203 digs defensively, along with 139 aces and 27 blocks
"Everyone contributed this season, and I couldn't be more proud of us," Wright said. "Having so many great offensive weapons takes pressure off of me, because I know wherever I set the ball something good is going to happen."
Making the All-Southern Region second team were junior Raegan Herr and sophomore Kelsi Robinson.
Another key offensive contributor, Herr tallied 179 kills, 43 blocks and 31 digs, while Robinson generated 153 kills and a team-high 92 blocks.
Leading the Lady Eagles through an undefeated league season, Bailey, Herr, Orton and Wright were all named first-team Sunrise All-League selections, while Robinson was named to the second team.
Contact Robert Vendettoli at BCRsports@gmail.com.