Alumni join BCHS swimmers at tourney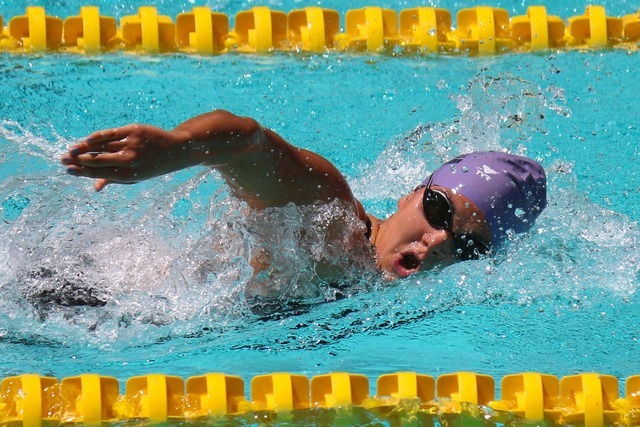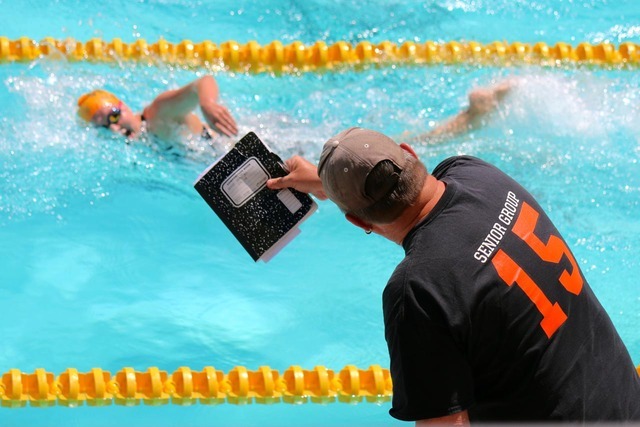 There was a Boulder City invasion July 14-15 at the University of Southern California, where three current swimmers from the four-time defending Division I-A state champion Lady Eagles were competing at the Los Angeles Invite with a trio of Boulder City High School graduates.
Competing for the Desert Storm, Boulder City High seniors Montana Lloyd and Abby Sauerbrei and sophomore Aimee Garcia represented the women, while 2015 graduate Sam Sauerbrei competed for the men. For the Boulder City Heatwave, 2015 graduate Alex Hubel teamed with 2012 graduate Megan Purdy.
"(There was) a lot of great action this weekend," Boulder City Heatwave head coach Mike Polk said. "The competition at the LA Invite really doesn't get any better than this."
Competing together for relays and individually, the Lady Eagles' core trio certainly impressed at the LA Invite, finishing nearly in the top half of each of their respected events.
Teaming together for the 800-meter freestyle relay, the trio, along with Storm teammate Astrid Villeda Flores, finished third with a time of 8:45.38, while they placed 13th in the 400-meter freestyle relay with a time of 4:07.10.
Individually, Lloyd led all Boulder City participants over the weekend with a dazzling performance in the 200-meter backstroke finals, finishing fourth in the event with a time of 2:18.37. Making her way to the 200-meter individual medley finals as well, Lloyd placed 31st with a time of 2:26.80.
In the 200-meter butterfly finals Sunday, Abby Sauerbrei finished in 21st place with a time of 2:24.53, while finishing 20th in the 800-meter freestyle preliminaries earlier in the day with a time of 9:20.93.
Concluding high school performances, Garcia had a solid showing at the LA Invite despite being 14 years of age in a competition laden with high school upperclassman and collegiate swimmers. Placing well in a pair of prelims, Garcia finished 29th in the 800-meter freestyle with a time of 9:30.64, while placing 43rd in the 400-meter individual medley with a time of 5:23.39 out of 81 swimmers.
Rounding out the Storm's efforts, Sam Sauerbrei finished ninth in the 200-meter butterfly with a time of 2:05.67 and 21st in the 400-meter freestyle with time of 4:12.37.
For the Boulder City Heatwave, Hubel, a former UCLA Bruin and newly added University of San Diego sophomore, made it to the finals in the 100-meter butterfly and in the 100-meter freestyle, placing 17th and 22nd with times of 1:03.80 and 58.71 seconds, respectively, while senior Northwestern swimmer Purdy finished 16th in the 200-meter butterfly finals with a time of 2:24.41.
Little League All-Stars
Falling to Legacy 4-3 on July 14 in the District 2 Championship game at Arroyo Grande, the Boulder City Little League Junior All-Stars have effectively ended their summer slate with a 22-2 record.
"Obviously we would have liked to won the championship and kept playing, but overall I'm proud of the way our kids went out there and competed," head coach Bret Hood said. "Everyone gave it their all this season and I personally couldn't be more proud."
Stating their overall desire to win, Hood credited the team as a whole for Boulder City's success, noting that the entire 11-man roster was responsible for their great season in the 13-14 age division.
"There was never one player that stood out over the others," Hood said. "Everyone on this team was vital to our success. We had seven pitchers give us quality innings. Our back end of the lineup provided us with key hits. In order to win 22 games, you have to have a special group, not only on the field but off the field as well. We certainly had a great one this year."
Contact Robert Vendettoli at BCRsports@gmail.com.