All-Stars claim Little League division title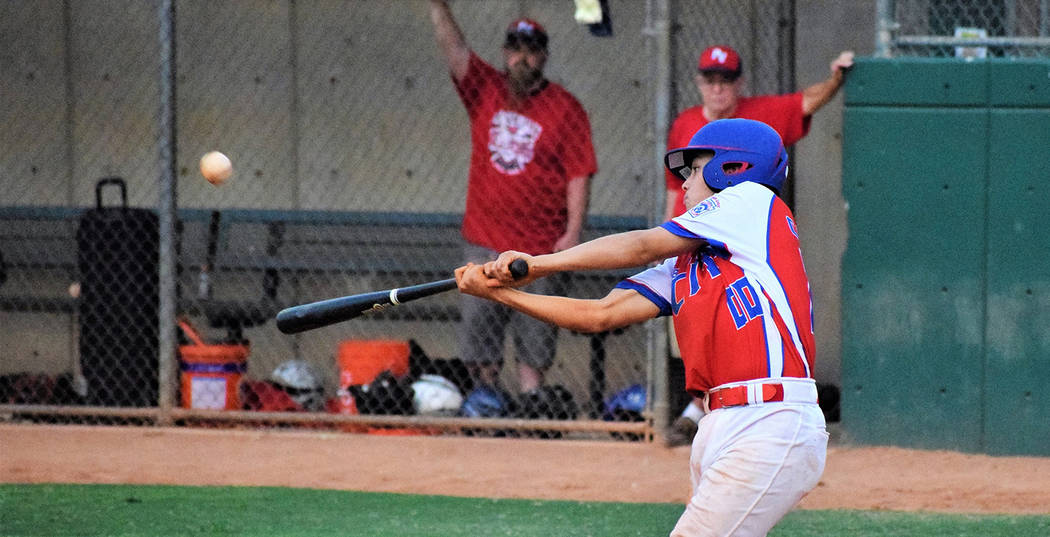 Boulder City Little League Junior All-Stars claimed the Division II district tournament championship July 12, defeating Henderson 27-7.
"To have a winning season and win a district championship is something we never dreamed of," head coach Clint Spencer said. "We've had a lot of losing seasons in the past. The boys have been through a lot and to see them turn it around this year, it's great to see for those kids."
Run-ruling their third consecutive opponent in the District II tournament, the Eagles came out firing with three runs in the first inning and 11 runs in the second inning.
On fire from the leadoff slot, Chase Calvez finished 3-for-4 at the plate with a game-high five runs batted in and two doubles.
Teaming with Calvez to form a run scoring duo, Izec Easter's bat came alive, knocking in four runs on a pair of doubles after a 2-for-2 performance.
"I'm really happy with the way I've been hitting," Easter said. I've been putting in extra time and it's paying off. I'm not the fastest base runner so anytime I can get an extra base it's a good day. I love being able to contribute to my team. I want us to be able to rely on each other for hits and defense."
Adding on to Boulder City's run total — eight runs in the fifth inning to close the championship outing — were Jeremy Spencer (3-for-4), Dylan Spencer (2-for-3) and Caleb Brown (1-for-2), who each contributed two RBIs.
Hunter Moore finished 1-for-4 at the plate with an RBI.
Dominating the base paths as well, R.J. Kilar stole a game-high four bases while Jeremy Spencer, Brown and Calvez each swiped two bases.
"I would say the biggest thing going into state is keeping our bats alive," Kilar said. "I think we have a good chance at winning state if we all just go up there have fun and play our game."
Picking up the win on the mound, Kilar threw 3 2/3 innings, allowing six runs on three hits with three strikeouts.
Sweeping their way through district play, coach Spencer said he is confident his players will to keep their composure when they take the field today against Pahrump in game one of the Nevada Little League state championship in Reno.
"We know we're going to go up there and face some higher level teams," Clint Spencer said. "We're ready to go out there and play our game. We've told the boys all year to take it one game at a time. We're hot right now coming off the district tournament but these boys have been humbled over the years with losing seasons and I know they're hungry. I expect them to come out ready and focused to play."
Contact Robert Vendettoli at BCRsports@gmail.com.