Valley hands Eagles heartbreaking loss
September 21, 2016 - 2:13 pm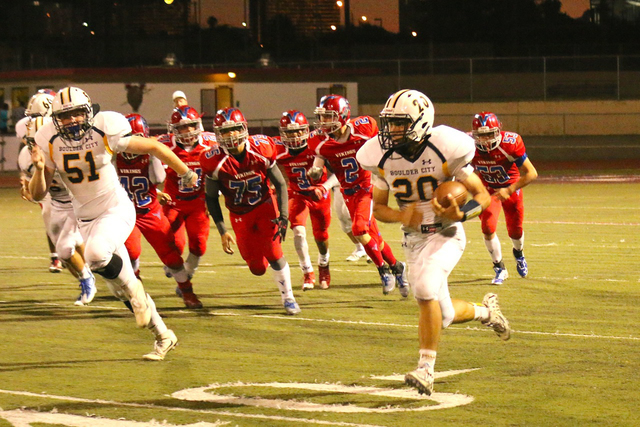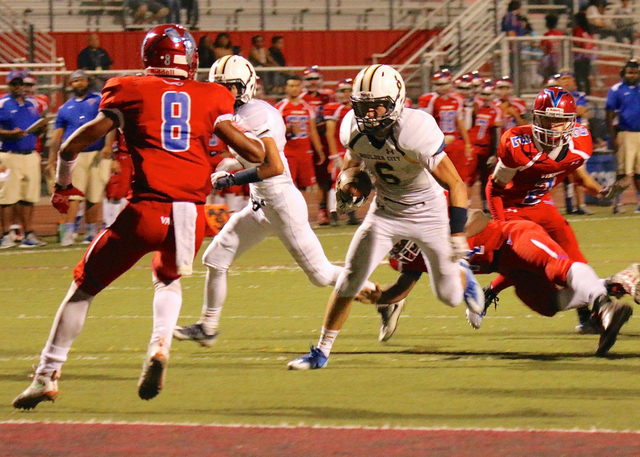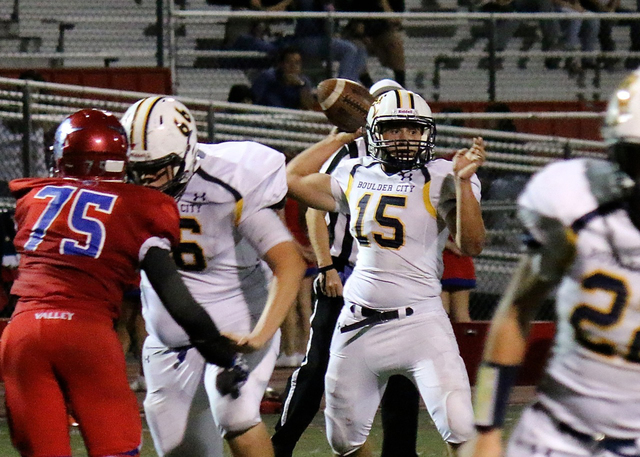 Despite another strong performance by the Boulder City High School football team Friday, the Eagles' efforts weren't enough to overcome a heartbreaking 34-21 loss to Class 4A program Valley, giving the Vikings their first victory since Nov. 1, 2013, snapping a 23-game losing streak.
"I'm sick of losing," Eagles senior quarterback Michael Martinelli said. "I feel like we had this game won and we beat ourselves. Too many dumb penalties, players not sticking to their assignments. We played well enough to win early on and we let it get away from us. I've felt sick to my stomach ever since."
Despite jumping out to a 21-14 lead midway through the third quarter, the Eagles' defense wasn't able to stop key Valley plays late, giving up a 66-yard touchdown pass and 74-yard punt return less than three minutes apart between the third and fourth quarter to break the game open.
"We played well overall, but it's simple mistakes that kill us at times," Boulder City head coach Chris Morelli said. "We can't take plays off, we can't play great for a series of plays and then let a really big play just get away from us. We need to be more aggressive, pay more attention to detail."
Personal fouls were also an issue for Boulder City, with the Eagles totaling four.
"To me, that amount is unacceptable," Morelli said. "I told them going in that the team who's the least disciplined would lose. We have to stay focused. We can't give our opponents good field position to put drives together. Our mental preparation is what killed us."
After dissecting the negative of the loss, Morelli cited the positive, most notably the overall defensive performance that limited the Vikings to just 270 yards of offense, including 130 yards on the ground for an average of 3.82 yards per carry.
"As a unit, I thought the defense did a pretty nice job," Morelli said. "We need to get more out of our secondary, though. We let too many guys go by us, we need to wrap up and we need to make tackles. Penalties also killed us. We can't shoot ourselves in the foot when we're doing good. We let this one get away from us in just a few short plays."
Noting the running game as a highlight, the Eagles were supplied with rushing touchdowns of an 8-yard run by senior running back Dillon Viera and 3-yard run by senior quarterback Taylor Hatchel.
Viera finished with 49 yards on 13 carries, while Hatchel contributed 28 yards on 13 carries.
Sophomore running back Thorston Balmer also had another solid outing, carrying the load for the Eagles with eight carries for 77 yards, just shy of a 10-yard average.
"Each week he continues to get better," Morelli said. "He's definitely a change-of-pace back, somebody who can pick up yards for us when we need it. We like our running back stable with him, Viera, (Aaron) Walker and (Briggs) Huxford. We know we can be successful running the ball behind the guys and get our offense started."
Special teams were also a positive for the Eagles with junior playmaker Zach Trone igniting the Eagles' charge in the second half, taking the opening third-quarter kickoff 80 yards for a tying touchdown. It was his second kick return score of the year.
"We've actually been working a lot on special teams in practice," Morelli said. "That was a very nice play, a very exciting one. Zach is a very exceptional athlete who is capable of doing great things with the football. We look to him as one of our go-to players to get our offense started."
Along with his dynamic return, Trone caught a pair of passes Friday night for 40 yards.
Even with contributions from the rushing attack and special teams, Trone noted that the offense needs to be more balanced after the Eagles' quarterbacking duo of Hatchel and Martinell combined to throw for just 54 yards, while completing only four of the Eagles' 14 pass attempts.
"I have confidence in their ability to get the job done," Trone said. "We just need to continue to work hard in practice — develop more chemistry, more trust. If we can be more balanced, it will help us be more effective offensively."
Hoping to deliver another strong rushing performance while the passing attack figures things out, the Eagles will travel to division powerhouse Moapa Valley in Overton on Friday where they'll take on the Pirates in their first league contest.
"Our running game is really strong this year," Viera said. "We're getting good contributions from all of our backs. We need to continue to fight for yards and hit our holes. Moving the chains will be key for our offense."
Contact Robert Vendettoli at BCRsports@gmail.com.
Upcoming Games
■ Today, at Moapa Valley, 6:30 p.m. junior varsity
■ Friday, at Moapa Valley, 7 p.m. varsity