Tenney helps Lady Eagles flag football team net victory
January 12, 2017 - 2:26 pm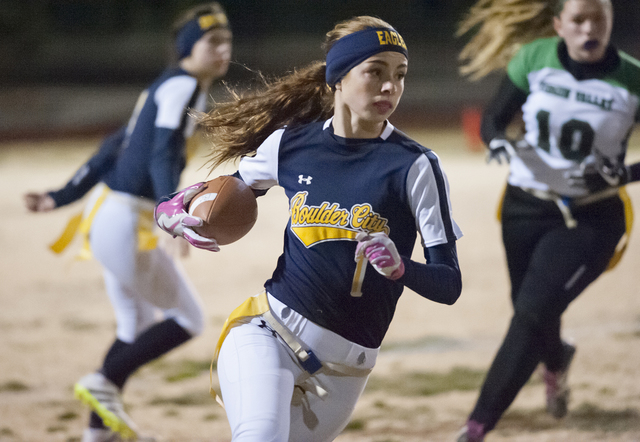 Switching to junior quarterback Taylor Tenney on Tuesday against Del Sol, the Boulder City High School flag football program picked up its first league victory of the season 26-6, after suffering its first two league defeats in the school's history the week before.
Noting Tenney's dual-threat ability, head coach Chris Morelli said it was time the program make a change at the signal caller position, with Tenney expected to get the start again today against Moapa Valley at home.
"Coming out from winter break, we looked very flat offensively," Morelli said. "We believe we shouldn't have lost either of our two previous matchups, and our offense is the primary reason why. Taylor did a great job at the end against Southeast Career Technical Academy last week and played solid again tonight. We'll see where she can take us."
Falling short against Virgin Valley 26-13 on Jan. 4 and to Southeast Career Technical Academy 12-7 on Friday, Tenney had the offense clicking against the Dragons, completing 11-of-17 for 122 yards and a touchdown.
"I thought she came in and played well," Morelli said. "I'm still gonna give both quarterbacks game reps, but I think Taylor deserves the next start."
Tenney has completed 55-of-82 (67 percent) for 543 yards and four touchdowns, along with 179 rushing yards and three touchdowns so far this season.
Sharing time on the field Tuesday at home with junior Nicole Valle, both quarterbacks were able to find senior receiver Emily Mull for touchdown passes, after stalling on offense for the majority of their first two league contests.
Finishing 2-for-4 with 19 yards and a touchdown, Valle also rushed four times for 19 yards and a touchdown. Mull pulled in a game-high six catches for 84 yards and two touchdowns.
"We've got to find way to put points on the board," Morelli said. "We don't have the firepower like years past were we can just manhandle teams. We're really going to have to take advantage of our strengths and mix up our game plan each week."
Taking advantage of one of their key pieces on both sides of the ball, senior playmaker Kenadee Bailey was at her usual best Tuesday against the Dragons, tallying 11 tackles and two interceptions, taking one to the house for a 30-yard return. Bailey was explosive on offense as well, catching four passes for 46 yards while leading the Lady Eagles in rushing with 34 yards on seven carries. Defensively junior linebacker Nikki Meleo solidified the team's efforts with six tackles, while junior linebacker Daisy Hodgkin added four tackles and a sack.
The Lady Eagles will host Moapa Valley today, followed by a road contest at Chaparral on Jan. 23.
Contact Robert Vendettoli at BCRsports@gmail.com.
Upcoming game
Today, vs. Moapa Valley, 3:30 p.m. junior varsity; 4:30 p.m. varsity