Swimmers' dynasty continues: Lady Eagles capture sixth straight state title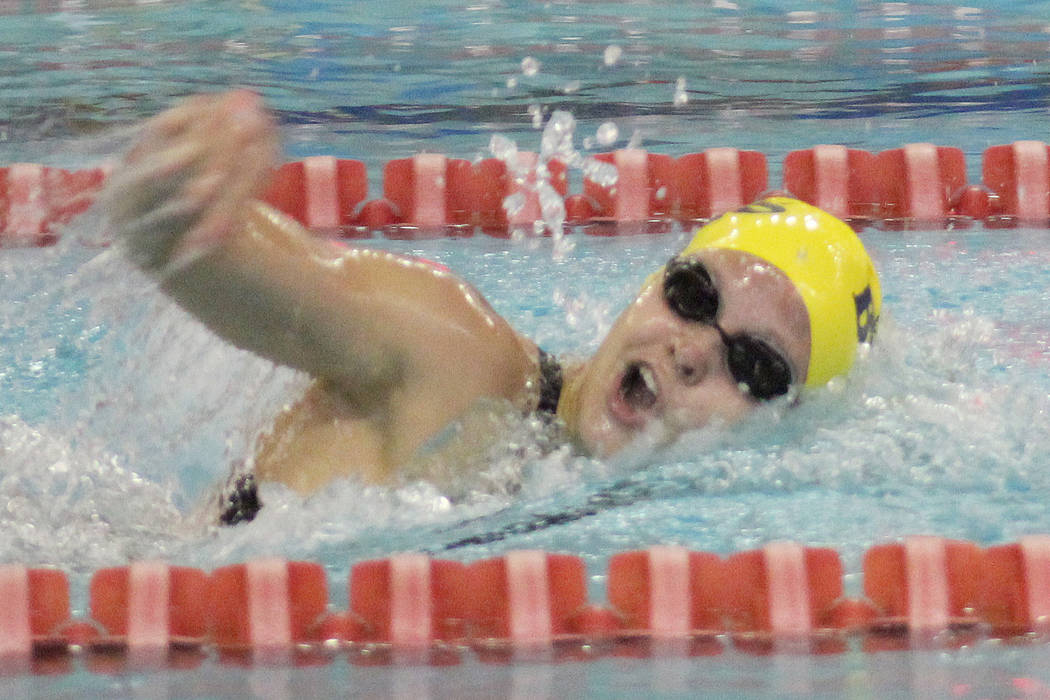 The dynasty continues for Boulder City High School's girls swim team, which claimed its sixth consecutive 3A state championship on Saturday, May 19, at the University of Nevada, Las Vegas.
"We knew it was gonna be tough to win this year, so being able to pull it off was really sweet," junior Aimee Garcia said. "Wanting to keep the streak alive definitely pushed us harder and kept us motivated."
Edging past Northern challenger Truckee 170-150, the margin of victory could have been even larger if not for the 17 points earned by the Wolverines' dive team.
The Lady Eagles did not have any divers compete at the event.
"The girls swam well in a tough meet format without a lot of rest between events," head coach Sara Carroll said. "It was only close because of Truckee having a dive team and we don't. This is our girls' sixth win in a row, and the first one without the guys as well. I'm very proud of them."
Leading the way for the Lady Eagles, junior Rose Pouch set a pair of state meet record times in the 100-yard butterfly (55.63) and 200-yard individual medley (2:03.8).
"I was very surprised and ecstatic," Pouch said. "I can't describe how great you feel when you accomplish something you've thought about for three years."
Picking up a pair of victories as well for the Lady Eagles was Garcia, who had the team's legacy in mind when competing.
"It was definitely our number one goal to keep the streak alive," she said. "As a captain this year I tried to keep the team's motivation high, the team energetic and enjoy the experience of being able to work together to keep our streak alive."
Doing her part to extend the program's dominance, she won the 200-yard freestyle in 1:54.68 and the 500-yard freestyle with a time of 5:03.77.
The Lady Eagles also placed first in the 200-yard medley relay (Pouch, junior Annika Freiburger and sophomores Daphne Thompson and Quinci Thomas) with a time of 1:50.86, along with the 400-yard freestyle relay (Garcia, senior Ashleigh Wood, Freiburger and Thomas) with a time of 3:46.74.
"Coach Sara placed us in our events strategically knowing that if we swam our best and were successful with our swims, we would be able to keep the streak alive," Garcia said. "I was glad I was able to help the team continue the legacy, as well as happy to win two individual events.
It has been a goal of mine to win an individual event at state since my freshman year on the team."
Freiburger concluded the Lady Eagles' efforts with a second-place finish in the 100-yard breaststroke with a time of 1:08.85.
Contact Robert Vendettoli at BCRsports@gmail.com.