Sanford places third in gymnastics championship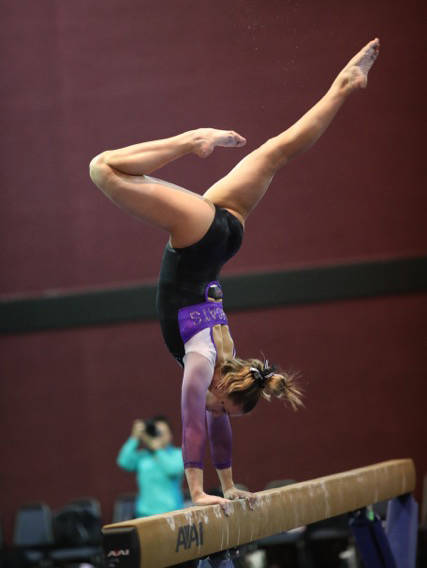 Breann Sanford, a junior at Boulder City High School, recently placed third in the all-around competition in the Senior 8 division of the 2017 Women's Junior Olympic Level 9 Western Championships in Boise, Idaho.
She was one of 455 female gymnasts in 16 age divisions from 24 states who competed in the championship held the last weekend in April.
To qualify for the championship, Sanford placed first in the all-around bar, beam and floor competitions at the Region 1 competition held in early April. She vied against gymnasts from Nevada, Arizona, California and Utah.
Making her accomplishment all the more special, Sanford was sidelined for a year because of stress fractures in her spine.
Roberta Teixeira, one of her coaches at Gymcats in Henderson, where she trains, said Sanford's perseverance and dedication is what enabled her to compete on such an advanced level after her injury.
"Not too many people come back from an injury like that and compete the way she did," Teixeira said.
Sanford has been studying and training with Gymcats for most of her life, working with Teixeira for the past six years along with Kimberly Snape, Mika Houston, Cassie Rice and Jill Preston.
"I like the difficulty of the sport and how it's always challenging you," Sanford said.
Her favorite events are the uneven bars and vault. Sanford said she finds the beam to be the most challenging.
"It's only 4 inches wide and you have to flip on it. You have to make it look easy, and it's not easy," she said.
To accomplish that fete, she practices four hours a day, six days a week — even with 15 years of experience in the sport. The 17-year-old has been a gymnast since she was 2.
Sanford said she was especially excited to advance to the Western championships this year, hoping that representatives from colleges would be there to watch her. Though she is not sure where she will attend college, Sanford said she would like to compete on the collegiate level while she works toward a degree in athletic training and physical therapy.
She said she has no aspirations of competing in the Olympics.
"I'm too old for that," she said with a smile. "They call me 'grandma.' "
She is the daughter of Gail and Matt Sanford of Boulder City.
Hali Bernstein Saylor is editor of the Boulder City Review. She can be reached at hsaylor@bouldercityreview.com or at 702-586-9523. Follow @HalisComment on Twitter.