Runner eager to run 'comfortable' course
October 5, 2016 - 2:54 pm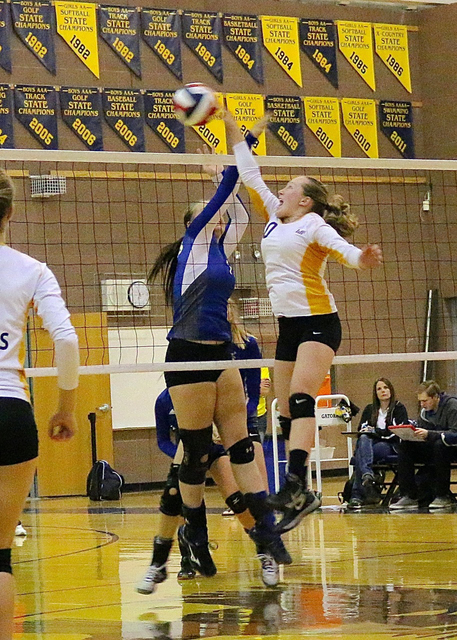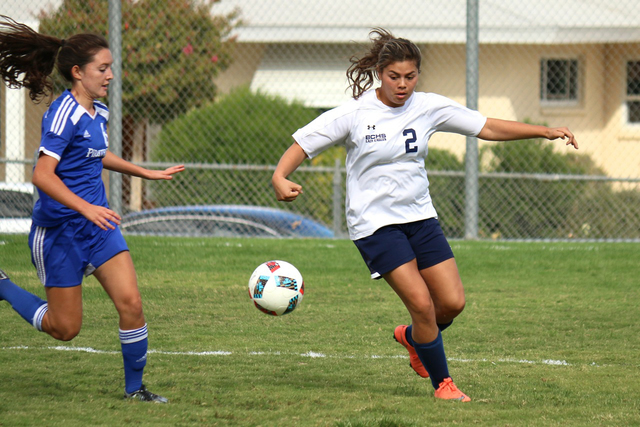 Both Boulder City High School cross-country programs finished ninth on Saturday at the Spartan Preregion Invitational at Craig Ranch Park.
Finishing with a team score of 267 points, the Eagles placed ninth out of 15 programs and was the second 3A finisher out of four teams.
Leading the way for the Eagles, senior Tyler Campbell placed ninth overall and was the first 3A finisher with a time of 17 minutes, 3.3 seconds.
"It was a very good race for me," Campbell said. "It gives me a lot of confidence moving forward knowing that this year's region and state meets will be on this course. I feel comfortable at this park."
Finishing with a personal best, junior John Krausman placed 51st in 18:53.9, while senior Caleb Shamo placed 80th in 20:39.5.
Rounding out the Eagles' efforts, sophomore Justice Tillman was 87th in 21:02.2, while junior Dawson Goodfellow placed 90th in 21:07.5.
Placing ninth overall out of 13 competitors with an overall team score of 265 points, the Lady Eagles finished first in a field of three 3A programs.
The Lady Eagles were paced by senior Italian foreign exchange student Camilla Sartor, who finished 22nd overall in a time of 22:39.5. Freshman Audrey Selinger placed 39th in 23:34.8.
"I really like the way the course is set up," Selinger said. "I don't feel like this was my best race, but I'm confident that I can do better come regionals. I'm going to continue to work hard and hopefully lower my times."
Other Lady Eagles finishers: Sophomore Brynlee Campbell placed 63rd with a personal best of 25:57.5, junior Gretta Bassano, 83rd, 30:35.7, and freshman Ashley Tobler, 93rd, 34:02.7.
Girls Soccer
The Boulder City High School girls soccer team (3-5 overall, 2-2 conference) is off to a solid start in league play, sitting in third place in the 3A Sunrise League standings following a pair of league wins over Del Sol on Sept. 26 and Moapa Valley on Sept. 28.
Defeating the Dragons 6-0, the Lady Eagles scored a trio of goals in each half, led by two goals each from senior forward Jordyn Trobiani, sophomore midfielder Kerry Helvig and freshman midfielder Madison Manns.
Manns also dished out a pair of assists, while senior defender Alexus Pohe had one.
Carrying their momentum into a 3-1 victory over the Pirates, Manns scored a goal and recorded an assist, while junior defender Nicolette Meola and freshman midfielder Trinity Oeland also scored a goal each.
Looking to carry their early momentum into the second half of the league season, the Lady Eagles resume play Oct. 13 when they travel to Mesquite to face off the Virgin Valley Bulldogs.
Boys Soccer
Picking up their first victory of the season, the Boulder City High School boys soccer program (1-6 overall, 1-3 conference) earned much-needed momentum by beating Moapa Valley 5-3 on Sept. 28.
Jumping out to a 5-0 lead in the first half, the Eagles got a trio of goals from senior midfielder Sebastian Balmer, while junior midfielders Robbie Leavitt and Patrick Hood contributed one goal each.
Playing the role of setup man against the Pirates, senior midfielder Hunter Dale assisted on a pair of goals, giving him all three of the Eagles' assists this season.
Hoping to improve upon last season's win total of two, the Eagles have a favorable matchup Oct. 13 when they host Virgin Valley.
Volleyball
The Boulder City High School girls volleyball program (11-13 overall, 3-1 conference) suffered its first conference loss to Moapa Valley 3-1 on Sept. 28, but played well overall to suggest that the team is still capable of being in the driver's seat.
Dropping to second in the 3A Sunrise standings behind the Pirates, the Lady Eagles hung tough for three sets, losing 21-25, 10-25, 25-23 and 24-26.
Unable to stop the strong passing of Moapa Valley, the Lady Eagles, led by senior captain Alea Lehr and junior captain Maggie Roe, kept pace with the Pirates throughout, continuing their strong bond on the court this season.
Racking up a game-high 27 assists, Lehr also garnered a pair of serving aces, while Roe tallied 17 kills and five serving aces.
Taking on another tough opponent at home Oct. 13, the Lady Eagles will have no time to dwell on their loss when Virgin Valley comes to town.
Contact Robert Vendettoli at BCRsports@gmail.com.
Upcoming Events
Boys Soccer
■ Friday, at Meadows, 4:30 p.m. varsity
Cross-country
■ Saturday, Lake Mead Classic at Veterans' Memorial Park, 8 a.m.
■ Monday, O'Dea Classic at Desert Breeze Park, 3:15 p.m.