Roundup: Lack of hits costly for softball team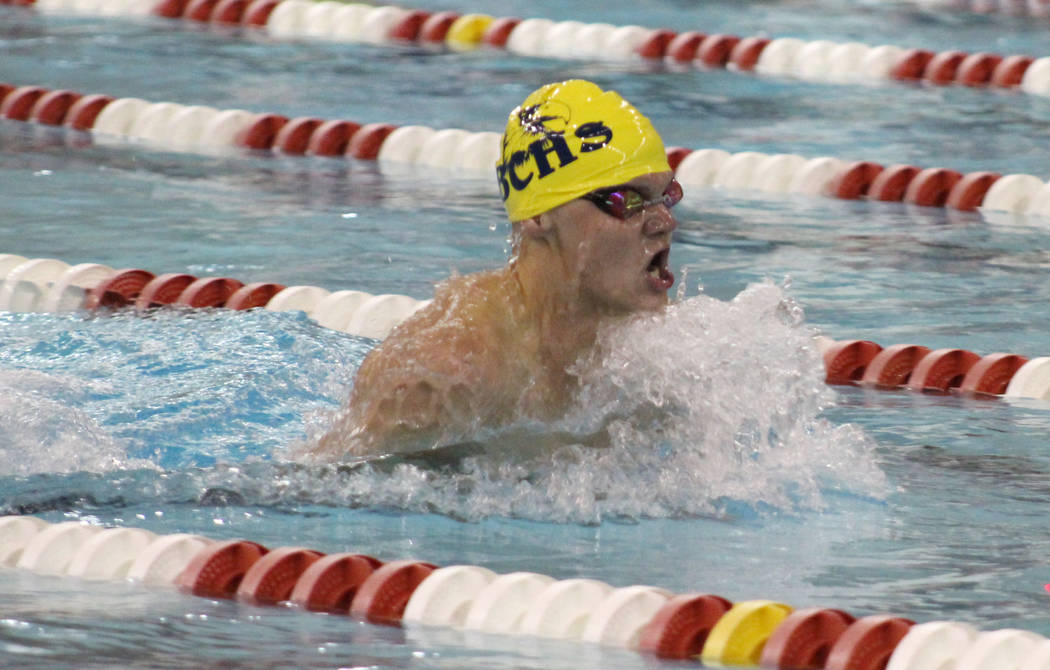 Falling just short of capturing its first 3A state championship since 2010, Boulder City High School softball team ended its season with a 13-2 loss to Northern challenger Lowry in the losers bracket finals.
"We kind of ran out of gas at the end," head coach Angelica Moorhead said. "Our bats didn't produce what they normally do for us, and if we're not hitting, we are not scoring runs."
Defeating Lowry 5-0 in their opening-round matchup where they produced eight hits, the Lady Eagles were only able to produce five hits the second time around, failing to put together consecutive quality at bats.
Leading the charge in their lone victory in the 3A state tournament, senior Lily Osman finished 1-for-3 with a two-run home run, while junior Marleena Mills (1-for-3) and sophomore Ellie Ramsey (2-for-3) each finished with a run batted in.
Senior Bailey Bennett-Jordan pitched seven innings, allowing eight five with five strikeouts.
In their season-ending loss to the Buckaroos, Bennett-Jordan finished 2-for-3 at the plate, picking up the loss where she allowed 14 hits with two strikeouts.
Finding themselves in a pitching duel on day two of the state tournament that sent them to the losers bracket final, Boulder City dropped a heartbreaker to eventual state champion Churchill County 2-0.
Doing her job on the mound, Bennett-Jordan allowed no earned runs on three hits with six strikeouts.
Both of the Greenwaves' runs came on errors.
Mustering up only three hits, Osman, senior Jerra Hinson and sophomore Ashley Wishard all finished 1-for-3.
Our season as a whole was great," Moorhead said. "We made our goal of making it to the state tournament, and finished with a 25-11 record. Yeah we didn't finish like we wanted to, but I am more than proud of these young ladies and I want to thank them for a great season."
Boys Swimming
Boulder City High School's boys swim team's bid for an eighth consecutive 3A state championship ended Saturday, May 19, at UNLV with a loss to Northern challenger Truckee.
Their toughest competitor throughout the past decade, the Eagles were finally caught by the Wolverines 145-124.
"Truckee's team had all club swimmers and this year we only have two club boys," head coach Sara Carroll said. "I'm proud of all the boys. I expected this to happen, but we still represented well. This was a special team for us this year, and I enjoyed them very much."
Keeping it close despite the perception of being overmatched, junior A.J. Pouch won the Eagles' lone two individual events. Setting a pair of state meet records, Pouch placed first in the 100-yard breaststroke (55.35 seconds) and 200-yard individual medley (1:50.46).
Earning second-place finishes for the Eagles were senior Chandler Larson (100-yard backstroke; 57.66 seconds) and freshman Joseph Purdy (500-yard freestyle; 4:49.27).
Track
Boulder City High School girls track and field star freshman Kamry Bailey was at her best Saturday, May 19, at the 3A state meet in Reno.
Competing in all three jumping events, Bailey placed fourth in the high jump (5), fifth in the triple jump (33-1.25) and eighth in the long jump (14-5.5).
Senior Taylor Tenney placed sixth in the triple jump (32-1.25), while senior Maggie Roe placed seventh in the discus throw with a heave of 103-8.
For the boys, senior Buddy Boggs finished second in the pole vault with a leap of 13, while senior Briggs Huxford finished fourth with a leap of 12-6.
Contact Robert Vendettoli at BCRsports@gmail.com.