Roundup: Injuries take toll on football team
September 20, 2017 - 3:29 pm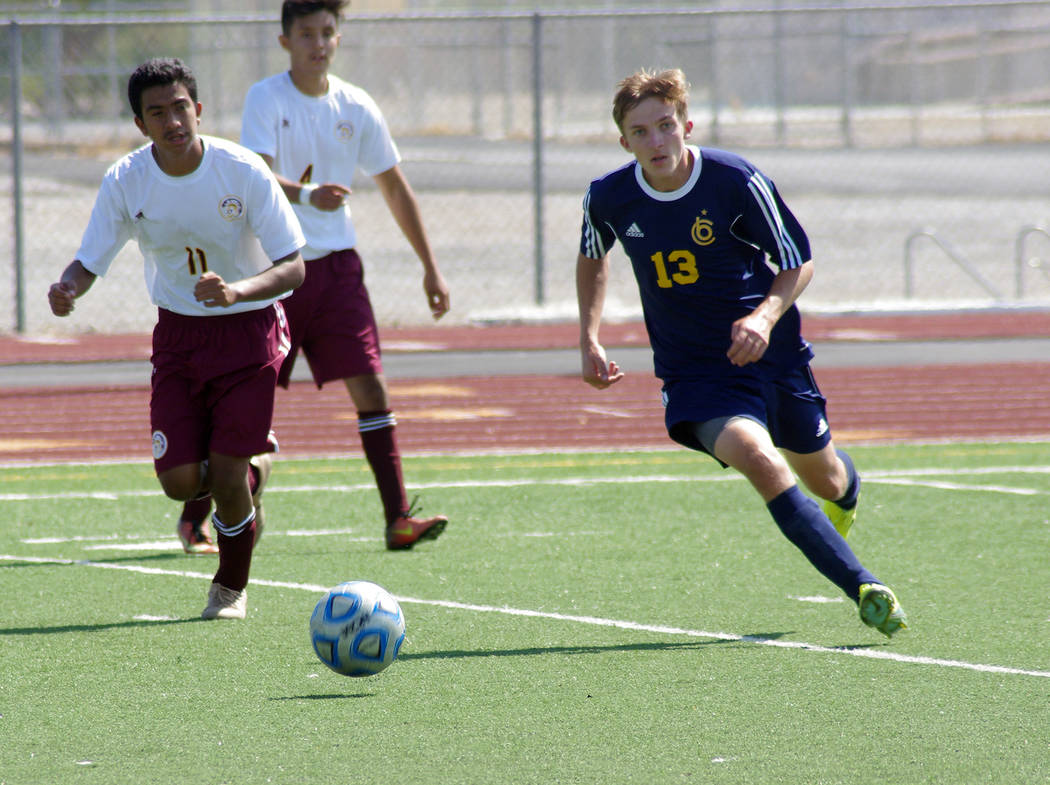 The injury woes continue to take a toll on the football season for Boulder City High School, which, despite a valiant effort, left Pahrump Valley on Friday with a 30-14 defeat.
"What can I say? The injury bug hasn't been kind to us," head coach Chris Morelli said. "The effort is most certainly there. The guys are working their butts off and we're making plays. We're just missing a lot of bodies so the numbers game is killing us."
Missing key starters seniors Rhett Armstrong, Tristian Cross, Cole Smyth, Zach Trone and junior Travis Hungerford, the Eagles (2-2) are hurting for playmakers at the moment, showing significantly in the box score Friday night after tallying only 51 rushing yards, but allowing 349.
"This roster looks a lot different than the one that upset Clark," Morelli said. "A lot of our guys out are two-way starters. It's hard to overcome injuries like that. We're doing our best though and we'll keep fighting."
Getting one of their starters back from injury, junior Thorston Balmer started as linebacker for the Eagles on Friday, making four tackles against the Trojans but didn't see anytime as running back in his first game back.
Despite defensive woes that allowed three rushing touchdowns, junior quarterback Shaun Jones kept the Eagles in the game for the majority of the night, evening the score 8-8 midway through the second quarter with a 10-yard touchdown pass to senior Briggs Huxford.
Pahrump Valley safety Cory Bergan later returned a Jones' interception for a 30-yard touchdown on the Eagles' next possession to put the Trojans ahead 14-8 at the half.
Trailing 22-8 midway though the fourth quarter, the Eagles gained momentum when Jones found Huxford again for a 20-yard touchdown to pull within 22-14 but were unable to complete their comeback bid.
Jones finished the night 15 of 21 for 165 yards and a pair of touchdowns, while Huxford had a game-high five catches for 80 yards and two scores.
"That duo right now is doing great things for us," Morelli said. "Each game, Shaun is starting to pick it up a little more and Briggs has just been a monster for us. Every game we look to get him the ball and watch him do special things with it."
Having success on the defensive side of the ball, junior linebacker Jimmy Dunagan tallied nine tackles, while also rushing for 31 yards on nine carries and catching two passes for 27 yards.
Getting an extra day of practice, the Eagles look to end their two-game skid at 1 p.m. Saturday when they host rival Moapa Valley.
Girls golf
Hosting a home match at Boulder City Municipal on Sept. 14, the Boulder City High School girls golf program rolled to another league win.
Closer than usual in past meets, the Lady Eagles (357) edged out Southeast Career Technical Academy (385), behind the stellar play of senior Lani Potter and junior Ryann Reese.
Claiming first on the day, Potter shot a 75 on the par-72 course, while Reese broke 80 for the second consecutive week for a second-place finish.
Junior Madisan Walker followed a pair of SECTA golfers, finishing tied for fifth with sophomore Sydney Krumm with a score of 101, while sophomore Makaela Perkins finished sixth with a score of 106.
Freshman Riley Shuman shot a 112, finishing in eighth place.
"The team did absolutely amazing," Potter said. "All six of us were in the top 10. The girls are really starting to believe in themselves and in us as a team and it's amazing to watch and be a part of."
Girls soccer
Falling to rival Virgin Valley 1-0 on Sept. 14, Boulder City High School's girls soccer program rebounded nicely Monday with a 1-1 tie against Southeast Career Technical Academy.
Desperate to stay atop the 3A Sunrise League standings, sophomore Madison Manns scored the Lady Eagles' lone goal, tying the game after SECTA's Adriana Carrillo started the scoring affair.
SECTA (2-0-2) is currently tied with Virgin Valley for first in the standings with eight points, while the Lady Eagles (2-1-1) are just a point behind with seven.
Manns' goal on Monday was her team-leading seventh on the season.
The Lady Eagles travel Tuesday to rival Moapa Valley (2-1-1), which is currently tied with Boulder City in the standings.
Boys soccer
Knocking off Pahrump Valley 2-1 on Saturday, Boulder City High School boys soccer team picked up its second win of the season.
"Pahrump was a really good win for us," head coach Chad Smith said. "The boys played up to their potential and played as a team. We have some good players on this team; we play well when we put it all together."
Scoring both goals against the Trojans in the first half, sophomore Benson Deml was assisted by sophomore Mason Hood on the first score, while freshman Julian Balmer later followed with an unassisted goal.
Setting the tone defensively, Caden Mendiola led the way with five steals, while senior Alex Krausman swiped three steals.
Still winless in 3A Sunrise League play following a 4-1 losses to Virgin Valley on Sept. 14 and Southeast Career Technical Academy 8-1 on Monday, the Eagles will look to get in the win column this week when they host Moapa Valley on Tuesday.
Upcoming games
■ Football
Saturday, Sept. 23, vs. Moapa, 1 p.m. varsity
■ Girls Golf
Wednesday, Sept. 27, vs. Green Valley at Boulder Creek, 3:15 p.m.
■ Cross-Country
Saturday, Sept. 23, Foothill Invitational, 8 a.m.
Tuesday, Sept. 26, Six school meet at Mountain View Park in Laughlin, 4:30 p.m.
■ Girls Soccer
Tuesday, Sept. 26, at Moapa, 3 p.m. varsity, 4:30 p.m. junior varsity
■ Boys Soccer
Tuesday, Sept. 26, vs. Moapa, 3 p.m. varsity, 4:30 p.m. junior varsity