Roundup: Golfers win region title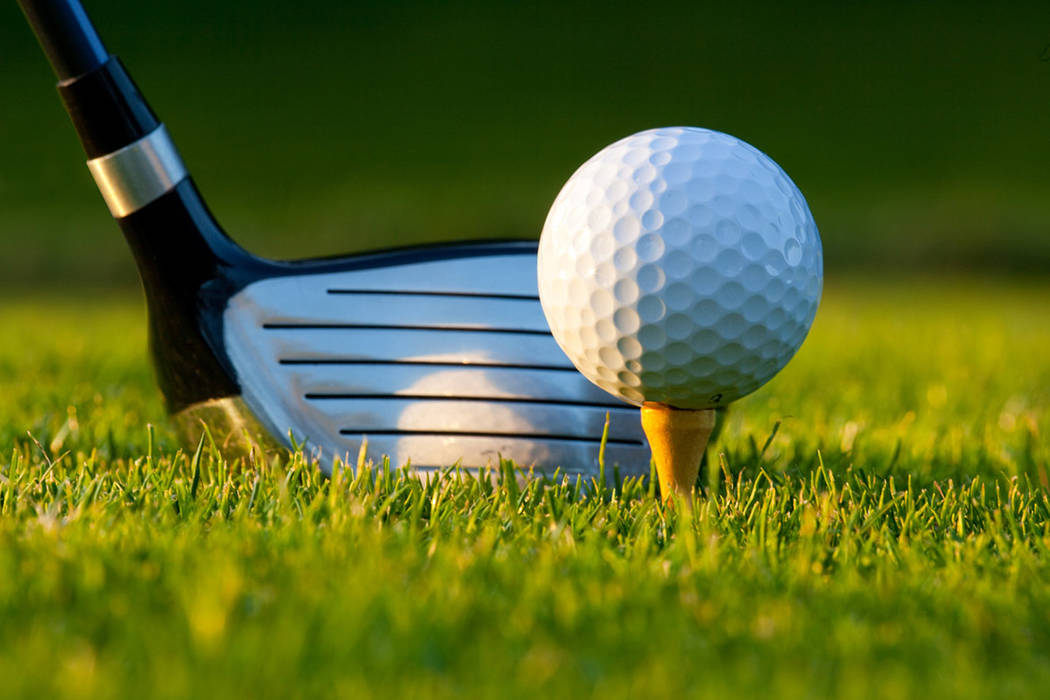 Boulder City High School boys golf team is heading back to the state tournament for the seventh consecutive season after winning the 3A Southern Region tournament Tuesday, May 8, at Boulder Creek Golf Club.
Finishing as 3A state champion runner-ups last season, the Eagles, who have unfinished business, looked sharp at regionals, finishing with an overall team score of 621 to defeat rival Pahrump Valley (705).
"Everyone is peaking at the right time," head coach Andy Schaper said. "This was a great team win for us the last two days. All the boys are playing great and it's exciting because all the boys have worked extremely hard this season. Everyone has pushed each other and it's nice to see it's paying off."
Continuing to break onto the scene this year, freshman Blake Schaper won the individual title, finishing with a score of 144 through two rounds on the par-72 course.
Mojave's Marcus Mullins finished as the regional runner-up with a score of 150.
"Placing first is really exciting for me," Blake Schaper said. "It was great to contribute so heavily to our team's success. I'm hopeful that I can stay focused and calm through the state tournament and keep myself in the game no matter what pops up."
Placing four golfers inside the top eight, senior Jackson Wright finished third with a score of 151, while freshman Kyle Carducci and junior Kevin Phelps finished fifth and sixth, respectively, with scores of 163 and 164.
Freshman Dustin Landerman finished eighth with a score of 171.
Sweeping through 3A Sunrise League play as well, Boulder City won their sixth and final league match May 2 at Coyote Spring with a team score of 332.
Placing the top three golfers, Blake Schaper (75), Wright (80) and Landerman (86) finished atop the pack.
Continuing to cruise along behind their veteran core, the Eagles will travel to Pahrump Valley on Monday, May 14, for the 3A state meet at Mountain Falls. The meet will run through Tuesday, May 15, with the Eagles hopeful to capture their first 3A state title since 2006.
"I think the biggest thing that we have to do is trust the process," coach Schaper said. "We need to have our guys stick with what they know how to do and play their own games. If we're able to stay focused and relax, I'm confident that we can do great things this year."
Track
Finishing their season Friday, May 4, in the Grant Bushman Invitational at Moapa Valley High School, Boulder City girls track and field placed fifth with a score of 54.5 out of 19 programs, while the boys (34 points) placed eighth out of 17 programs.
Senior Sierra Selinger led the way for the Lady Eagles, placing second in the 3200-meter run (12:42.32) and fifth in the 800-meter run (2:34.38), while freshman Chloe Payne finished third in the 300-meter hurdles (55.51 seconds) and eighth in the triple jump (29-8).
Fielding a strong core, senior Maggie Roe finished third in the discus (95-00), while junior Alyssa Williams finished fourth in the 300-meter hurdles (55.99 seconds). Freshman Christina Dunagan finished fifth in the pole vault (7).
For the boys, senior Buddy Boggs was the Eagles' top points earner, placing second in the pole vault (11-6), seventh in the 110-meter hurdles (17.18 seconds), eighth in the 300-meter hurdles (43.46 seconds) and 10th in the high jump (5-8).
Senior Zach Trone placed third in the 100-meter dash (11.25 seconds) and the long jump (20-9.5), while senior Bryce Rogers placed seventh in the pole vault (10-6).
Having his best event to end the season, freshman Jacob Trone finished ninth in the pole vault (9) and 13th in the triple jump (38-5).
The Eagles will travel back to Moapa Valley on Friday, May 11, for the 3A Southern Regional meet.
Boys Volleyball
Boulder City High School boys volleyball team ended its season dropping a heartbreaker to 4A Eldorado 3-2 on May 3.
Falling 25-21, 30-28, 25-20, 8-25, 13-15, the Eagles nearly swept the Sun Devils after a hard fought second match, before running out of gas toward the end. "I'm proud of this team," head coach Rachelle Huxford said. "They have worked hard and had a difficult schedule. We grew as a team and improved. We have great potential and I know that we will be the team to beat next year."
Pushing the Sun Devils to their limits, sophomore Preston Jorgensen was an offensive forced with 18 kills, while junior Karson Bailey supplied 10 kills.
Setting the table, sophomore Boen Huxford generated 19 assists with five serving aces in the losing effort.
Boulder City finished their season with a 3-15 record after playing mostly 4A programs.
Contact Robert Vendettoli at BCRsports@gmail.com.